Seeing Italy at a snail's pace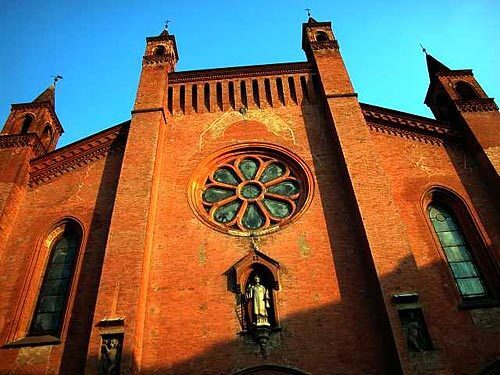 The red brick of a cathedral warms the medieval town of Alba in the Piedmont region of Italy, near Turin.
(Alison Harris)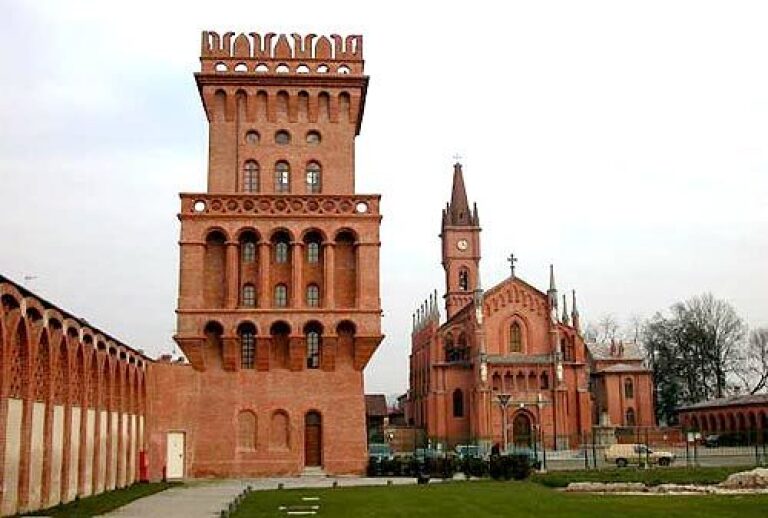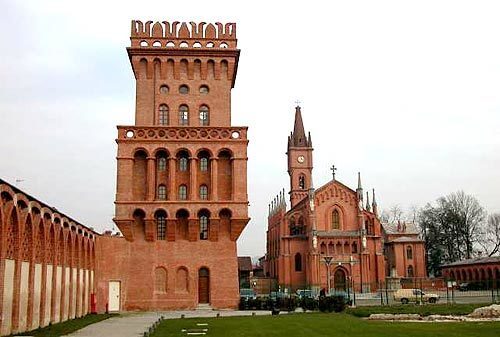 In Alba, the tower on the Piazza Risorgimento is being restored.
(Alison Harris)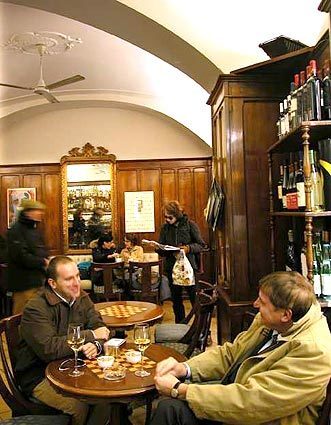 Relaxing with a libation at the Pasticceria Converso (also known for its delectable pastries), established in Bra, Italy, in 1901.
(Alison Harris)
A food shop in Alba, in northern Italy's Piedmont region, offers pastries, local wines, sandwiches and ice cream in a fetching display.
(Alison Harris)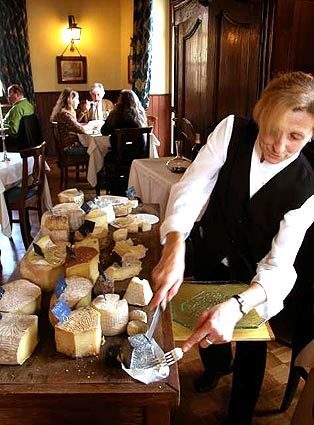 Sampling the local cheese at the Ristorante Belvedere in La Morra, Italy.
(Alison Harris)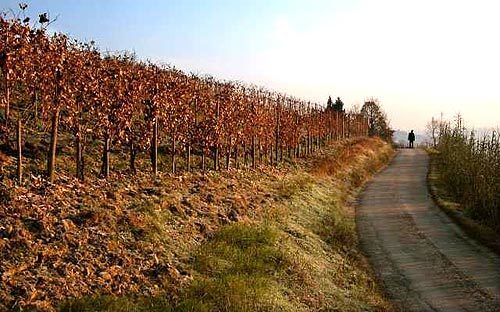 A vineyard hugs a quiet lane in Piedmont.
(Alison Harris)
Special to The Times
GIUSEPPE AZZOLINA, a 44-year-old stonemason, leaned across the icy scaffolding atop the second-highest medieval tower on Piazza Risorgimento in the center of Alba and said, "First we restore the tower, then we redo the apartment building below where no one has lived since World War II.

"It's like making good wine: It takes time."

Time has long been measured unhurriedly in Alba and the wine country that surrounds it in northern Italy's Piedmont region. While life moves at a dizzying pace in Turin, just 40 miles north and the site of this month's Winter Olympics, the hour hand seems to slow here. Centuries-old buildings take years to restore, and powerful, inky wines come into their own only after a decade. Towns and villages are timeworn and full of character.

They are, perhaps, the antithesis of and the antidote for the 21st century.

The Romans founded Alba Pompeia in 100 BC. Neolithic finds under the town's layer cake of curving, cobbled streets confirm even earlier origins. But it's the Middle Ages you feel in Alba and nearby villages. Romanesque churches, fortified farms, turreted castles and towers built of dark red brick seem to rise everywhere you look. Baroque balconies, ironwork and colorful facades added from the 1600s to the 1800s soften the architectural landscape.

As charming as this is, you don't visit Alba and the surrounding wine country strictly for the museums or the monuments. Alba, population 30,000, is the economic hub of the Roero and Langhe winegrowing districts, which lie north and south of the Tanaro River, and they are known for big red Barolo and Barbaresco wines.

The wine and food, this enogastronomia, are why my wife, Alison Harris, and I returned eagerly in November for a four-day visit after an absence of more than a decade.

The Mediterranean is less than 100 miles south of Alba. But the Piedmont region's traditional cooking is as luscious, meaty and creamy as that of the abutting Savoy. Piedmont and France's Savoy also share cultural, linguistic and political ties. When the Franco-Italian dynasty of Savoy kings moved in the 1500s from Chambéry to Turin, the Roero and Langhe became their game park, wine cellar and pantry. Pungent, gnarled white Alba truffles come from here, plus dozens of creamy or hard cheeses, premium dry-aged beef, plump porcini mushrooms, hazelnuts and milk chocolate.

Irresistible bakeries, specialty food boutiques, wineries, cafes and restaurants stand shoulder to shoulder. There are remarkably few fast-food joints.

*

Eat, drink, then walk

TO explore the area, do as we did and pick up a car in Turin, drive south through vineyards to go wine tasting and eating, then spend three or four days walking around the atmospheric towns and villages to work off your meals.

We chose as our base Villa Tiboldi, an appealing winery, restaurant and bed-and-breakfast in the vineyards near Canale, a farm town with historic porticos and fabulous food and wine about 10 miles north of Alba.

We chose Villa Tiboldi partly because its chef, Stefano Paganini, 24, is winning a reputation for refined revisited regional classics. We ate Paganini's food several times — poached eggs with Jerusalem artichokes and creamed chestnuts, beef tongue salad with slivered artichokes and piquant parsley sauce — and couldn't get enough of it.

As we had on earlier visits to the region, we let our instincts and whims guide us, crisscrossing and backtracking on scenic roads with no particular plan. Premodern signage points you along wine routes where dozens of wineries and tasting rooms welcome visitors.

On our first afternoon, we stopped at the tasting room, or enoteca, in Canale for an overview of local wines. At the upstairs restaurant of Michelin-starred chef Davide Palluda, we feasted on fresh pasta with shaved white truffles and small servings of local Fassone beef.

Then we drove to the center of Alba and hit the historic, high-end Pio Cesare winery, whose barrel-vaulted cellars are built on Roman foundations.

We had company wherever we went. The rich, cool-weather food and powerful wines explain why, traditionally, fall and winter are high tourist season here.

And truffles are available from mid-September to early March. The Roero and Langhe harbor half a dozen types of truffles. White Tuber magnatum pico truffles start ripening in October, when Alba hosts the International Truffle Fair, and peter out in February.

It would be an exaggeration to say I could smell the truffles being traded in the tangled alleys below the medieval tower of Alba's Piazza Risorgimento on that first afternoon. But the air was unquestionably scented.

"The Ferrero factory," said Giuseppe Azzolina, the stonemason. This time, he pointed to the town's unappealing outskirts. The company's 3,000-plus employees churn out chocolates and creamy Nutella spread. Ferrero is the world's biggest consumer of hazelnuts. It is also among this increasingly prosperous, forward-looking region's main employers.

Many local food lovers believe that the origin of "Langhe" is "lingua," meaning tongue. Spoilsports say it refers to the region's rolling tongues of land.

Either way it's no surprise that the Slow Food movement, whose symbol is a snail, was born in the Roero town of Bra in the mid-1980s, a reaction to the spread of McDonald's in Italy.

Life still may be slow compared with bustling Turin. But the timeless quality is changing, and it's apparent in the architecture, food, wine and traffic.

Unlike our visit in the '90s, the main highways were congested, particularly the stretch we drove our second morning in the area, heading the 10 miles from Alba to Bra. Light industry and tract homes now fill many bottomlands, illustrating the paradoxical dictum that poverty preserves while prosperity destroys.

"The pace of life has picked up," said Roberto Burdese, the 37-year-old vice president of Slow Food, which is based in a rambling farmhouse complex known as Casa Casalis in Bra and led by the charismatic Carlo Petrini, who, tellingly, was too busy to receive visitors.

From its 1986 start, Slow Food has grown into an international movement with 80,000 members, a university campus, a publishing house and a budget of about $25 million, with a full-time staff of 150.

"Slow Food is also about sustainability and the slow life," Burdese said. "Our growth and success stem from worsening conditions worldwide."

That may be, but Bra proves that prosperity and a brisk pace can also enhance life. On the grid of sloping streets, once-crumbling Baroque palazzi and churches have been restored. Smart storefronts beckon.

Much of the credit goes to Slow Food. Visitors flock to its upscale Osteria del Boccondivino to devour local specialties, such as tripe-and-bean salad, buttery meat-filled agnolotti pasta purses and veal slow-braised in Barolo.

One of Italy's premier pastry makers is here, century-old Pasticceria Converso. The shop's 1901 interior has sinuous Art Nouveau chairs and tables, stone-topped counters and glass display cases.

"We've taken the old recipes and updated them," said pastry chef Federico Boglione, whose family has owned Converso since 1990. "The pastries are smaller and have less sugar and butter, so you can eat more of them." As Boglione rushed about, Alison and I savored exquisite raspberry puff pastries, mini lemon tarts and hazelnut-chocolate gianduja.

Pollenzo, a few miles southeast of Bra off the main highway to Alba, is another success story. We first saw this hayseed town 15 years ago, and most of it was a wreck, including the neo-medieval castle of King Carlo Alberto (1798-1849). Today, Pollenzo is a UNESCO World Heritage Site.

The castle, hemmed by lawns and archeological excavations, houses a luxury hotel and two gourmet restaurants. And for about $235 per person an hour, a hot-air balloon will lift you from the hotel's parking lot and reveal views of fields, vineyards, an amphitheater-shaped swimming pool worthy of Hearst Castle and a nearby golf course. It's not quite Falcon Crest, but California's wine country seems close.

*

Castles and piazzas

ALISON and I soon discovered that to travel at a snail's pace is to stick to the region's tortuous back roads. They vein vine-groomed hillsides like the burst capillaries on a winemaker's cheeks. Let the local road warriors roar past you. Take time to pause for the views. Distances are short, but the two-laners are narrow and curvy.

Some of the most scenic, chase-your-tail routes link vinous Verduno, La Morra, Barolo and Monforte d'Alba. Each has a castle or panoramic piazza and several noteworthy restaurants and wineries.

Culinary traditionalists still thrive. It was a joy to rediscover the Burlotto family at Castello di Verduno, a hotel-restaurant in what was King Alberto's frescoed Verduno hunting lodge.

We saw instantly that the Burlotto's classic menu of truffled egg pasta and rich stews had not changed appreciably, but the hotel is now luxurious. When we stayed in 1991, the toilets were down the hall. Now there are bathrooms in the guest rooms of the main lodge, which is a registered landmark.

Three historic buildings on the grounds were converted into more guest rooms, which have thick curtains, antiques and bathrooms.

At the panoramic Ristorante Belvedere in La Morra, owner Gianfranco Bovio serves similar classic fare in what once was a simple trattoria. But now the restaurant's floors are inlaid marble, the clientele well-heeled (and, alas, it is temporarily closed; see box).

As we lunched on succulent beef braised in Barolo, Bovio grinned widely. "Love what you do, do it slowly and you never tire," he said.

Castiglione Falletto and Serralunga d'Alba, about eight and 10 miles south of Alba, respectively, compete for status as the area's perfectly perched medieval fortress-village, the result of preservation and careful restoration. Grinzane Cavour, an imposing castle, was worth the guided tour.

We enjoyed the frescoed, open-timbered halls; sweeping views; and the display of winemaking equipment, glassware, plates and replica kitchens from the 1600s and 1800s. The cellar houses the region's main enoteca, with hundreds of local wines for sale.

Equally appealing is the looping eight-mile drive from Alba to storybook Neive, home to traditionalists Claudia and Tonino Verro of La Contea di Neive, another family-run hotel and restaurant with winery, now flanked by a ritzy specialty food and wine boutique of the same name.

On the Tanaro River's north side, a memorable roller-coaster road joins Guarene's hulking ridge-top castle to the porticos of Canale, a seven-mile drive that brought us back to our hotel.

In pursuit of truffles, we returned to Alba the next day and met Alessandro Bonino at Tartufi Morra, the area's leading truffle outlet. So gem-like and luxurious were the window displays that, despite the tangy, earthy scents, I mistook Tartufi Morra's recently restored medieval premises for a jewelry shop.

Bonino supplies chefs Wolfgang Puck, Guy Savoy and others. His white truffles ship in less than two days. "Diamonds are forever," he said. "Truffles are for now."

*

Mouth-watering

THE next day, Alison and I lunched on exceptionally succulent snails (with parsley emulsion, butter, garlic and clotted cream) at Michelin-starred Antinè in Barbaresco, also home to winemaker Angelo Gaja, possibly Italy's most celebrated and innovative winemaker.

You ring the doorbell to Antinè and are admitted into pistachio-hued splendor by a maitre d', sit at handsomely laid tables and feast slowly and quietly on lightened, updated local delicacies.

The wine list astonishes. Barbaresco has about 640 inhabitants and 120 winemakers. Gaja's bottles typically cost hundreds of dollars.

The flip side of Gaja is hyper-traditionalist Maria-Teresa Mascarello. At dusk, we drove on corkscrew roads to castle-crowned Barolo, another storybook village with castellated towers, where Mascarello makes wine exactly as her grandfather and father did.

In her quest to maintain only-in-Barolo typicality, Mascarello uses concrete tanks, old oak vats, indigenous yeasts and natural fermentation.

Her wines, consistently rated among Barolo's and Italy's best, also fetch premium prices. They often come into their own only after 10 or 15 years.

The promising 2001 we tasted, redolent of red fruit, with the orangish hue typical of pre-modern Barolo, was a snail still firmly in its shell.

Gaja and Mascarello may appear to be at odds with each other. Happily, when it comes to food, wine and the upkeep of the area's historic heritage, however, tradition and innovation appear to have found a balance.

Hares, tortoises and snails are winners.
---
David Downie is the author of "Paris, Paris: Journey Into the City of Light."

*

(BEGIN TEXT OF INFOBOX)

Sampling the Piedmont region

GETTING THERE:

From LAX, connecting service (change of plane) to Turin is offered on Air France and Lufthansa. Restricted round-trip fares begin at $658 until March 31 and increase to $740 until May 25.

TELEPHONES:

To call

the numbers below from the U.S., dial 011 (the international dialing code), 39 (country code for Italy) and the local number.

WHERE TO STAY:

Villa Tiboldi, Località Tiboldi, 127 Case Sparse, Canale 12043; 01-73-97-03-88, https://www.villatiboldi.it . This handsome family-run hilltop hotel-restaurant-winery, opened in 2003 and occupies a 1700s winegrower's house and reconverted barn, surrounded by vineyards. Frescoed ceilings, tasteful antiques, remarkable cooking. Doubles from $84.

Castello di Verduno, 9 Via Umberto Primo, Verduno 12060; 01-72-47-01-25, https://www.castellodiverduno.com . The second and third generations of the Burlotto family run this winery, hotel and classic restaurant in a charming 1700s hunting lodge. Rooms also available in converted historic outbuildings. Doubles from $138.

La Contea, 8 Piazza Cocito, Neive 12052; 01-73 67-126, https://www.la-contea.it , a family-run hotel-restaurant-winery in a cozy, frescoed 1600s townhouse atop a hill. Antique-filled rooms. Doubles begin at $86.

WHERE TO EAT:

Ristorante Antinè, 34/A Via Torino, Barbaresco 12050; 01-73-63-52-94, is a high-end, Michelin-starred restaurant where chef Andrea Marino expertly lightens traditional fare. Reserve ahead. A three-course meal, without wine, about $50.

Ristorante Belvedere, 5 Piazza Castello, La Morra 12064; 01-73-50-190, https://www.belvederelamorra.it , run by the Bovio family since the early 1960s, offers traditional cuisine in handsome surroundings but is temporarily closed; check back later this month. A three-course meal, without wine, costs about $50.

All'Enoteca, 57 Via Roma, Canale12043; 01-73-95-857, https://www.davidepalluda.it , fills a vast, elegant dining room above the Roero region's enoteca (wine shop). Chef Davide Palluda makes personalized versions of regional classics, including raw beef as well as anchovy dip on red peppers, plus fresh seafood. Reserve ahead. A three-course meal, without wine, costs about $60.

TO LEARN MORE:

Alba, Bra, Langhe and Roero Tourist Office, 2 Piazza Risorgimento, Alba 12051; 01-73-35-833, https://www.langheroero.it .

Italian Government Tourist Board, (310) 820-1898, https://www.italiantourism.com .

— David Downie
---
Get inspired to get away.
Explore California, the West and beyond with the weekly Escapes newsletter.
You may occasionally receive promotional content from the Los Angeles Times.