Traveling by car with a feline can be the cat's meow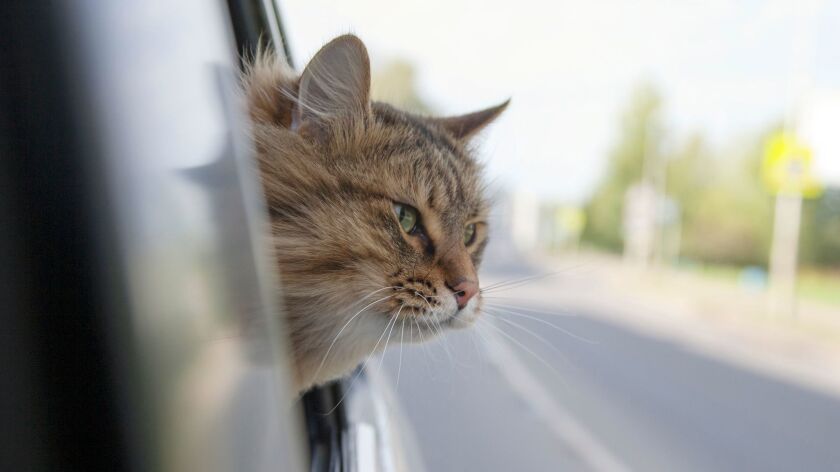 I knew Michelle was up for adventure when I spotted her. As her brothers snored nearby, she reached out to me.
And purred.
It was a match. After I adopted her, she began climbing into my backpack — a sign, perhaps, that she was hoping to join me on work assignments.
I bought a crate, buckled it into my car's back seat and off we went around town. Gradually, we took longer trips, including the California coast.
Your ultimate guide to planning the best summer road trip »
Last summer, Michelle and I traveled in my fully packed Prius from Southern California to British Columbia and back, a journey of about 6,000 miles.
Dogs get most of the ink when it comes to car trips, but I can attest that cats also can be great company as you head down the highway.
Michelle's curiosity and independence made me laugh; she also occasionally kept me warm (or at least kept my feet warm), whether in a tent, a motel or a lodge. She also won hearts and admiration by being sociable with people she trusted.
Here are tips to help Kitty become a first-class travel companion:
A strong cat-owner bond is key. After she took up residence with me, Michelle would run to the door when I left for work, and I could hear her crying as I drove away. Clearly, she wanted to be with me, in the house on the road.
Train your kitten early. Take your furry friend on short trips. This not only introduces the car idea but also may predict (or help avoid) car sickness.
Don't force the issue. If your pet doesn't want to go, make other arrangements. If you start assessing your pet's willingness to travel early, any reluctance to go won't come as a surprise and you won't be scrambling at the last minute to find a caregiver, said Dr. Liz Stelow, a faculty member at UC Davis School of Veterinary Medicine.
Keep the number of human car riders in check. Traveling in a car with a lot of people or especially young children isn't the best for a cat's mental health, and it increases the risk of escape, Stelow said.
Make sure your plans are locked in. Scope out pet-friendly lodgings and make reservations, especially for the busy summer season, so you don't end up car camping when you didn't intend to.
Visit the vet. Discuss vaccinations and travel requirements, especially if you're planning foreign travel. A rabies shot is a given, but other requirements may surprise you. Mexico, for instance, requires treatment for ticks before entry and treatment for parasites within six months of entry, Stelow said.
Discuss anti-nausea medications as well as calmatives. Prescription products may be more effective than some over-the-counter drugs, Stelow said. If you'll be away a long time, take enough regular medications to cover your time away.
Get documentation. Ask the vet for a current health certificate, which usually is required to cross state lines and national borders. This should be done no sooner than a week before departure. Also, carry copies of all health records.
Check with border agencies and airlines well ahead of time to learn about international travel regulations, which may take months of preparation, said Dr. Brian Collins of Cornell University's College of Veterinary Medicine.
Seek advice from vets on prevention of fleas, ticks and worms. "A trial of chosen medications at home can't prove that it will help on the trip, but you can avoid having a medication that will cause a reaction" while you're on the road, Stelow said. "The first day of the trip is not the time to find out."
Make sure you can get your cat back if it goes astray. Kitty should wear a collar and tag with your phone number. Microchip information should be up to date. Carry a current photo for posters or to inquire with strangers about whether they've seen your cat.
If you're camping, ask park rangers or camp-bound managers about predators, such as bears, mountain lions or coyotes and take precautions.
Secure Kitty in a crate when you're driving. Buckle the container into the middle of the back seat so your cat sees you (and some scenery) but is away from the loudest engine noise. Or you can pack around the crate to hold it in place, but make sure the vents are clear.
A hard-shell case that offers room for your pet to sit up and turn around works best, and don't forget a cozy blanket and small toy.
Stop for breaks so your cat can stretch its legs and be reassured, if necessary, with some affection and attention.
Feed at the right times. Some cats do suffer motion sickness. I fed Michelle after we arrived at the lodging or an hour or two before we left for the day.
Use an enclosed litter box. (A file folder box with a lid is an inexpensive option.)
Take toys. Just because you're traveling doesn't mean Kitty doesn't need to be amused or entertained.
Besides breaks while driving, consider breaks in your journey to give yourself and your cat days off. It's good for both of you.
MORE ROAD TRIPS
Your ultimate guide to planning the best summer road trip
In the Mojave Desert, a winding route reveals the weird and the wonderful
On a road trip, love means always having to say you're sorry and other lessons learned
You can't take a road trip without pit stops. Here's the lowdown on 7 spots
---
Get inspired to get away.
Explore California, the West and beyond with the weekly Escapes newsletter.
You may occasionally receive promotional content from the Los Angeles Times.