A step back in time in northern Arizona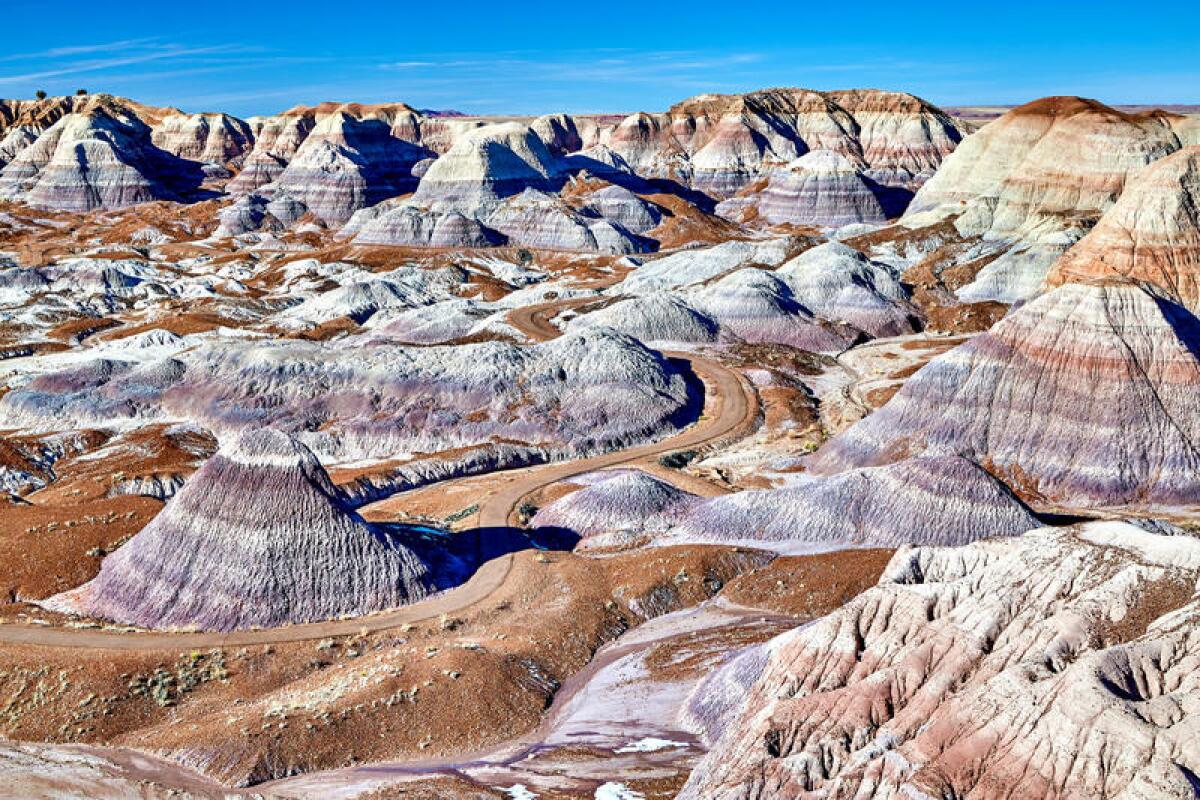 The route
From Petrified Forest National Park in northeastern Arizona, west into Flagstaff on Interstate 40, or vice versa. This stretch incorporates a lot of history, including some of the fabled Route 66.
Miles
100-plus miles, one way.
Best time
How do you like your weather? The high-plateau country can be blustery or blistering. In late March, a snowstorm welcomed us to Flagstaff. It's (delightfully) northern Arizona.
Why
Because the road is straight and easy, and the exits offer attractions from kitschy to cultural.
Highlights
Take an (unpaved) turn not far off I-40 near Flagstaff to find stunning Chocolate Falls (officially Grand Falls), a multi-layered, occasionally roaring extravaganza. We gave meaning to the term "road trip" by first turning the wrong way onto rutted Indian Route 6910 to the surprise of some speedy pronghorn antelope, then found our way to this watery treasure on Navajo land. Also off the interstate, but paved: The rainbow-hued vistas at multiple roadside lookouts in the Petrified Forest and Painted Desert. Even better are short trails at Tawa Point and Blue Mesa Badlands. And, right on (old) Highway 66: If the lyrics "Standing on a corner in Winslow, Ariz." make you hum, make a sentimental stop here for a smile and a selfie.
Memorable stay
A step back in time at La Posada, the well-renovated 1920s onetime Harvey House railway hotel in Winslow. Coffee in hand, a band of harried car travelers swapped stories as we cheered the arrival of the whistling Amtrak Southwest Chief passenger train.
Memorable meal It's hard to focus on the menu at the hotel's art gallery-like Turquoise Room because, well, those trains are outside the window. It turns out that the Corn Maiden's Delight — polenta topped with tomatoes, spinach, poached eggs, jalapeño jack cheese and salsa — lives up to its billing.
Tourist trap or treat
Technically not a "trap" because the Meteor Crater is a real thing; a huge, well-preserved gash where 50,000 years ago, a fiery nickel-iron rock weighing hundreds of thousands of tons smashed into Arizona. But admission is pricey ($18 for adults, $9 for children ages 6 to 17).
Plan to spend
Three or four hours for a leisurely drive, minus the worthy walks in the Painted Desert and Petrified Forest, Grand Falls (season allowing) and Homolovi State Park in Winslow. Overnight midway at La Posada for a taste of travel in another era.