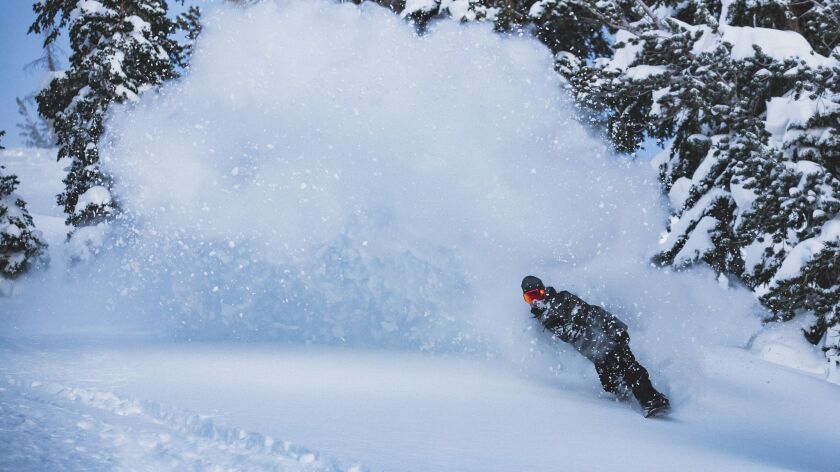 Skiers and snowboarders will be able to spend the Fourth of July on the slopes at Mammoth Mountain, which expects the near-glacial amount of snow it has received this season to keep slopes covered into summer.
The announcement Tuesday comes on the heels of last weekend's storm that dumped 3 feet of snow at the resort in Mammoth Lakes, Calif. Another 2 feet is expected to hit from Wednesday until Friday. So far in February alone, 128 inches of snow have fallen at Mammoth.
"The current base depth of 210 inches is also the highest in the country," spokesman Tim LeRoy wrote in an email Tuesday. Mammoth still has a ways to go to catch up with the record 2010-11 snowfall, when it got hit with 668.5 inches, mostly in November and March.
(You can get a sense of current conditions by watching Mammoth's most recent YouTube video.)
Strongest storm of season takes aim as fire-scarred parts of Southern California brace for impact »
In the Lake Tahoe area, Squaw Valley-Alpine Meadows in Olympic Valley, Calif., said it's expecting a strong spring skiing season, but fell short of predicting summer skiing.
"The last time we were open through July 4 was during the 2016-17 season, where we received a season total of just over 700 inches of snow," spokeswoman Alex Spychalsky wrote in an email Tuesday. "The current snowfall we are experiencing bodes well for strong spring conditions."
The incoming storm expected to start Tuesday night may "bring the dense 'Sierra cement' snow that adds to the longevity of our snowpack," Spychalsky wrote.
Mt. Rose, also in the Lake Tahoe area, about 30 miles south of Reno, hasn't yet set a closing date. Over the last few years, the resort, which opened Oct. 19, has remained open at least six months. It reported a current 96- to 132-inch base depth.
Big winter storms and big winds hampered operations at several Sierra resorts earlier in February.
Mammoth, June Lake and Squaw Valley-Alpine Meadows closed in part because they couldn't safely operate lifts. With fresh storms approaching, skiers and boarders are urged to check ski lift operations online or call the resort before heading out.
---