Strongest storm of season takes aim as fire-scarred parts of Southern California brace for impact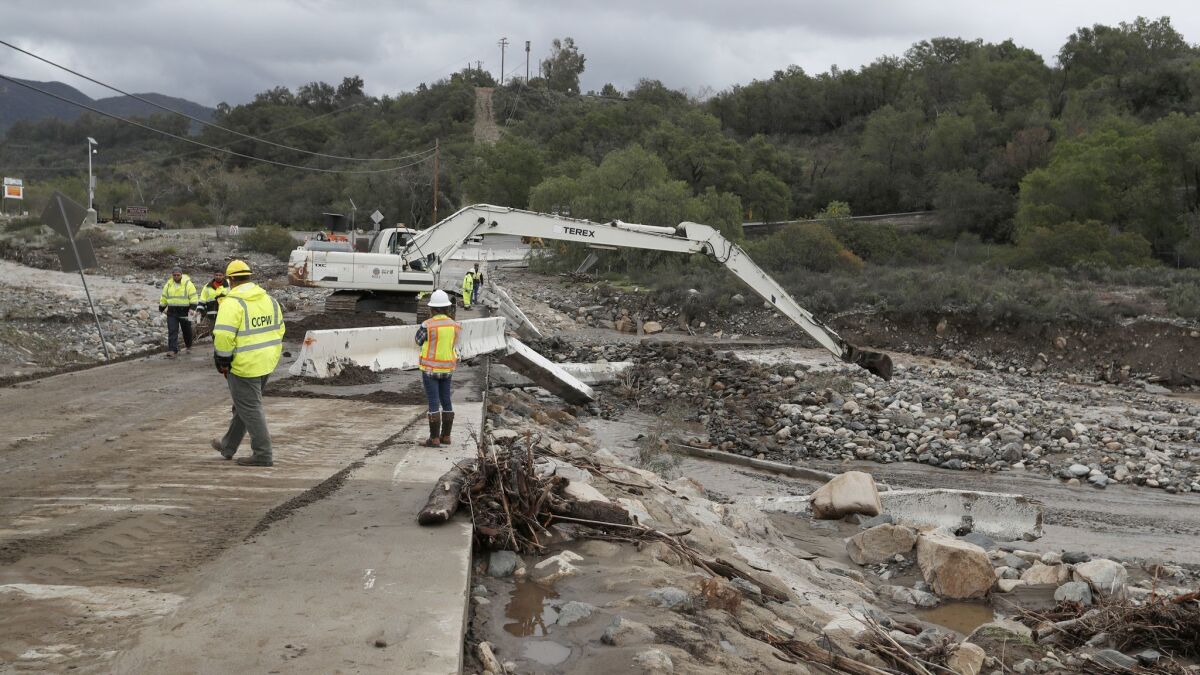 The strongest and potentially wettest storm of the winter season is bearing down on Southern California this week, threatening to unleash debris flows in burn areas in Orange and Riverside counties as the region's wild winter continues.
The atmospheric river-fueled storm, packed with subtropical moisture, will take aim at large swaths of the already-soaked state beginning early Wednesday and lasting through Thursday.
The amount of precipitation from the storm will vary depending on the region, with San Diego, Orange and Riverside counties likely to be pounded with up to 2 inches of rain along the coast and up to 10 inches at higher elevations. This could create a dangerous situation for residents in recent burn areas, according to the National Weather Service.
Forecasters predict the Holy fire burn scar will see 2.5 to 6 inches of rain, while the area affected by the Cranston fire last year will likely experience 3 to 8 inches of precipitation through Thursday. That has the potential to trigger debris flows and flooding, according to the weather service.
The atmospheric river will combine with a front that will help wring moisture out of the system, with the heaviest rain expected Thursday.
"It's going to give us the biggest storm we've seen so far this season," said Jimmy Taeger, a meteorologist with the National Weather Service in San Diego.
The Riverside County Emergency Management Department posted on social media this week that everyone who lives near the burn scars should prepare for potential evacuation orders, though none had been issued as of Tuesday morning.
Forecasters don't expect Los Angeles County to be hit as hard during this storm.
Between an inch and 2.5 inches of rain is expected to fall along the coast and valleys, while the foothills and mountains could see up to 4 inches, forecasters said. Officials don't expect the storm to have rainfall rates that would cause significant debris flows in the Woolsey burn scar area, but they're keeping an eye on it.
"There's always a chance, and we're not ruling out minor problems," said Lisa Phillips, a meteorologist with the National Weather Service in Oxnard, adding that hourly rainfall rates play into the potential for destructive debris flows and mudslides.
"With this storm, we're looking at lower rain rates than we've had previously," she said.
More rain on the way means Highway 1 again will close in Big Sur. It's a process that has been repeated twice since November. The road, which will be blocked starting Tuesday night, won't reopen until crews have checked the Mud Creek and Paul's Slide areas for damage.
The subtropical moisture in this week's storm will bring warmer air to the Southland, which is welcome news for Angelenos who have bundled up amid chilly temperatures over the past week.
"It'll hopefully put an end to those near-freezing temperatures overnight," Phillips said.
Warmer air also means snowfall will be confined to higher elevations, likely above 6,500 feet, which is a change from more recent storms, forecasters said.
Two low-pressure systems from the Arctic that slammed the Sierra Nevada last weekend brought snow to elevations as low as 1,000 feet. This latest system will bring its fair share of fresh powder.
The Carson Pass on the crest of the central Sierra Nevada is expected to see up to 60 inches of snow through Thursday. Donner Pass and Echo Summit could receive up to 36 inches and 24 inches, respectively. This could bode well for the state's already abundant snowpack, officials said.
The snowpack across the Sierra Nevada, California's greatest mountain range and the state's frozen reservoir of water, is above normal — 129% of average — as of Tuesday. The highest snowpack of the year is usually measured April 1.
"We were way below that last year," said Cory Mueller, a meteorologist with the National Weather Service in Sacramento. "It's a night-and-day difference."
Twitter: @Hannahnfry
---
The stories shaping California
Get up to speed with our Essential California newsletter, sent six days a week.
You may occasionally receive promotional content from the Los Angeles Times.