Southern California ski resorts received the gift of powder — and more is on the way. It snowed hard Monday and was expected to continue through Tuesday, according to weather forecasts.
Big Bear Mountain Resort in Big Bear Lake opened all lifts and trails. The resort, which includes Bear Mountain and Snow Summit, reported 42 inches at the more than 8,000-foot high point and 26 inches at the base Monday.
The weather forecast for the San Bernardino Mountains resort calls for snow all day Tuesday before temperatures warm up and possibly give way to rain Wednesday.
Night sessions until 8:30 p.m. are available on selected dates.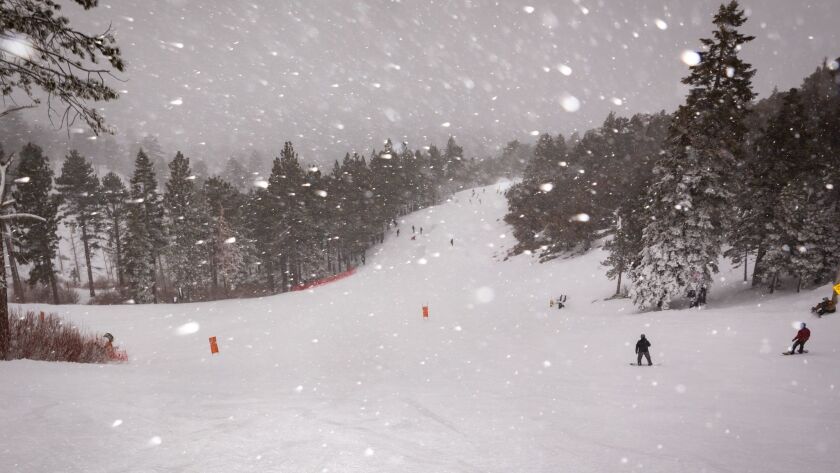 Mountain High in Wrightwood on Monday reported a top snow depth of 38 inches and a base of 12 inches. It's also expecting more snow this week.
"[Four] to 8 inches of snow have fallen at Mountain High with 6 to 12 inches of snow expected," spokesman Patrick Pierce wrote in an email Monday. "It's been a great day snowfall-wise."
The resort opens for night skiing and riding from 5 to 10 p.m. daily.
Snow Valley in Running Springs received 2 inches over the weekend and posted a video on Facebook showing heavy snow falling Monday. It too is expecting a foot of snow to fall from the recent storms. The resort reported a current base depth of 30 to 42 inches of snow.
---