Four rules for minimizing your rental car cost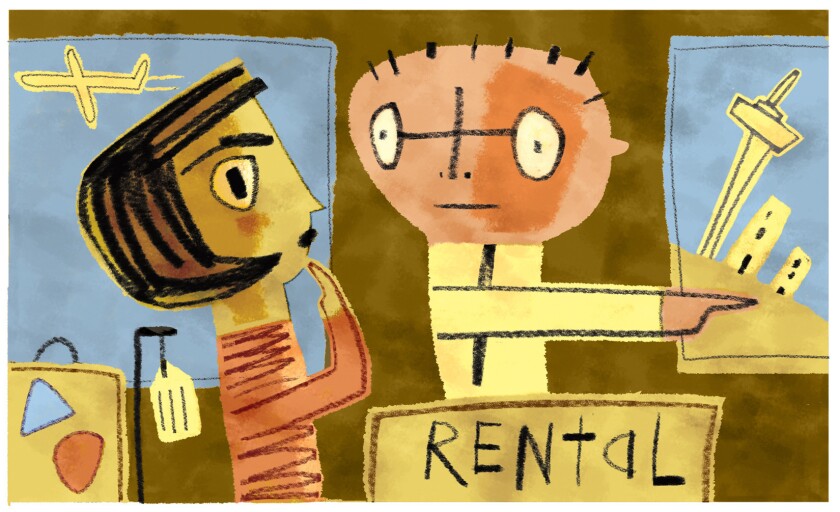 Question: It seems to me that the rates for car rentals have risen considerably. How can one obtain an affordable rental car? How do you do it with multi-city destinations?
Mary Farkas
Los Angeles
Answer: Farkas is right about increased costs for rental cars. At the beginning of the year, American Express' Business Travel Forecast predicted a 1.5% cost increase for cars rented in North America.
That's partly because of the cost of an automobile, which averages $32,086, according to John Rosevear, writing for the Motley Fool (www.fool.com) website. It's also partly because of consolidation among rental car companies, thus reducing competition. Dollar and Thrifty, for instance, are affiliated with Hertz; Avis and Budget are financial bedfellows.
The third culprit in this drama is airport taxes and fees, which can add considerably to your bill.
Here's what the savvy consumer can do to counteract those factors over which you have no control.
Let's pretend you're in Seattle from June 11-15 and renting from Budget.
For an economy two-door or four-door that you rent at the Seattle airport, I found a rate of $402.85. Of that, $118.65 was taxes and fees.
But if you rent at the Budget outlet in Homewood Suites on Pike Street in Seattle, that same rental will cost you $252.82. The taxes and fees on that one? $40.86.
Blame the difference on airport concession fees. (Seattle often is cited as a big offender in this category.)
Rule No. 1: Check to see whether off-airport rental is less expensive. If it is, it might be worth your while to take public transportation into town and get your car there.
Those two prices, by the way, are what Budget calls "walk-up" rates. You can cut your costs by paying in advance, which some rental companies increasingly are offering.
At the airport, Budget's pay-in-advance rate for the same car: $365.87. Off airport, it's $227.98.
The good news about the prepaid rate: It's not like an airline ticket. You do get your money back (a small processing fee may be added, but nothing like what airlines charge) if you must cancel. Budget notes on its website that "you can change most things on your prepaid reservation on Budget.com, at the counter at any time, even multiple times, with no fee."
Rule No. 2: If a company offers a pay-in-advance rate, book it, Dan-o. In this example, you'd save yourself $174.87 if you rent off-site and pay in advance.
You also can save yourself quite a bit of money by bidding for and booking rental cars on an "opaque" ("we aren't going to tell you which company until you've already paid for the rental car") site such as Priceline or Hotwire. Unless you're an elite customer or have a company rate — that is, if you're a leisure traveler — it doesn't matter much which company you rent with; a car is a car, the wisdom goes. The downside to an opaque site is that if your plans change, you'll have to eat the cost of that rental. I've done that — and it isn't tasty.
Rule No. 3: Check out the opaque sites, keeping that restriction in mind.
Now we get to one-way rentals, which can be but aren't always more expensive. Paula Rivera of Hertz explained it this way in an email: "Part of [the higher cost] is inventory management, but there are other things taken into consideration: mileage that will be put on the car, normal wear and tear, costs associated with getting the car back to an area…"
Rivera also notes that some areas of "high movement" don't charge more for one-ways — she cites Florida and the New York metro area. But some companies may not let you take the car out of the region, so check that in advance.
If you face higher costs for one-way, you might do what Rick Garlick, the global practice leader for global hospitality for J.D. Power — he studies rental cars and rents frequently — suggests: You may be able to reduce your rate by renting and returning.
Let's say you're driving from Boston to Baltimore. You could rent a car for the time you'll spend in Boston and return it. Then rent a car for your trip from Boston to Baltimore; return that. Then rent a third car for your time in Baltimore; return that. If you're not planning to stop along the way, you could rent in Boston, take the train to Baltimore and rent in Baltimore.
Rule No. 4: Think outside the rental car box, if your travel plans allow. That could mean some combination of a car and other type of transportation. Hard to cut the cord, I know, considering our love affair with the auto, but we do pay a price, and sometimes love extracts too high a toll.
Have a travel dilemma? Write to travel@latimes.com. We regret we cannot answer every inquiry.
---
Get inspired to get away.
Explore California, the West and beyond with the weekly Escapes newsletter.
You may occasionally receive promotional content from the Los Angeles Times.