Basic economy means you can fly for less, but is it right for you?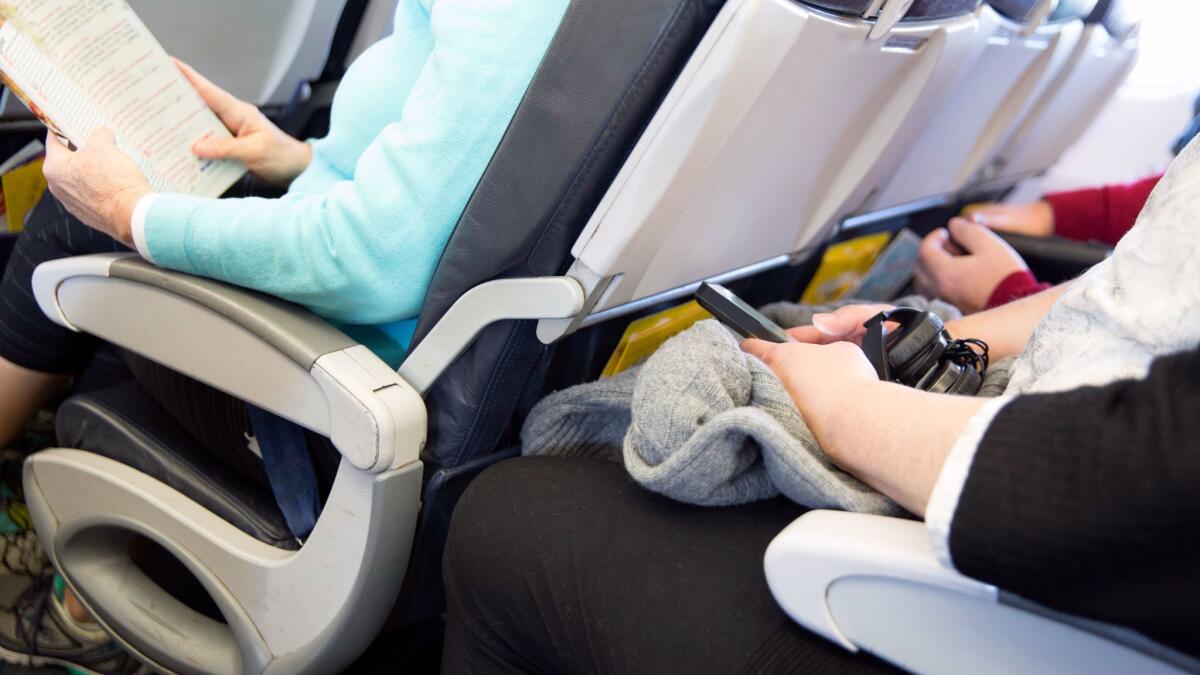 Let's say you are going to Washington, D.C., in mid-January. It's post-holidays and you have bills to pay, so cost is important.
You find a fare on American from LAX for $277. It's a good schedule and the price is right.
But wait. It's for "basic economy." What does that mean? Is it a good deal? And why do you owe a debt of gratitude to those who fly in basic?
Basic economy is the legacy airlines' effort to compete with Spirit, Frontier, Allegiant and other low-cost carriers by offering lower-priced tickets that have restrictions.
There are plenty of them. You can find them on the websites of American, United and Delta; each differs a bit, so be sure to check before you book.
Basic economy, each of those legacy airlines says, means you generally can't:
►Choose your seat in advance. A seat will be assigned to you, and you don't have a say in where it is.
Guess where it's most likely to be? Hint: not on an aisle near the front of the cabin.
►Use the overhead bins on United or American unless you have some sort of airline status. Delta doesn't have that overhead restriction.
That means you must pay to check a bag, send your clothing ahead or take a case small enough to fit under the seat in front of you.
►Change your seat. You look at SeatGuru and you realize that you're sitting by the lavatory in a seat that doesn't recline. Too bad. You can't change it. Good luck ignoring the parade of traffic, the noise and, sometimes, the smell.
►Sit with your family. Unless you're lucky, you're not going to be traveling as a group. Which may not break your heart, but there it is.
►Board before anyone else. You'll be among the last on the plane.
►Upgrade to another class of service. There isn't a way, in most cases, to buy a cheap ticket that's a gateway to nicer seats using your airline miles or money.
►Get your money back if you must cancel a flight. That money is down the drain.
You usually can't get money back with a regular coach ticket (unless you buy a refundable fare), but you can change most economy fares. It will cost you, and the change fees may eat up much of that fare, so it's almost a wash either way — just like basic economy.
►Get get frequent-flier miles. Kiss those points goodbye.
►Get a seat.
►Get a soft drink.
►Buy Wi-Fi.
►Use seat-back entertainment if you have your own headphones.
You can save money. How much depends on the route, the competition and so on.
Sonia Robledo, the owner of the Traveling With Sonia agency in Riverside, found a basic fare for $245 on United for a client flying from Dallas to Bakersfield to San Francisco and back to Dallas.
A not basic fare? $745, she said in an email. In her words, "Yikes."
But most savings she finds run about $40.
Probably, especially if you're booking on the airline's site, said Seth Kaplan, managing partner of Airline Weekly.
"It's pretty difficult to make it all the way through the process without understanding what you're getting (or more to the point, what you're not getting)," he said in an email.
It may not be as clear, he said, with some online travel agencies, or OTAs.
"With the big OTAs, the language is there, and it's not in tiny print, but I could imagine someone quickly clicking through it all without realizing they're missing something important."
That depends on you. George Hobica, founder of Airfarewatchdog, a bargain-hunter's fare site, was chatting recently with a group of twentysomethings who extolled the virtues of basic:
"Typical comment was 'I stuff everything I need in a small backpack and shove it under my seat. I don't need to check a bag and I don't need to use the overhead bin,'" Hobica said in an email.
"One person even said, 'I wash my underwear in the sink and dry it overnight. I don't need much clothes or other stuff.'"
If that's you, go for it.
If you're not flying basic economy, you should thank those people who are.
"Because of basic economy, there are now 30% fewer mainline flights where the overhead bins fill up, and we've seen a 50% decline in the number of bags needing to be tagged and checked at the gate," Maggie Schmerin, a United representative, said in an email.
"All of this is leading to faster turn times with our aircraft and a quicker boarding process for customers."
Basic may not be for you, but it can help you. You may not save money, but you'll save time, and that's almost as precious.
Have a travel dilemma or question? Write to travel @latimes.com. We regret we cannot answer every inquiry.
Get our L.A. Goes Out newsletter, with the week's best events, to help you explore and experience our city.
You may occasionally receive promotional content from the Los Angeles Times.