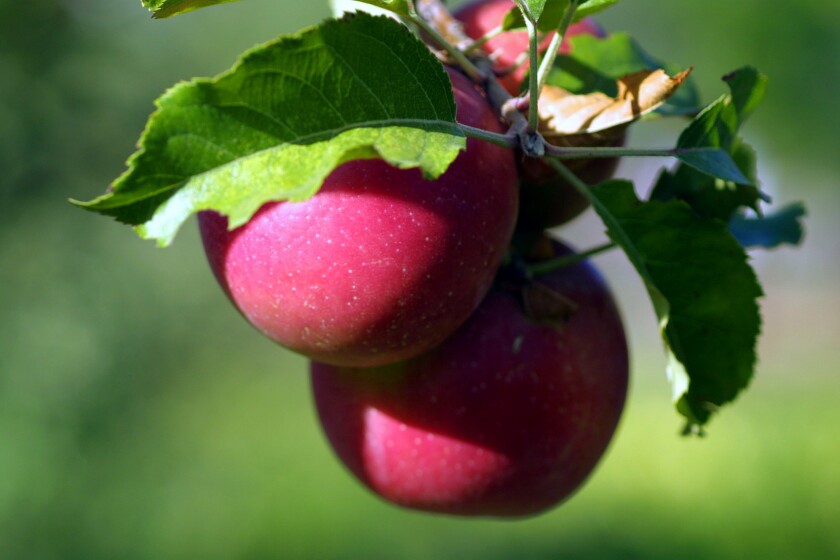 You can always "pick" apples from a bin at the grocery store, but have you ever plucked one from a tree? Find apples and apple products at the following California orchards. Most let you pick them yourself; some let you make your own cider; and all have fruits ready for baking, eating and gifting.
Los Rios Rancho, Yucaipa
You'll probably work up an appetite picking fruit from this 10,000-tree apple farm; it's one of the largest in Southern California and has been family-owned since 1906.
Gravensteins and galas come first, after that Red Delicious, Romes and other varieties. Apple picking continues through the end of October.
When you're ready to take a break, check out the Farm Kitchen, which sells chicken apple sausage sandwiches; bacon-apple grilled cheeses; apple pies and pastries; and cider floats and slushies. Weekend visitors can take a horse-drawn wagon ride, make their own cider or take a tour of the packing house and cider press.
Info: Los Rios Rancho, 39611 Oak Glen Road, Yucaipa; (909) 797-1005. U-pick available now from 10 a.m. to 4 p.m. Saturdays and Sundays. $3 a pound for most apples, $5 a pound for rare varieties.
Snow-Line Orchard, Yucaipa
If you'd rather leave the picking to the professionals, Snow-Line doesn't have a you-pick service. But they do sell plenty of apple varieties in the gift store as well as mini cider doughnuts; apple butters, jams and jellies; vinegars and oils; sauces and salsas; tea and other gifts.
Visitors 21 and older can sample apple wines and hard ciders in the tasting room. If you get hooked but don't live close by, you can order bottles online.
Info: Snow-Line Orchard, 39400 Oak Glen Road, Yucaipa; (909) 256-0405; Open 10 a.m. to 4 p.m. Saturdays and Sundays.
Gizdich Ranch, Watsonville
Gizdich lets you bring your own container to fill with Fuji, Newtown Pippins and Red and Golden Delicious apples. The family-run farm sells picnic lunches for $7.60, but you can also bring your own food to eat in the picnic area.
On your way out, stop by the pie shop for pies whole or by the slice, plus apple slushies and apple dumplings in a buttery apple cinnamon sauce. There's also an antiques shop, so you can stock up on serving ware for all that pie and cider.
Info: Gizdich Ranch, 55 Peckham Road., Watsonville; (831) 722-1056; Pik-Yor-Self daily 9 a.m. to 5 p.m. the first or second week in September (check the website for opening date and prices).
Denver Dan's Apple Patch, Camino
Have kids? This orchard east of Placerville might be their dream. When you and the little ones are done picking apples (they have 30 varieties) by the bucketful, stop by the bake shop for Denver Dan's specialty — apple crisp — or pies, turnovers, cookies and muffins, plus lunch items and frozen desserts to take home.
After that, kids can feed the animals, ride ponies or take baking lessons. There's also a guided orchard tour with a scavenger hunt and apple treats; call or check the website to confirm pricing and availability.
Info: Denver Dan's Apple Patch, 4354 Bumblebee Lane, Camino; (530) 644-6881; You-Pick available 9 a.m. to 5 p.m. daily from Aug. 31. $1.75 a pound.
---