Mini-golf, putt-putt, whatever you call it. Here are five of the best places to play in the West
Here's how comedian Bob Hope explained golf: "If you watch a game, it's fun. If you play it, it's recreation. If you work at it, it's golf." But it doesn't have to be all work and no play, especially when it's miniature golf or a putting green or both. Here are five places Westerners will like.
Kilauea, Hawaii
Anaina Hou Mini Golf & Gardens in Kilauea on Kauai is a North Shore treasure as sweet as any shave ice treat. Putt your way over, around or through water hazards, jungle thickets and "lava" grottos while taking in on each of the 18 holes a short lesson — maps, photos, explanatory text — in the flora, fauna, geology, and human and cultural history of the Hawaiian Islands. Flip-flops are standard footwear on this course. Green fees run from free to $18.50, depending on age.
Info: Anaina Hou Mini Golf & Gardens, 5-2723 Kuhio Highway; (808) 828-2118
Kings Beach, Calif.
Imagine if a putter hanging over the entrance denoted the aesthetic of a particular mini-golf course? If so, then players would be greeted at Kings Beach Miniature Golf in Kings Beach, Calif., by a timeless piece of workmanship like a Bullseye or Wilson 8802.
Opened in 1957, many of the original hand-built challenges at this site on the north shore of Lake Tahoe are still in use. This is rustic, throwback, family-vacation fun, with an old-school "volcano" — you know, the cone with a hole buried in the top, and still my nemesis — and a spinning roulette wheel, and 25 decorative golf balls from which to choose (go with the eyeball). Plonk down your $11 and play both 19-hole (yes 19) routings.
Info: Kings Beach Miniature Golf, 8693 N. Lake Blvd.; (530) 546-3196
Las Vegas
Baseball, apple pie … Las Vegas? If popularity is any indicator then Vegas is as much a sacred part of Americana as a slice with cheddar and summertime doubleheaders. Now mix in some rock? Over. The. Top.
Monster Mini Golf partnered with KISS and Rio All-Suite Hotel & Casino to bring mini-golf indoors and hammer it with high kitsch — think putting up Gene Simmons' tongue to DJ-spun KISS tunes to playing through a towering rendition of Paul Stanley's boots — all under black light. Augusta National it's not. Kiss part of an afternoon or evening goodbye and rock 'n' roll while rolling the rock. $11.95 per 18-hole round.
Info: KISS by Monster Mini-Golf, Rio All-Suite Hotel & Casino, 3700 W. Flamingo Road; (866) 746-7671
Bandon, Ore.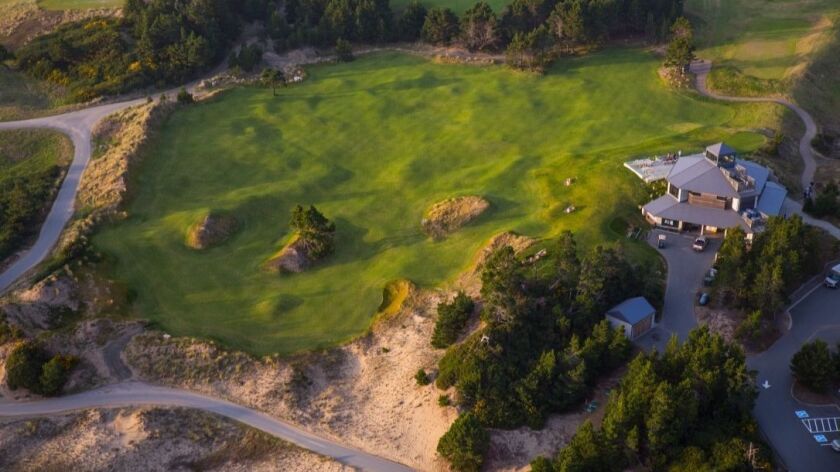 You get a little extra at Bandon Dunes Golf Resort in southern Oregon: the Punchbowl, the resort's free-for-guests putting course.
Each day, two 18-hole layouts are created on this two-plus-acre expanse. The routings, some short, some not, will vary..
It's free for resort and daily golf guests. Fees for Bandon's four full-length course vary by season; for June, $250; for July to September, starting at $375. The 13-hole par-3 Bandon Preserve course costs $100.
Info: Bandon Dunes Golf Resort, 57744 Round Lake Road, (888) 345-6008
Sun Valley, Idaho
The Sun Valley Resort features the Sawtooth Putting Course, with
18 dedicated holes. It's like mini-golf without the clowns. It takes place on shorn grass so it is like real golf. The Idaho mountains setting is stunning, so it is definitely like being on vacation. A steal at $3-$8.
Info: Sawtooth Putting Course, 200 Trail Creek Road; (208) 622-2251
---
Get inspired to get away.
Explore California, the West and beyond with the weekly Escapes newsletter.
You may occasionally receive promotional content from the Los Angeles Times.