A different Oregon unfolds in the wild, wild east
Reporting from Baker City, Ore. —
I do it every time: overschedule a visit to Portland, Ore. Leave it to a New Yorker to make one of the country's most laid-back cities seem like a giant escape room with a gantlet of back-to-back appointments.
Thankfully, I saved time for a vacation afterward.
I craved a respite where I could withdraw. "We could go to Antelope," my husband, Ronnie, joked, referring to the small central Oregon town taken over for a few years in the 1980s by the Rajneeshee community, subject of the documentary "Wild Wild Country."
As tempted as I was to drop out and join a cult, I had my eye on an even farther-flung part of the state: the northeastern corner just south of Washington and west of Idaho. I couldn't wait to leave workday stress in the rear-view mirror.
Day 1: Off the radar
I built our journey around this alert on Minam River Lodge's website: "Please look forward to being unplugged!" No cell, no internet? Just what I needed.
Like most hideaways, the lodge is not easy to get to. From Portland, we flew into Walla Walla, Wash., and picked up a rental car. For two hours and 20 minutes, we drove past hay-covered fields and on twisting fir-flanked roads until we arrived in Enterprise, Ore.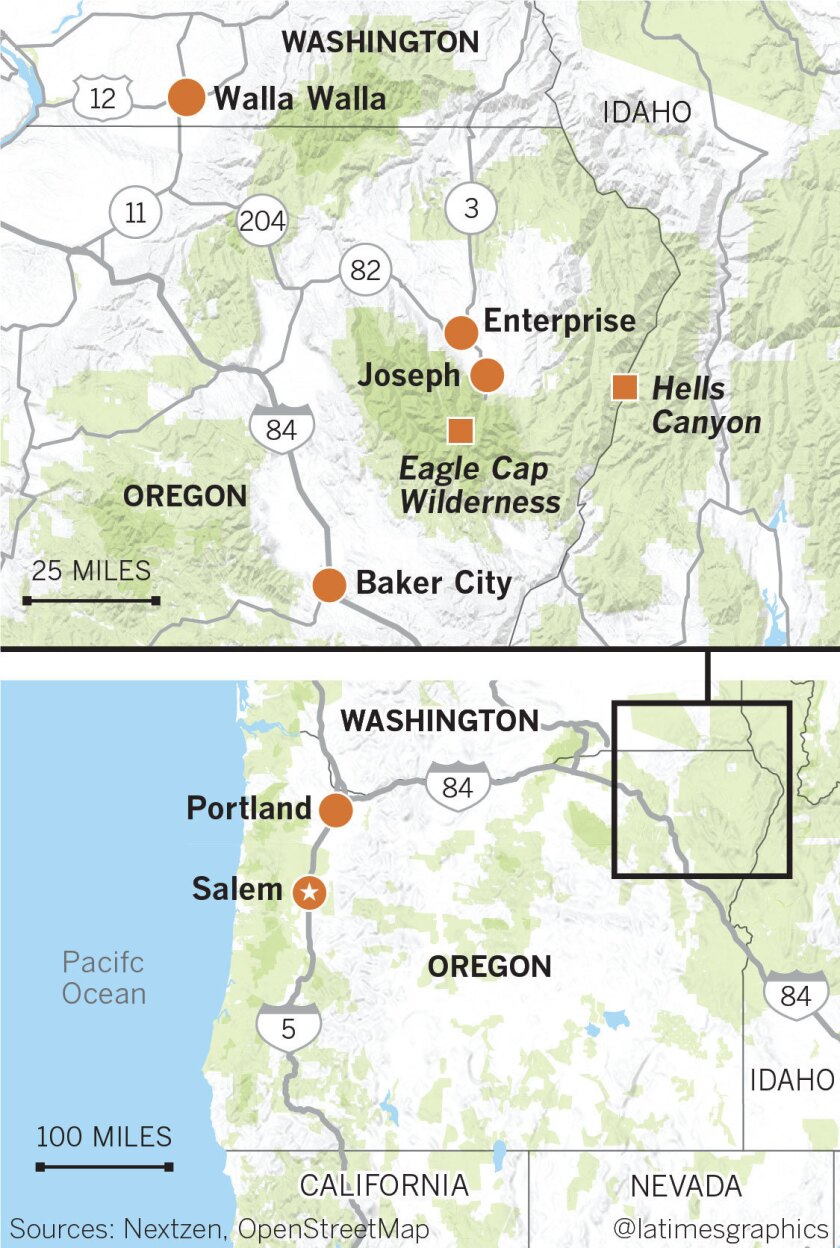 Ironically, the next thing we had to do on this first day of a road trip was ditch the car. It was a requirement; the only ways to access the lodge are by a half-day on horseback, a four-hour hike or a 20-minute small plane flight.
We chose the small plane, so we parked our car at a Cessna hangar in Enterprise. The pilot loaded our bags atop rolls of sod and kegs of beer, which he would drop at the ranch along with us. Without much ado, we took off, bounding over imposing ridges. After we landed on a small grass airstrip, a tractor took us to the main house.
This former hunting lodge is set on 126 acres in the Eagle Cap Wilderness, but it was apparent we wouldn't be roughing it. Our room on the second floor was all rustic luxe, one wall of windows revealing expansive mountain views and dozens of horse and hiking trails.
Most everything in the room was made of wood, burlap, stone, metal and leather. The king-size bed faced the windows. I looked forward to waking up to that view.
But that would have to wait until morning. Now, it was time for happy hour. We wandered down to the lobby, noticing fellow guests easing into Adirondack chairs on the large deck off the dining room.
In the kitchen, chef Carl Krause busily prepped for a 6 p.m. dinner. I stopped to watch him and gathered he was not just some camp cook. He exuded the quiet, centered competence of a kitchen Zen master. I would soon learn that sustainability rules his kitchen; he sources as much locally as he can.
When the dinner bell rang, 16 of us took places around a long, sturdy table, eager for the family-style feast. We passed platters of pillowy gnocchi tossed with butternut squash and soft shreds of brisket; zucchini rounds sprinkled with aromatic hazelnut dukkah; green salad with creamy sunflower spruce dressing; braised collard greens; and shortcake with whipped cream and peaches. Dinner, accompanied by a Pinot Noir from Oregon's Willamette Valley, was worth the trek alone.
We moved back to the deck after dinner to finish the wine and were surprised when two of our dining companions grabbed guitars. They happened to be professionals from a band called J. Moses and the Ragged Sunday. Their folksy rock serenade, against the backdrop of the moonlit mountain range, eased us into bedtime.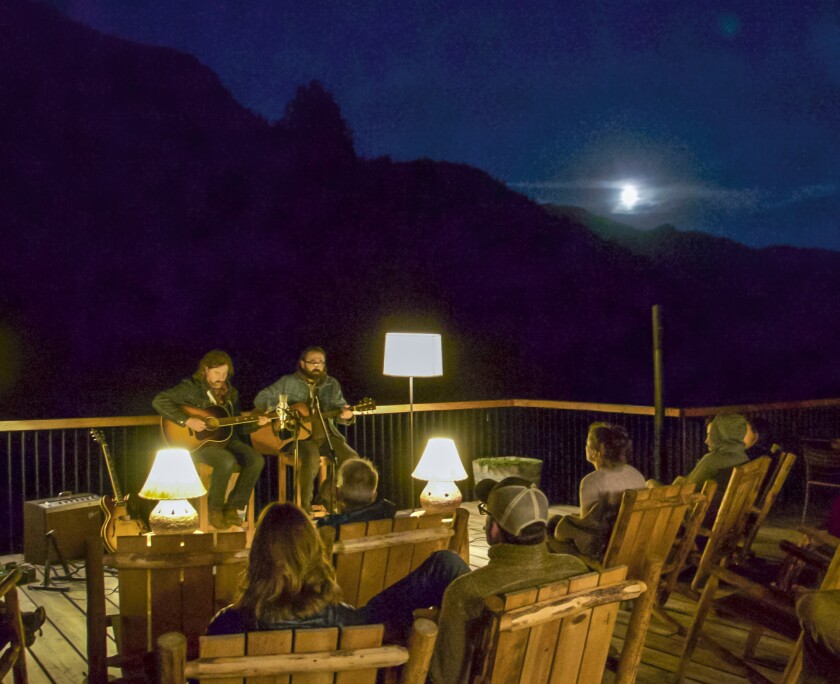 Day 2: Woodland creatures
"What's the subway like?" Wes, our guide, asked as we loped on horseback the next morning. I was atop a chestnut steed named Tony after finishing a breakfast as epic as the previous night's dinner.
Wes pointed out a bald eagle swooping past. I told him that he would encounter more dangerous wildlife on the subway than in these glorious surroundings, but he corrected me.
"We also have wolverines, antelope, elk, deer, cougars, black bears," he said, causing me to look over my shoulder when we stopped at a clearing for lunch. After a four-hour ride, we returned to the lodge, grateful for the hot tub secluded in a thicket.
Ronnie and I sat in it until pruney, then relaxed on the deck until it was time for another spectacular meal from Krause. The night again ended with live music and moonlight.
Day 3: Perspective
Renewed and rebooted, we reluctantly bade farewell to Minam River Lodge after a rousing morning hike. Back in Enterprise, we drove 10 minutes to check into the Barking Mad Farm B&B. We knew we would like it the minute we noticed the quote on the breakfast room wall: "There has never been a sadness that can't be cured by breakfast food."
The 42-acre farm was full of wildlife: a motley crew of piglets; braying brood of goats; meandering cows; grazing bison; and a coop full of chickens. The 1910 farmhouse's most striking asset: 360-degree views of the Wallowa Mountains to the south and the Seven Devils to the east. They provided an impressive eyeful, but the best was yet to come.
Fifteen miles down the road is the Wallowa Lake Tramway, a gondola that carries riders 3,700 feet to the peak of Mt. Howard. During the 15-minute ride, the views became increasingly expansive as formidable crags gave way to an eagle-eye view of the shining, crescent-shaped lake. At the summit, we embarked on an easy 2½-mile hike to take in an even more spectacular panorama.
When we descended, we drove a few minutes to the other side of the lake to explore downtown Joseph. Main Street is only six blocks long, but there's quite a bit to browse. An array of bronze sculptures depicting scenes of Western life lines the stretch, most notably "Attitude Adjustment," a cowboy steadying a bucking rodeo horse.
You'll also find a lumber mill, a hardware store and a bronze foundry alongside art galleries, vintage shops, clothing boutiques, artisanal food stores and restaurants.
"We're known as Little Switzerland," the cashier at Arrowhead Chocolates told me. Each September that parallel is celebrated during the town's Alpenfest. Arrowhead's chocolate-covered toffee certainly highlighted the similarity.
Day 4: Next stop: Hell
After Cessna, horseback and tramway, we were eager to get back to the actual road part of this trip. When our wheels hit the Hells Canyon Scenic Byway we felt as though we were on the set of a car commercial, winding our way through mountain passes for three hours.
We teetered between Oregon and Idaho time zones, stopped for cattle and curled along the mile-long Snake River, which divides the mighty, dauntingly named canyon. At our destination — Hells Canyon Dam — we parked and piled into a jet boat with a dozen others.
Within a few minutes we soared across the river, the limestone canyon rims rising on either side of us. At points we jumped and jetted through Class II, III and IV rapids; in other sections, we glided along glassy water. We stopped at a grassy clearing for lunch, explored a cabin museum and spotted brown bears near the banks.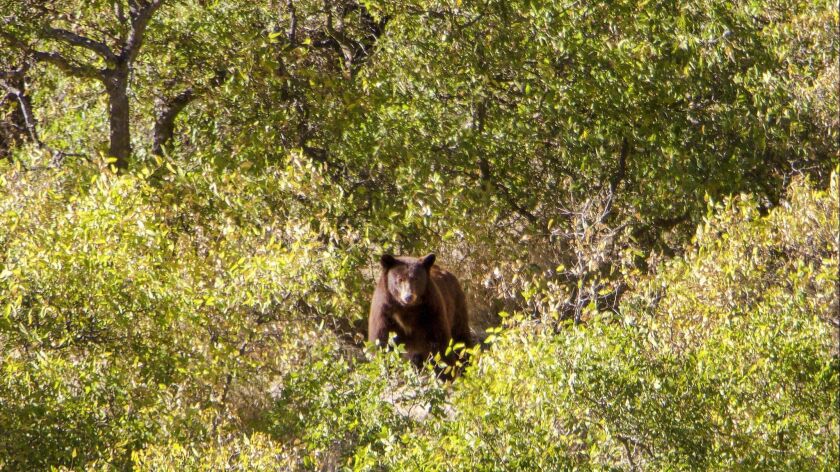 Such beauty caused me to wonder about the name. Why Hells Canyon? Perhaps as the deepest gorge in North America at 8,000 feet, Hells Canyon alludes to the notion that anyone unfortunate enough to plunge its depths would surely reach the netherworld.
Back in the car, shaking off the adrenaline, I thought if that was hell, then heaven could wait.
Day 5: Eastern promise
The towering cupola of the Geiser Grand Hotel marked the center of Baker City, a little more than two hours southeast of Hells Canyon Dam. The hotel, a grande dame opened in 1889, is a lovingly restored beauty decked out in mahogany, sparkling chandeliers and a stained-glass ceiling.
The city is named for Edward D. Baker, Oregon's first senator. It was founded in 1870 and grew into an important trading, ranching and mining hub, becoming the largest city between Salt Lake City and Portland. More than 100 historic buildings, including the Art Deco Baker City Tower, make up Main Street and its surroundings.
Baker City was also a significant encampment for pioneers as the first town established along the Oregon Trail in northeastern Oregon. The National Historic Oregon Trail Interpretive Center is worth a stop for history buffs. The site, built around remaining ruts carved by pioneer wagons, features a replica wagon encampment, pioneer artifacts and exhibits about the area's Native American communities.
Our stop included that dose of history; a walk down Main Street, trawling the clothing boutiques, art galleries, restaurants and coffee houses; and a hearty steak dinner at the Geiser Grand.
The next morning, as we set off for the 2½-hour drive back to Walla Walla, Ronnie asked, "What are we doing when we get back to the city?"
I recalled those chaotic first few days in Portland. "No plans," I answered. "Let's keep it that way."
If you go
THE BEST WAY TO WALLA WALLA, WASH.
From LAX, Alaska, American, Delta and United offering connecting service (change of planes) to Walla Walla. Restricted round-trip airfare from $318, including taxes and fees.
Enterprise, Ore., is a six-hour drive from Portland or two hours 20 minutes from Walla Walla Regional Airport.
WHERE TO STAY
Minam River Lodge, Eagle Cap Wilderness, Ore.; (541) 508-1373. Wall tents from $195, double rooms from $245, cabins from $395. Minam River Lodge's 2019 season runs until Oct. 14.
Barking Mad Farm B&B, 65156 Powers Road, Enterprise, Ore.; (541) 886-0171. Doubles from $105.
Geiser Grand Hotel, 1996 Main St., Baker City, Ore.; (888) 434-7374. Doubles from $109.
WHERE TO EAT
Terminal Gravity, 803 S.E. School St., Enterprise, Ore.; (541) 426-0158. Brewpub featuring excellent pale ales and solid pub grub.
Vali's Alpine Restauran, 59811 Wallowa Lake Highway, Joseph, Ore.; (541) 432-5691. Hungarian cuisine tucked into "Little Switzerland." Desserts are a highlight.
Palm Court, 1996 Main St., Baker City, Ore.; (888) 434-7374. Dine under the West's largest stained-glass ceiling within the classic Geiser Grand Hotel. Beef, sourced from local ranches, is the specialty.
TO LEARN MORE
---
Get inspired to get away.
Explore California, the West and beyond with the weekly Escapes newsletter.
You may occasionally receive promotional content from the Los Angeles Times.