This year marks the 100th anniversary of Grand Canyon National Park, which means it's the ideal time to visit the quiet, uncrowded North Rim. About 6.4 million people visit the park annually, but only one in 10 reaches the North Rim. Yes, it's a desolate five-hour-plus drive from Las Vegas, an hour longer than the journey to the South Rim. But even on glorious summer days, I have enjoyed solitude along the trails and haven't had to jockey for position at scenic overlooks. It is often possible to book same-day mule rides into the chasm, difficult to do on the South Rim, where rides are booked months in advance.. The tab for two, excluding transportation: $228 for a rim-view cabin with porch at Grand Canyon Lodge North Rim, $75 for dinner, $90 for a half-day mule ride and $35 for park admission.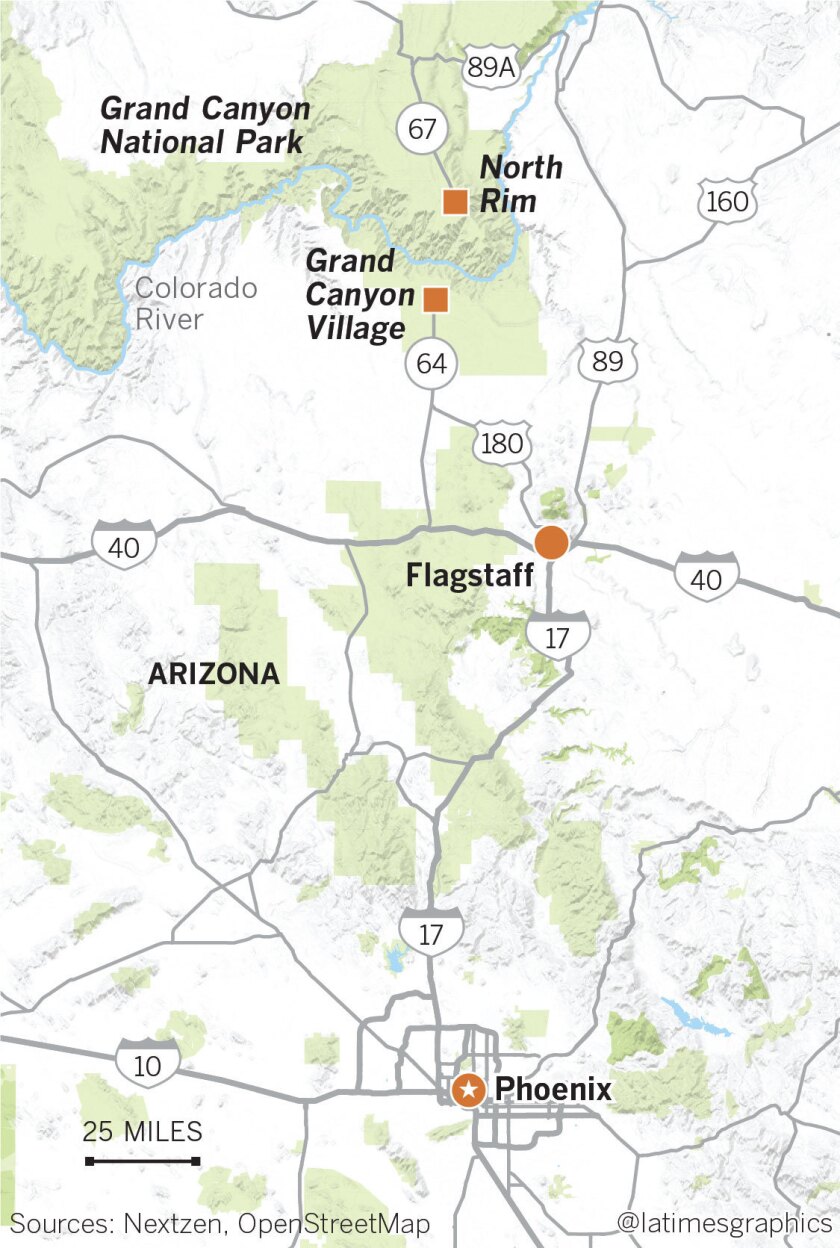 THE BED
The one- and two-bedroom cabins nestled among towering pine trees are a welcome respite after a day exploring the uncrowded trails. The cabins are rustic — no Wi-Fi and no TV — but who needs such distractions with the immense canyon outside the door? The cabins are usually booked a year in advance, so plan accordingly; the nearest motel is 45 miles away. Only a handful of cabins are Americans With Disabilities Act accessible.
THE MEAL
The lodge dining room doesn't take breakfast or lunch reservations, so be prepared to wait. (Reservations are required for dinner and fill up quickly; call [928] 638-8560.) Be patient; the food is as wonderful as the views through the enormous windows. For lunch, a half-pound bison burger with prickly pear cactus cole slaw costs $15.75. Dinner entrees include trout ($26.25) and bison short ribs ($31.50). If it isn't sold out, as was my fate, a cup of elk chili ($5.80) is a good starter. Wheelchair accessible.
THE FIND
Bright Angel Point, less than five minutes' walk from the lodge, is the North Rim's most popular overlook. But for more spectacular vistas, particularly at sunrise and sunset, head to Cape Royal. The hiking trail to the precipice is less than one mile round trip and paved. Photographers can frame the Colorado River through a natural stone arch known as Angels Window.
THE LESSON LEARNED
The weather can change quickly, so come prepared. On the morning I arrived, thick fog made it impossible to see even the closest cliffs. Within 45 minutes, the sun was shining. Thunderstorms can catch hikers unawares. If that happens, keep low to the ground and steer clear of trees.
Grand Canyon Lodge, Arizona 67, North Rim, Ariz.; (877) 386-4383 for reservations and questions. Houses reception area, restaurant and a tour desk. The North Rim is open May 15-Oct. 15.
Grand Canyon National Park, (928) 638-7888. Centennial celebrations are planned for the South Rim and throughout Arizona.
---