All aboard for a weekend escape to Tehachapi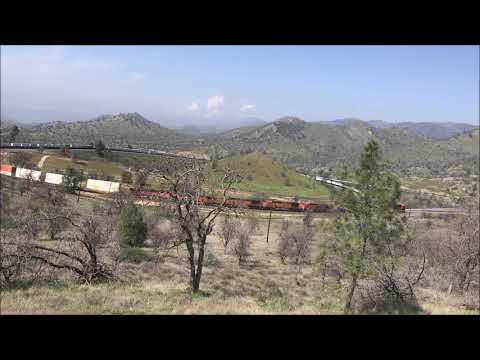 Tehachapi train loop
I had college alumni work to do this spring in Tehachapi (Yes, you've heard of it, but where is it exactly?), so I decided to spend the weekend. Instead of heading for the Sierras on California 14, I turned west at Mojave on California 58 toward Bakersfield and climbed the snowy Tehachapi Pass. The eastern Kern County town of Tehachapi, at almost 4,000 feet, has been around since the late 1800s when a train depot was established there. I found an enticing destination known for the Tehachapi Loop train track spiral, modern wind farms and wineries, and the nearby César E. Chávez National Monument in Keene. The tab: $125 a night, including tax, for a room with a king bed and a view of the train tracks, and about $90 for wine tasting, purchases and lunch at Triassic Vineyards.
THE BED
I had heard that train aficionados should request a third-floor room at the Best Western Plus Country Park Hotel for a view of the Union Pacific tracks. There was the familiar blast of train horns in the distance; locals say as many as 40 trains pass through. A breakfast buffet was included with my comfortable, updated room near Tehachapi's historic downtown.
THE MEAL
The best meal — conversation and ambiance included — took place during an excellent wine tasting at Triassic Vineyards. I wandered in just before noon, feeling triumphant after finally seeing some really long trains on the fabled three-quarter-mile loop. (It took me three tries — maybe I hit off days.) A welcoming soul, who turned out to be owner Jim Arnold, suggested the wine-tasting sampler, but I needed some food first. Lunch was ordered from neighboring Moessner Farm Cafe & Store, which served satisfying mushroom soup and a pastrami sandwich on locally baked bread (yum). What service. Arnold picked up my meal, entertained me with stories of his expanding vineyard and introduced me to his Triassic Rocks 2015 red blend.
THE FIND
Folks might want me to say that the famed train loop is the thing. And it is stirring to see: long, noisy trains emerging from the tunnel, lumbering, then "spiraling" or "lapping" upon themselves. The costumed guides at the Tehachapi Depot Museum helped explain this engineering marvel of the 1800s. But I was equally entranced by the self-guided wind-farm driving tour. At the start, the smallish wind towers are early models, then the tour progresses to spinning behemoths dotting the hillsides.
THE LESSON LEARNED
There's a good reason Tehachapi's motto is the "Land of All Seasons." In February I was snowed out from the museum and road tours. A month later, this mountain-y, mid-California place was wide open and warmly welcoming.
Best Western Plus Country Park Hotel, 420 W. Tehachapi Blvd., Tehachapi, Calif.; (800) 780-7234. Wheelchair accessible.
Triassic Vineyards, 24627 Cummings Valley Road, Tehachapi, Calif.; (661) 822-5341. Tasting room and patios are wheelchair accessible.
Moessner Farm Cafe & Store, 25000 Bear Valley Road, Tehachapi, Calif.; (661) 477-9058. Open for lunch 11 a.m.-5 p.m. Fridays-Sundays.
Tehachapi Depot Museum, 101 W. Tehachapi Blvd., Tehachapi, Calif.; (661) 823-1100. Closed Tuesdays and Wednesdays. Admission is free, but donations are welcome.
Get our L.A. Goes Out newsletter, with the week's best events, to help you explore and experience our city.
You may occasionally receive promotional content from the Los Angeles Times.