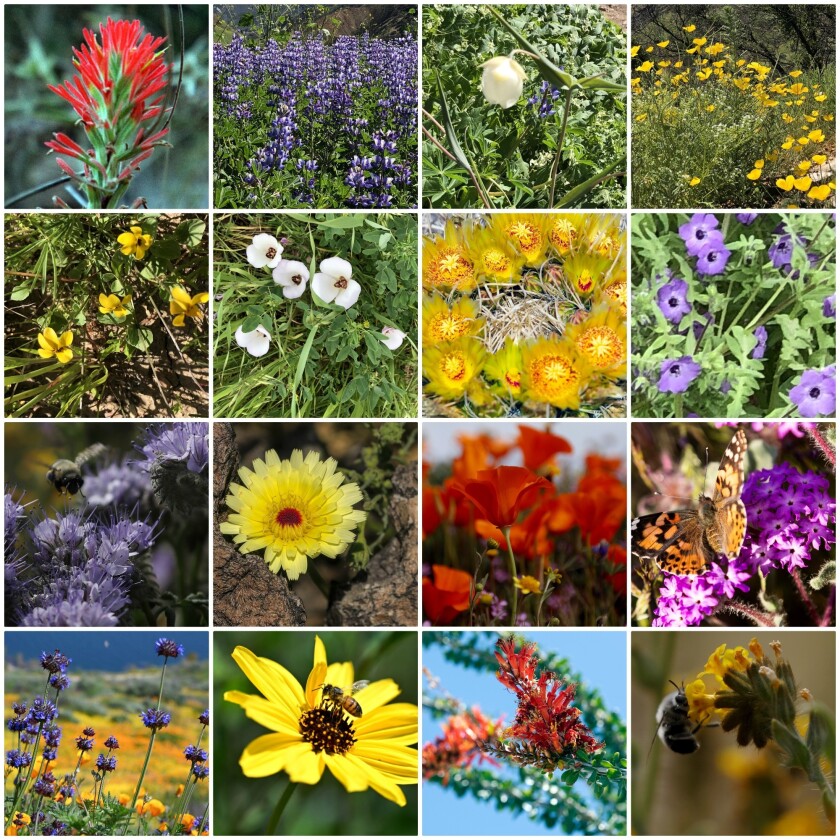 Southern California's super bloom is starting to show signs of winding down. Lake Elsinore's orange hillsides have disappeared as California poppies have lost their petals and withered. Some sites, however, are still going strong with good displays of color — if you know where to look.
Go soon if you want a wildflower rush. Here's a rundown on where to find flowers that should be good at least through this weekend.
At peak
Santa Monica Mountains
The Santa Monica Mountains, particularly in areas where the Woolsey fire burned, show a good variety of wildflowers (see the chart above). Hike a few miles along the Overlook Trail in Malibu Creek State Park in Calabasas and you'll find hillsides covered with arroyo lupine (purple) as well as mariposa lilies (creamy white), fiesta flowers and chia (purple) and Indian paintbrush (bright red). Look for stinging lupine amid the plants, which adds deep pink hues.
The area burned during the devastating November blaze that damaged more than 80% of the Santa Monica National Recreation Area. Trails in this area reopened in December, though you can still see signs of the fire in charred shrubs and ash underfoot.
Other good areas include the parkland's Paramount Ranch in Agoura Hills, where the Old West buildings were lost in the fire.
Info: Santa Monica National Recreation Area
Antelope Valley California Poppy Reserve
The gold keeps chugging along at the state poppy reserve in Lancaster. Amid the orange poppies, look for other flowers such as lacy phacelia (purple), cream cups (white), goldfields (low and yellow) and blue dicks (bluish purple). Walk the trails of this state park to come close (but not too close) to the poppies that may last through early May, depending on whether temperatures rise and winds kick up. The park's interpretive center will stay open until May 12.
Info: Antelope Valley California Poppy Reserve
Carrizo Plain National Monument
Wildflowers such as goldfields, tidy tips and phacelia keep the show going at this federal park 100 miles northwest of Los Angeles. The flat valley floor shows color — mostly yellow — right up to the foothills of the surrounding peaks. There's one major road to take through the park; pull off wherever you like for photos.
Info: Carrizo Plain National Monument
Past peak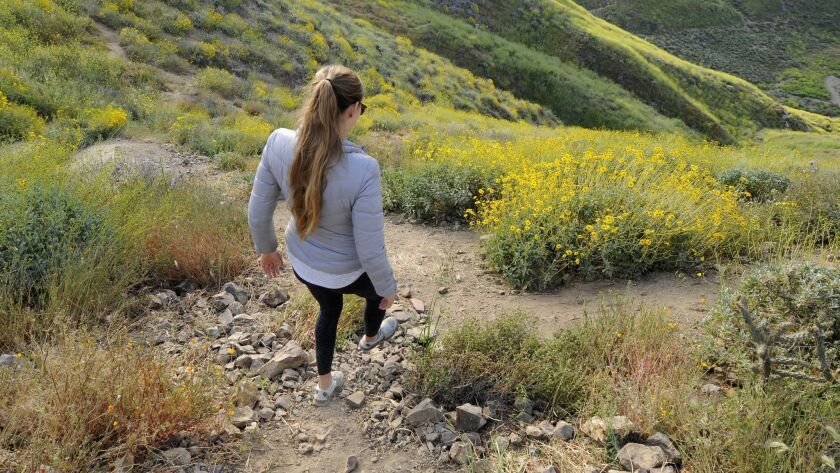 Lake Elsinore: The show's over. That's the word from the city, where poppies wowed thousands of visitors — to the point of overflow crowds — over the last six weeks. The Walker Canyon Trail remains open, but don't expect to see orange carpets, not even from the 15 Freeway. The shuttle that took visitors to the trailhead has been suspended, and the city breathed a deep sigh of relief for having "survived" one of its best wildflower years.
Anza-Borrego Desert State Park: Flowers on the lowest elevations of the desert floor are vanishing. Stick to the visitor center and Hellhole Canyon to see brittlebush and chuparosa as well as lingering patches of desert dandelion (yellow), phacelia and other flowers. The Cactus Loop Trail across from Tamarisk Grove Campground still has poppies on the hillsides — for now. Hike to higher elevations to see cactus starting to bloom, flowers that should last through May.
Info: Anza-Borrego Desert State Park
---