Overhead bin out of reach? What to do if flight attendants don't help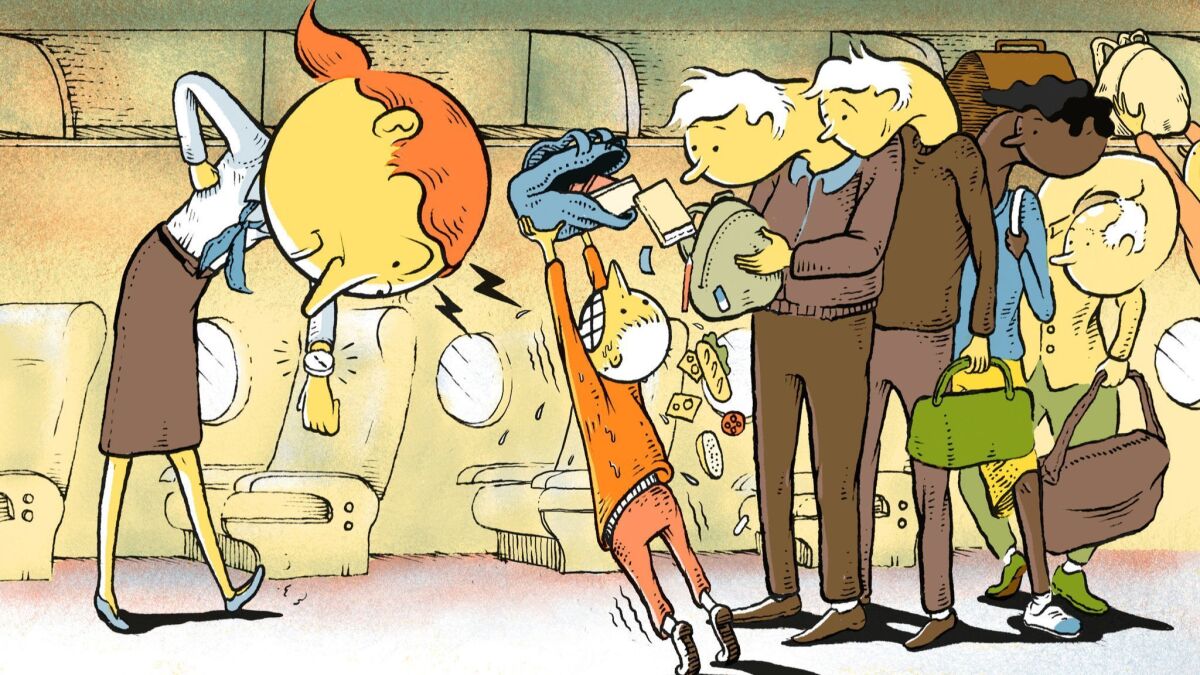 Question: I am 85 years old and short — 4 feet 10 inches. I travel by plane more than 10 times a year. A flight attendant has never helped me put my carry-on bag in the overhead compartment. I have to stand there blocking the aisle until another passenger is kind enough to help me. Even when I asked a flight attendant on one flight she refused, and that was in business class.
Christa Shackleford
Seal Beach
Those of us who are vertically challenged may need help to get our bags in the overhead bin, but these days you can't count on a flight attendant for that assist.
It's not because they don't love us, although, given some of the passenger behavior I've seen it may be that in some cases they don't. But there are other issues, outlined for me by Taylor Garland, a representative for the Assn. of Flight Attendants-CWA, which represents 50,000 flight attendants.
►More bags for the overhead, more need for help. Checked-bag fees, for which airlines collected $4.2 billion in 2017, have made carrying on a bag more popular. This also means that flight attendants must referee space disputes.
►Less robust cabin staffing. After the mergers and bankruptcies that followed 9/11, many airlines now staff for what they are legally required to do, Garland said, which may be what they are minimally required to do.
►Other responsibilities. The boarding process is stressful for everyone, including flight attendants, who also are doing safety checks and trying to get people seated so the flight can take off on time.
►Injury. Flight attendants may assist you, but injuries from bags are so common that they become a workers' compensation issue, which doesn't make the airline happy.
"Lifting a carry-on bag into an overhead compartment can potentially lead to musculoskeletal injuries," Brooke Ellis, a doctor of physical therapy and the outpatient physical therapy supervisor at the Texas Health Presbyterian Hospital in Plano, said in an email. "The regions of the body most susceptible to lifting injuries are the back, neck and shoulders.
"The nature of lifting overhead items, in particular, places added stress and strain on the joints and muscles, and it makes it difficult to maintain proper lifting form and thus can result in injury."
Attendants I spoke with on a recent flight cited rotator cuff injuries as a particular issue. "If a person has weakness in one or more of these muscles or has any degenerative changes to the bony anatomy itself (such as osteoarthritis), lifting a weighted object overhead could cause a rotator cuff strain or tear," Ellis said.
►Unpaid work. Flight attendants are compensated, of course, but they are paid only for time in the air. They don't get paid for what they are doing before take-off.
So what the heck are you supposed to do?
►You may ask a flight attendant for help, but if you get turned down or there is not one near you, ask a fellow passenger. One of the great truths of travel is that help requested is usually help given.
Packing light
►Use a case that fits under your seat. These small suitcases, often called pilot's bags or cases, can be stowed where your feet used to go. If you're short, you won't miss the legroom. If you plan on wearing several changes of clothes, they also won't work.
I carried a pilot's case on a recent two-day trip to Cincinnati, and I came home with two pieces of unworn clothing. "In unpacking after a trip, I eliminate anything that I packed and didn't use on the trip," Paul Lasley, a contributor to AAA's Westways magazine, said in an email. "This process makes me think of the utility and function of what I travel with," said Lasley, who is a producer for and host of travel radio shows for the American Forces Network.
►If you're carrying a regular bag that fits in the overhead, make sure it's light enough to lift. The key to lighter packing is color coordination, said Elizabeth Harryman, travel editor for Westways magazines. "Dress things up or down with scarves or costume jewelry." she said in an email. "I wear my heaviest shoes and pack just one or two pairs.
"If I'm traveling to a cool climate, I bring lightweight thermal underwear."
An added bonus: "When I pack less, I have fewer things to keep track of, and I can relax and enjoy the trip more," she said.
She learned how little you can get by with, she said, after an airline misdirected her bag, which she needed for a cruise.
"Fortunately, I was wearing a good-looking blazer and dark slacks. So I bought one of those lacy camisoles … that's what I wore on formal nights with the blazer and slacks."
She did have help from Lasley, her husband. "For other evenings, I borrowed …Paul's shirts and ties and did the 'Marlene Dietrich look,'" she said. "By the end of the cruise, I was getting compliments on my wardrobe. I don't recommend packing that light, but the experience taught me how little you can get by with."
►Check your bag. Don't want to pay the fee? Fly Southwest, which doesn't charge bag fees. Or get a co-branded credit card for one or two airlines, which often will give you a checked bag for free.
If time is the bigger issue — as in the wait for your bag to come off the carousel — you can send your clothing ahead, but that may cost you more to ship than the bag fee. You can Google "luggage shipping" and come up with the names of several shippers.
Luggage Forward lets you calculate that cost before committing. A 50-pound bag ordered at least five days in advance will set you back $99 — one way — for a U.S. flight.
Many of these options may not be comfortable for you, especially the asking-for-help part. I abhor being Blanche DuBois, the "Streetcar Named Desire" character who has "always depended on the kindness of strangers." But in the end, I have to remind myself that that's not who I am; I just play that person when I'm on an airplane.
Have a travel problem, question or dilemma? Write to travel@latimes.com. We regret we cannot answer every inquiry.
---
Get our L.A. Goes Out newsletter, with the week's best events, to help you explore and experience our city.
You may occasionally receive promotional content from the Los Angeles Times.