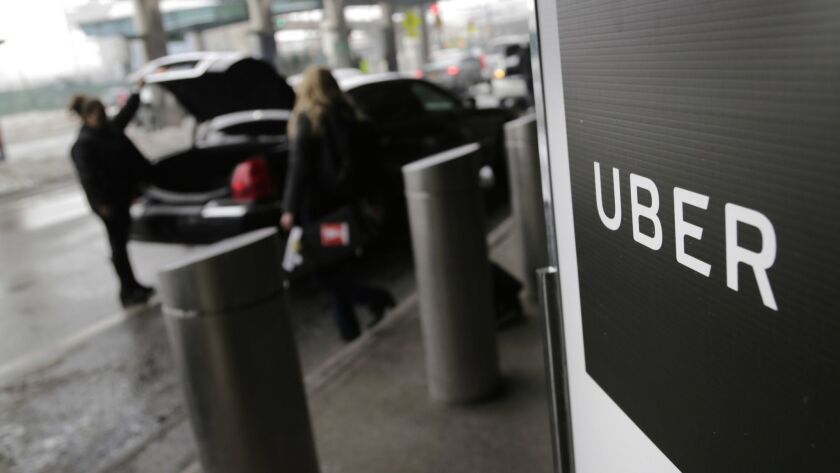 Uber launched a loyalty program Wednesday that rewards users for every dollar they spend on the ride-share app.
Uber Rewards, as the program is called, started Wednesday in selected cities, including San Diego. Los Angeles, however, will have to wait until the company pushes out the program nationwide over the next few months.
"Uber Rewards is a first-of-its kind program that lets our customers earn every time they use Uber or Uber Eats for business or pleasure, unlocking special benefits along the way," a post on Uber's blog says.
Like airline and hotel loyalty programs, users rack up points for every dollar spent on rides and food deliveries. Every 500 points yields a $5 credit that can be spent on future rides or services.
There are four membership levels: Blue, Gold, Platinum and Diamond. The more points you accrue, the higher the membership level. Uber also plans to extend the program to bikes and scooters.
In addition to San Diego, Uber users will be able to start accruing points in Miami, Denver, Tampa, New York City, Washington, D.C., Philadelphia, Atlanta and the entire state of New Jersey.
But don't fret if you aren't in areas where Uber has already rolled out the program and you're not in the area. When you are eligible to enroll in Uber Rewards, you'll get credit for dollars you have spent in the previous six months on Uber and Uber Eats, and the points you receive will count toward your membership level.
Lyft announced its own loyalty program Monday on the company's blog. It plans to start Lyft Rewards in December.
"Whenever you use the Lyft app to get around, you'll earn points for every dollar you spend," Lyft's blog says. "Earn enough points and you'll unlock a reward like an upgrade to Lyft Lux or savings on future rides."
Lyft didn't say which cities would be first.
ALSO
Plan your Thanksgiving travel to avoid L.A.'s worst holiday traffic times and the worst time to drive to LAX
Cipriani, Catch and other restaurants make their Las Vegas debuts, and more are on the way
Princess adds more round-trip cruises from Los Angeles to Alaska
---