6 Images
National Rodeo Finals in Las Vegas
The Super Bowl of rodeo comes to Las Vegas from Dec. 6 to 15 at two primary venues, the Thomas & Mack Center at University of Nevada, Las Vegas, and the South Point Resort and Casino. The finals have been crowning the annual ProRodeo competition in Las Vegas since 1983, when the event moved from Oklahoma City. Since that time, prize money has grown to $5.5 million.
Will Lowe of Canyon, Texas, shown here, rides a bucking bronco at a past finals event.
(Mike Copeman)
With such big purses at stake, it's no wonder that about 176,000 fans, fun seekers and cowboy wannabes pour into Las Vegas in December to watch the recalcitrant horses and fierce fighting bulls jettison their riders with the force of a head-on highway crash.
Among previous world champs at the NFR finals is Trevor Brazile of Decatur, Texas, shown here roping a calf. Last year, Brazile won a record $329,924 on his way to collecting his fourth all-around buckle and fifth world title.
(Mike Copeman)
"If you're a cowboy, the NFR is the gold at the end of the rainbow," says Pat Christenson, president of Las Vegas Events, which produces the finals in Las Vegas each year. "These guys have gone through a long season of competitions, and this is the best of the best with the best of the stock. And you don't have to be a rodeo buff to appreciate what you are seeing."
Recent competitor Matt Austin, shown here, rides a bull.
(Dan Hubbell)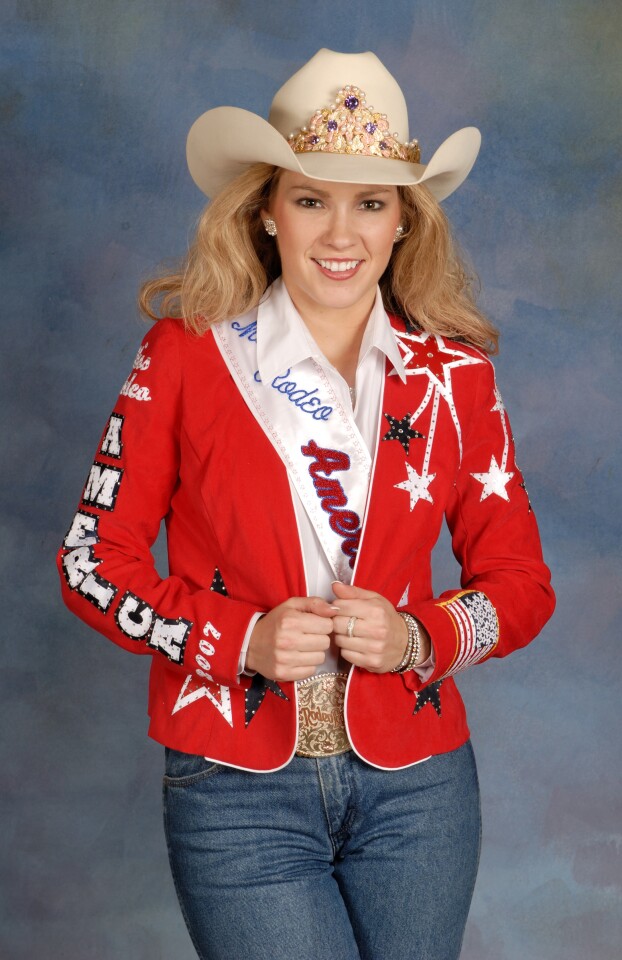 At South Point Hotel and Casino, fans can watch the rodeo and also enjoy free entertainment and dance-hall events, as well as part of the multi-day Miss Rodeo America Pageant . Ashley Andrews, formerly Miss Rodeo North Dakota 2006, is Miss Rodeo America 2007.
(John Shooter / Shooter Enterprises)
Ashley Andrews, 2007 Miss Rodeo America, greets the crowds at last year's event in Las Vegas. This year, more than 27 cowgirls ages 19 to 25 will compete for the title in a pageant that runs from Dec. 1 through 8. Most pageant events are held at the Orleans Hotel and Casino, but the horsemanship competition is held at South Point on Dec. 3.
(John Shooter / Shooter Enterprises)
Ashley Andrews is crowned Miss Rodeo America in 2007. Contestants are judged on personality, appearance and horsemanship as well as their public speaking skills, poise and professionalism.
(John Shooter / Shooter Enterprises)