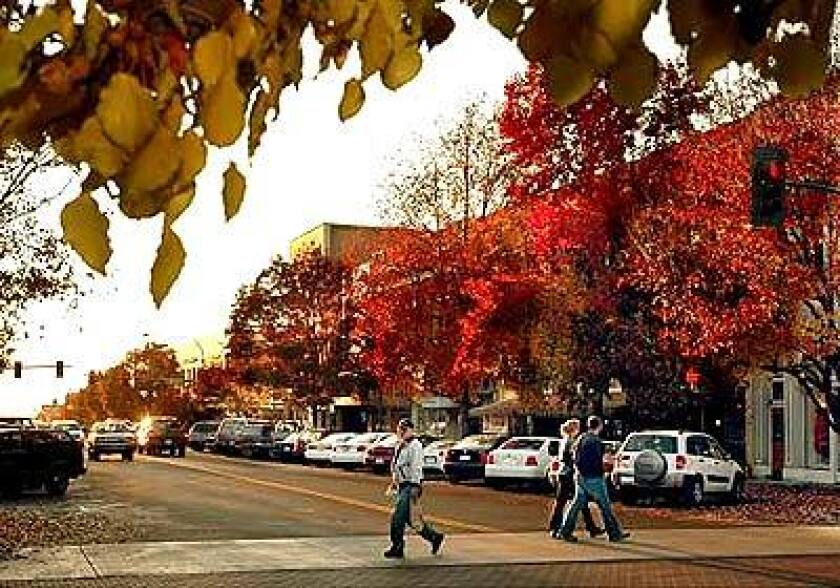 Times Staff Writer
Native Americans named it Walla Walla, "place of many waters," but it's wine that's bringing the visitors to this town of about 30,000, once best known for its funny name and for a tear-free variety of onion.
"We're kind of a destination now," said Jerry "Spud" Cundiff, who has lived in Walla Walla for 75 of his 77 years. Cundiff, who's semi-retired, can be found, key in hand, at 7 every Friday morning winding Main Street's landmark 1906 clock outside Falkenberg's, his family's jewelry store.
A $53-million revitalization of its once-dying downtown core helped Walla Walla to win a 2001 Great American Main Street award from the National Trust for Historic Preservation. A year later, the trust chose the city as one of America's Dozen Distinctive Destinations, or "pockets of serenity amid the sprawling clutter and homogenization that have overwhelmed so many American vacation spots."
Last December I decided to have a look for myself. I found a bit of Americana with a lively arts scene and three colleges, a community that wears its pride on its sleeve, calling itself "the town so nice they named it twice." And nice it is, with first-rate restaurants and accommodations, art galleries and wineries.
Walla Walla, just north of the Oregon border in southeastern Washington, isn't the easiest place to get to, but locals say that's part of its charm and helps to ensure that it won't become an overtrodden Napa Valley. Horizon Air (a subsidiary of Alaska Airlines) has three daily flights to and from Seattle, a 50-minute hop, or it's 260 miles away by car on U.S. Highway 12.
---
FOR THE RECORD:
Horizon Air —A Nov. 28 article in the Travel section about Walla Walla, Wash., reported that Horizon Air is a subsidiary of Alaska Airlines. Horizon was a sister airline of Alaska Airlines, and both are owned by the publicly held company Alaska Air Group.

---
I flew in and stayed overnight at the Marcus Whitman Hotel, a recently restored 1928 landmark. Like many places in these parts, it is named for the ill-fated medical missionary Whitman, who came here with his wife, Narcissa, in 1836 and met a tragic end, killed by Cayuse Indians. (The Cayuse were decimated by measles, but they thought Whitman was poisoning them to make room for more white settlers.)

My first meeting was with Steven Van Ausdale, president of Walla Walla Community College. The school offers an associate's degree in winemaking through its 4-year-old Institute of Enology and Viticulture, which operates its own commercial winery.

Van Ausdale called Walla Walla "a community in transition," a wheat farming area defying the downward economic spiral of small farm towns.

The difference, he said, is "the emerging wine industry and the climate it's created."

A taste of things to come

In 1977, the first of the modern wineries opened. Today, there are 59 wineries in Walla Walla Valley, generating $100 million-plus annually.

Walla Walla also is promoting visitor-friendly events such as the Walla Walla Valley Wine Alliance's annual Holiday Barrel Tasting Weekend, Dec. 3 to 5 this year, when winemakers will open their festively decorated barrel rooms.

As I toured the institute with director Myles Anderson, sampling a Syrah and a Cabernet aged in French oak, he spoke of the hands-on philosophy of the degree program. "When students graduate, they've planted grapes, operated a tractor, pruned grapes, harvested grapes, scrubbed tanks," he said. "We want to teach students how to make and how to grow world-class wines." All 14 members of the first graduating class work in the industry in Washington.

The institute's dining room hosts about 50 community and private events each year, serving Walla Walla College Cellars wines, made from grapes harvested in institute vineyards, with meals prepared by students of the culinary arts program.

The institute takes very seriously its role in preparing Walla Walla's hospitality industry — including restaurants — to pamper visitors. When the first culinary arts majors graduate next year, Anderson said, they will be trained in "serving, selling wine, waiting tables, working in upscale restaurants and kitchens."

The upscale restaurants are coming. The newest, 26 brix, opened in July (after my visit) on a Main Street site that once housed a working-person's tavern and is getting good reviews around town.

I lunched the first day at CreekTown Cafe with Mike Shepard, until recently publisher of the Walla Walla Union-Bulletin newspaper. I asked him what Walla Wallans were thinking about as they saw the metamorphosis of their community.

One issue, said Shepard, now publisher of the Herald-Republic in the nearby Washington city of Yakima, is that "grapes and wheat don't get along too well as crops."

"Some of the sprays used on wheat make grapes turn up their toes. Some of these folks have been wheat farmers for three or four generations. If you have grapes next door and they bring in a lot of dough, it might make your taxes go up." (Eight hundred acres of grapes produce the income of 3,000 acres of wheat.)

People fret too, he said, that tourism is going to cause traffic jams and put "drunk wine tasters all over the road. Are we going to be Napa?" The city is close to adopting a 20-year master plan that recognizes the possible increase in visitors and the threat to its character.

Finally, they wonder, "Is the bubble going to burst?"

Downtown renovation

For now, there are no signs of a bursting bubble. Strolling picturesque Main Street, which looks like pre-McDonald's Middle America, with trees, benches and brick-edged sidewalks — and the contemporary touch of outdoor art — I was struck by how gracefully the multimillion-dollar renovation has transformed the downtown area.

The 1920s Beaux Arts buildings, whose tenants once included banks and bordellos, now house wine-tasting rooms, art galleries and boutiques. Bon-Macy's department store occupies part of the 1917 Liberty Theater site.

At Merchants Ltd. deli and gourmet shop, which boasts a 1915 soda fountain, I chatted with Bob Austin, who with his brother Michael and their parents opened this Main Street business in 1976.

"There was nothing downtown but banks, a couple of jewelers and a couple of greasy spoons and taverns," he said. Downtown seemed doomed, like so many other downtowns across the U.S., to fall victim to suburban shopping malls.

Walla Walla wasn't exactly chic. When Austin asked to borrow $7,000 for his business' first espresso machine in 1978, the bankers "just shook their heads," he said. "Now you can't throw a rock around Walla Walla without hitting an espresso machine."

People now shop downtown, he said, because they "would just rather walk around these nice old storefronts."

"They find it comfortable and pleasant because it's kind of old-fashioned. When they go to the mall, they're not going to ooh and ahh over old buildings."

Although Walla Walla has all the usual fast-food suspects, only Subway has managed to take root on Main Street, and the Walla Walla Downtown Foundation has since persuaded the property owners to find more simpatico tenants.

Grapefields is one place that's a good fit. Chef-owner Nicole Bunker grew up in Walla Walla, moved away and returned — as have others. She opened the smart wine bar and cafe four years ago in an 1874 building shared with Falkenberg's Jewelers. The state's first constitutional convention was held upstairs in the building in 1878. Now Bunker lives upstairs.

"People come to visit Walla Walla and end up moving here," she said. Still, she doesn't think that change is so rapid that it's going to stress the community, which she calls "kind of Hometown, U.S.A."

My explorations of the region led me one day 28 miles east on Highway 12 to Dayton, a town of 2,700, where I stayed at Weinhard Hotel. This lovingly restored Victorian once was a saloon founded by Jacob Weinhard, nephew of Henry, the noted Portland, Ore., brewer. Arriving on a nippy night, I was treated to live Christmas music and a glass of cider in the lobby before being led up a grand staircase to Room 9, which had a canopied bed and Victorian antiques.

Like Walla Walla, Dayton has its Main Street. I loved family-owned Dingle's Department Store, where you can find goods as diverse as bloomers and baking pans. Bearpaw Trading Post has log furniture, feathers and beads and Lewis and Clark collectibles. (The explorers passed by on their way home from their Western expedition in 1806.) Elk Drug's old-fashioned soda fountain serves up shakes, sodas and floats.

Dayton boasts the Columbia County courthouse (1887), the oldest working courthouse in the state, as well as the oldest existing train depot. Trains haven't stopped here since the '60s, and today the restored 1881 depot is a visitor attraction with guided tours.

Returning to Walla Walla, I moved into a chicken coop. Well, a former chicken coop — the chicken house cottage at the Inn at Abeja, four miles east of town. It's one of five lovely guest cottages in converted outbuildings on a century-old farm site that's now home to Abeja Winery.

The chicken house was delightful, with two fireplaces, whimsical chickens perched here and there, and denim and country plaid décor. Breakfast was a feast served in the former dairy barn, a big, inviting space with stone fireplace and deep leather sofas.

At the winery, in the former horse and mule barn, I met winemaker John Abbott, a onetime veterinary student now noted for his discerning palate and his limited-production whites and reds. (Tastings are by appointment.)

I had dinner in town at Whitehouse-Crawford, which has been garnering raves in national food magazines. This vast but inviting space in a 1904 former lumber-planing mill has an open kitchen, rafter ceilings and a treasury of historic photos. And the food's terrific.

Earlier, Bob Austin had told me, "The only thing wrong with Walla Walla is that it's so far from the ocean." It compensates by having good skiing in the Blue Mountains, within an hour's drive, and a network of cycling paths, as well as tree-shaded Pioneer Park.

Walla Walla's vintage homes are a treat. At the Chamber of Commerce, visitors can pick up a walking-tour guide to fine old homes in Queen Anne, Victorian, Gothic, Craftsman, Tudor and Italianate styles.

One morning I drove to Ft. Walla Walla cemetery, where the dead of Indian wars are buried. Opposite the turnoff on U.S. 12, I stopped in at a barn-red building, the Walla Walla Sweet Onion Market, which sells jelly, vinegar and salsas made from the famed onions, whose low sulfur content makes them sweeter than most onions.

The leafy 89-acre campus of Whitman College is only three blocks from the city's center. The school has a fine reputation as a private liberal arts institution whose diverse alumni include Adam West, the original Batman, and former Supreme Court Justice William O. Douglas. The student body of 1,400 is drawn largely from California.

College and community are intricately linked. The Walla Walla Symphony performs at 1,500-seat Cordiner Hall. The high school swim team uses the college pool, and the college library is open to all residents. "It's hard to have town and gown when you're as much town as gown," said President Thomas Cronin as we walked the campus.

Cronin, a PhD in political science from Stanford who has been at the helm since 1993, is a hands-on president. He and wife Tania, a composer, are apt to show up at the campus library with home-baked cookies during exams. He also is a big Walla Walla booster.

With wine as the "yeast," he said, the town has proved that "there is life, and there are options and opportunities, in small-town America." I asked about traffic, because I'd seen little. He smiled. "Rush hour? We rarely have a rush minute."

Whereas Seattle gets as much as 50 inches of rainfall annually, Walla Walla, sheltered by the Cascades, gets only about 17 (some of which fell during my visit). That makes it ideal for growing grapes in the valley's rich volcanic soil.

The wine alliance

A converted 1915 two-room schoolhouse just west of Walla Walla in Lowden houses L'Ecole No. 41, where the original chalkboards hang in the tasting room. The winemaker and owner, Martin Clubb, president of the Walla Walla Valley Wine Alliance, and his wife, Megan, fled the corporate life in San Francisco in 1988 to take over L'Ecole, which was established in 1983 by her family. She's winery co-owner and president of a Walla Walla bank.

The alliance represents both grape growers and wineries and focuses on maintaining quality — "You have some winemakers who started making wine out of their garages," Martin Clubb said — and on avoiding a glut. "It's a very flooded market," he said. "A new brand in today's marketplace is tough, no matter how good the wine is."

Rather than fret that success might spoil Walla Walla, he accentuates the positive. "Six years ago, there wasn't a decent place to eat," he said. "Now, it's a fine dining destination." And, he noted, those who do come from Seattle don't just come for the day, which is good news for hotels and restaurants. (Port of Walla Walla data show that hotel room tax revenues almost tripled between 1999 and 2003.)

The community college's Van Ausdale, while lauding winemaking and tourism as smokestack-free, said, "I think you have some people wondering just how far, how fast, is this going to go? Can we shape this change to preserve some of our traditions and values?"

But deli owner Austin sees Walla Walla's remoteness as its trump card.

"People don't come to Walla Walla by accident," he said. "You don't take a wrong turn and wind up in Walla Walla. We're still in the middle of nowhere."

*

(BEGIN TEXT OF INFOBOX)

When in Washington

GETTING THERE:

From LAX, connecting service (change of plane) to Walla Walla is available on Alaska Airlines. Restricted round-trip fares begin at $370.

WHERE TO STAY:

The Inn at Abeja, 2014 Mill Creek Road, Walla Walla; (509) 522-1234, fax (509) 529-3292, https://www.abeja.net . Five delightful cottage-style accommodations on a former farm that's home to Abeja Winery. Wine tasting and a tour are included, as are hearty breakfasts, which are served in a former dairy barn. Doubles begin at $210 per night; $185 per night for a two-night stay.

Weinhard Hotel, 235 E. Main St., Dayton; (509) 382-4032, fax (509) 382-2640, https://www.weinhard.com . The turn-of-the-century saloon has been lovingly restored as an inviting 15-room hotel furnished in Victorian antiques. Doubles begin at $75.

Marcus Whitman Hotel, 6 W. Rose St., Walla Walla; (866) 826-9422, fax (509) 524-1747, https://www.marcus whitmanhotel.com. Restored to its original 1928 elegance. Choose the old tower, not the new annex. Restaurant but no room service. Doubles begin at $89.

WHERE TO EAT:

Whitehouse-Crawford, 55 W. Cherry St., Walla Walla; (509) 525-2222. https://www.whitehousecrawford.com . The place that started Walla Walla's dining revolution. History and fine food come together in a converted 1904 lumber-planing mill. Dinner entrees $12-$34.

26 brix, 207 W. Main St., Walla Walla; (509) 526-4075. https://www.twentysixbrix.com . This upscale dining spot in a restored 1899 building with exposed brick and pressed tin ceiling is creating buzz aplenty. Dinner entrees $24-$36.

Patit Creek Restaurant, 725 E. Dayton Ave., Dayton; (509) 382-2625. A serendipitous find tucked away on the edge of town, serving good French food in a 10-table room with walls of vintage Hollywood star photos. Dinner entrees $19-$29.

TO LEARN MORE:

Washington State Tourism, P.O. Box 42500, Olympia, WA 98504; (800) 544-1800, fax (360) 753-4470, https://www.experiencewashington.com .

Walla Walla Valley Chamber of Commerce, 29 E. Sumach St., Walla Walla, WA 99362; (877) WWVISIT (998-4748) or (509) 525-0850, fax (509) 522-2038, https://www.wwchamber.com .

— Beverly Beyette
---