Weekend Escape: A plunge into fun at San Diego's Mission Beach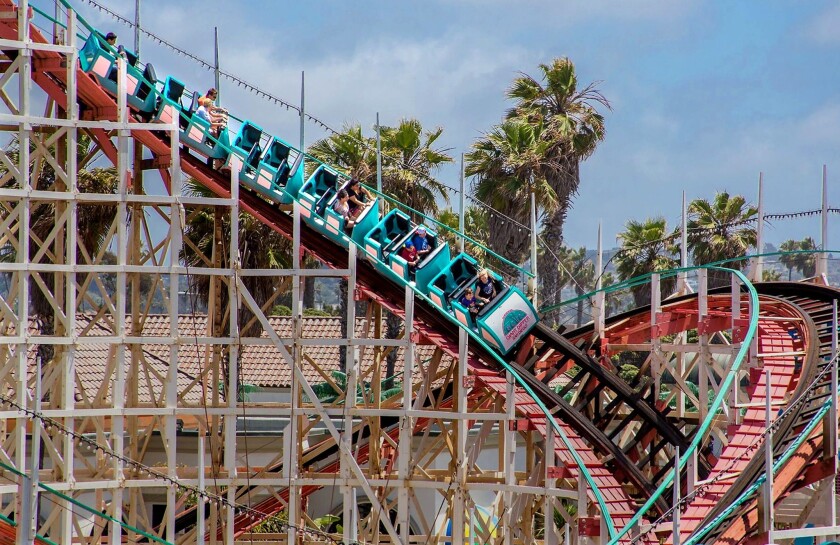 Belmont Park on Mission Beach features the Giant Dipper wooden roller coaster.
(SanDiego.org)
The Mission has great breakfasts such as scrambled eggs with crispy rosemary potatoes and fluffy rosemary bread.
(Linda V. Ball)
Looking across Mission Beach from the Pacific Ocean.
(John Bahu)
The Catamaran Resort Hotel & Spa is pure tropical fun. Here is a Bayfront King room.
(The Catamaran Resort Hotel & Spa)
San Diego's Mission Beach turns 100 this year. But don't expect this great-grandfather of a beach to exude gravitas. Mission Beach is a magnet for the young, the tattooed and the restless. Indulge your surfing obsession by riding ocean waves or test your mettle against the WaveHouse's mechanical swells at Belmont Park, an amusement center that is this community's heart. Ride a beach cruiser along the boardwalk to the quieter southern end and watch a volleyball game. For centennial events, go to https://www.missionbeachcentennial.org. The tab: from $199 a night at the Catamaran, depending on the day of the week and the season; a meal for two can be had for $25.
The bed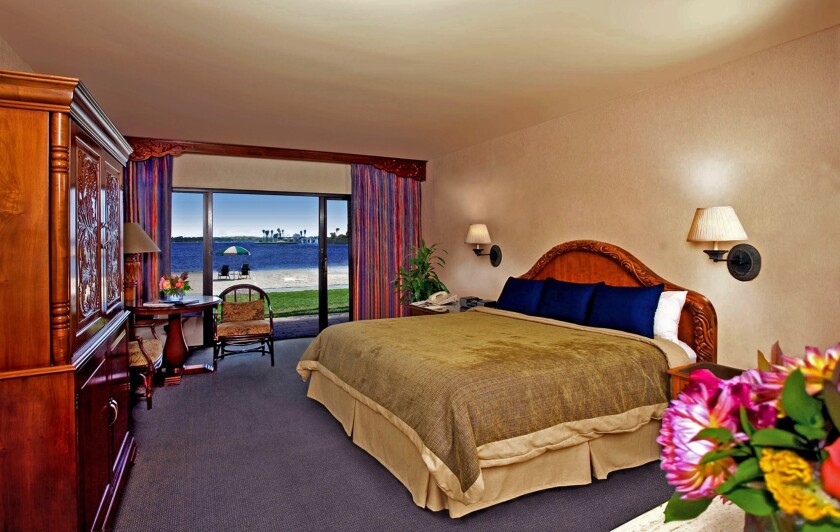 The Catamaran Resort Hotel & Spa (3999 Mission Blvd.; [858] 488-1081, https://www.CatamaranResort.com; rooms start at $199, without tax) is pure tropical fun the minute you step into its lobby, which features a waterfall spilling into a koi pond surrounded by bright, exotic flowers. The resort's interior is colonial Hawaiian accented with mahogany doors that open onto a tropical garden. Placid Mission Bay sits behind the resort. Take up sailing, paddle-boarding or kayaking.
The meal
The Mission (3795 Mission Blvd.; (858) 488-9060, https://www.themissionsd.com; no breakfast item is more than $11) has been serving standout breakfasts and lunches to locals since 1997. Start your day with a hearty Mission Rosemary breakfast of scrambled eggs, crispy rosemary potatoes and fluffy rosemary bread. If you want leaner fair, choose a Zen breakfast of scrambled egg whites, braised tofu and brown rice.
The find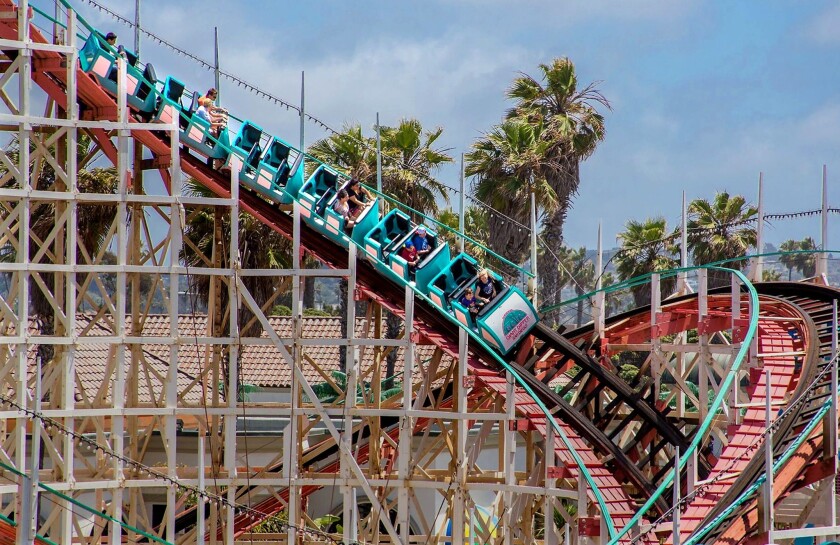 Stick with the centennial theme and look for traces of Mission Beach history. A good place to start is Belmont Park, built in 1925 by sugar magnate John D. Spreckels. Two original attractions remain. The historic Giant Dipper wooden roller coaster is a Mission Beach icon saved from the wrecking ball and restored in 1990. Closed earlier this year for repairs but expected to reopen by late July or early August, the Plunge swimming pool retains historic features. Look for the early cottages that once stood cheek by jowl along Mission Beach's quaint, narrow streets. You'll have to look hard. Those that remain are dwarfed by larger, more modern homes.
The lesson learned
Parking can be frustrating, so feet, skates and bicycles are the best ways to get around. If you must go by car, try the lots near Belmont Park or the beach's southern end. But if you do, be sure to pack your patience.
MORE WEEKEND ESCAPES
An obstacle course of chowder, sweets and mud
Templeton, Calif.: A different way to roll in a rustic haven
In Alpine, Calif., visit wild animals during day, poker table at night
---
Get inspired to get away.
Explore California, the West and beyond with the weekly Escapes newsletter.
You may occasionally receive promotional content from the Los Angeles Times.