Reporting from Sun Valley, Idaho —
Sun Valley, America's first destination ski resort and still a favorite winter playground for many of Hollywood's skiers and snowboarders, is a grand dame among ski resorts, marking its 82nd season this winter.
Two winters ago, I returned to the Idaho resort after a 22-year absence and 36 years since my first visit as a sports writer for the daily newspaper in Twin Falls, 85 miles south. My expectations and anticipation could not have been higher.
In every measure of a winter trip to the mountains — thrilling fall-line skiing on Bald Mountain; accommodations at the refurbished, iconic Sun Valley Lodge with its new 20,000-square-foot spa; dining on-mountain and off; a variety of non-ski activities; and unpretentious yet sophisticated Ketchum, one of the country's great ski towns — my experience exceeded those expectations.
Here's how and why:
Terrain
There are 121 trails on 2,154 acres on two stand-alone ski hills, Bald Mountain and Dollar Mountain. They are served by 18 lifts, including nine high-speed quads and one gondola. Because Sun Valley is so remote, nearly a three-hour drive from Boise, the state capital, "lift line" isn't in the vocabulary even during holidays.
Baldy, as it's known, is considered by many well-traveled snow sliders (including this one) to be one of the world's best natural ski hills for its 3,400 vertical feet of pure pitch. It's a fast carver's mountain, where the average speed of locals (say, 40-50 mph) has always seemed to me to approach escape velocity.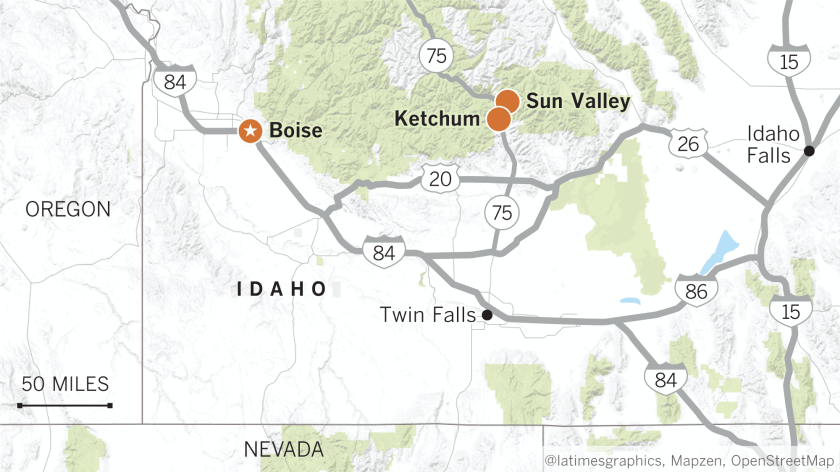 When it snows, head to Baldy's bowls and trees, particularly the Burn, as it's known, on the mountain's north side. The Burn is a spectral forest of burned spruces and firs, created by a 2007 wildfire that consumed more than 48,000 acres around Ketchum and a 2013 "back burn" that protected the town from another fire.
The foliage-free trunks mean no dangerous tree wells, greater space between trees, more sunlight on the snow and visibility for hundreds of feet.
When it doesn't snow (and average annual snowfall here at the high-desert, southern edge of Idaho's mountainous interior is only 220 inches), nearly 560 computer-controlled snow guns can cover Baldy quickly and deeply with durable snow.
Nearby is treeless Dollar Mountain, where skiing debuted in 1936. It's now where visitors of all ages spend their first few days on skis or snowboards.
It's also now a hip destination, with three terrain parks (with features grouped from beginner to expert), two banked skier-cross courses and Old Bowl, a 620-foot-long, 22-foot-high superpipe. Five lifts serve Dollar's 628 vertical feet of skiing and riding.
There's helicopter skiing too, offered by Sun Valley Heli Ski, which has a 750,000-acre permit area on federal wilderness in three nearby ranges.
The Sun Valley Nordic & Snowshoe Center offers about 25 miles 0 km of groomed tracks for classical, skate skiing and ski touring, and about 8½ miles of snowshoeing trails.
Lodging
The grand Sun Valley Lodge and Swiss-inspired Sun Valley Inn evoke the resort's glamorous early days. The lodge was completely renovated in 2015, and the number of rooms reduced from 148 to 108 new, larger guestrooms.
Also added: a spa with fitness center, a beauty salon and yoga studio, a new après-ski lounge and a large patio deck around the heated outdoor pool (the Inn also has a heated outdoor pool).
Still behind the lodge: the iconic outdoor ice skating rink (and a newer enclosed one for ice hockey). Still in the basement: a modern six-lane bowling alley. Still in the hallways: scores of black-and-white photos of generations of Hollywood royalty, television stars and Las Vegas entertainers.
The inn, open halfway through a renovation to be completed next summer, has 109 rooms. There are 227 more rooms among available apartments, cottages and condominiums. The resort proper sleeps 1,200.
The 95-room Limelight Hotel, built, owned and operated by Aspen Skiing Co., is marking its second winter in downtown Ketchum.
Dining/nightlife
Baldy's day lodges, Warm Springs and River Run at street level and on-mountain Seattle Ridge at 8,800 feet, will spoil your ski resort culinary expectations.
Try a loaded Idaho baked potato and fresh-baked chocolate chip cookies at Warm Springs; wood-fired pizzas, deli sandwiches, salads and sushi at River Run; and wood-grilled steaks, fish, burgers and barbecue at Seattle Ridge, with stunning views of the surrounding Wood River Valley.
You can have a sit-down lunch, also on the mountain, at the Roundhouse Restaurant. Try bison brisket barbecue, three-cheese fondue, elk carpaccio, bison stew with a side of duck-fat potatoes indoors by the four-sided fireplace or outdoors on a deck with great views.
The Roundhouse also serves dinner; catch a ride up in one of the Roundhouse Gondola's eight-person cabins.
Yards from the Lodge is Konditorei, an Austrian-inspired pastry shop and café serving outstanding breakfasts and crepes In Sun Valley Village.
Don't miss dinner one night at the Trail Creek Cabin, a hunting lodge built in 1937, where Ernest Hemingway and Gary Cooper liked to drink. Draft horses pull sleighs on a 40-minute ride from the lLodge to the remote cabin, where the menu includes Idaho ruby trout and buffalo tenderloin.
In Ketchum, consider the 20-ounce bone-in prime rib at the Pioneer Saloon; call it the Pio and you might pass for a local.
Along Ketchum's boardwalks and inside its historic brick buildings are many other après-ski, dining and evening entertainment options. Among the must-visit ones are Grumpy's, the Casino, Whiskey Jacques', Sawtooth Club, Cellar Pub, Warfield Distillery & Brewery, Globus and the Grill at Knob Hill.
Austrian Count Felix Schaffgotsch, commissioned by Union Pacific Railroad chairman Averell Harriman, spent the winter of 1935-36 traveling the Western U.S. on the UP's primary lines and spurs.
His quest? To locate the ideal site for a train-served ski resort that Harriman wanted to create after visiting Swiss resorts Davos and St. Moritz.
Harriman sought a dry, sunny climate with enough (but not too much) snow for skiing. Legend has it that a UP rail employee on the Boise line told the count that the Ketchum spur, said to be the last Schaffgotsch traveled, incurred the largest snow-removal bill of the entire line.
The count's visit to Ketchum, a small mining town and sheep shipping center in a valley surrounded by beautiful mountains, sealed the deal. Within days, Harriman purchased 4,300 acres that would become Sun Valley.
Work on the lodge began within weeks, and America's first ski resort opened Dec. 21, 1936, with the world's first two chairlifts built and installed by UP engineers who modeled them on equipment used to move bananas from the holds of ships to rail cars.
Until then, European ski resorts used surface rope tows and T-bars to transport people uphill.
Los Angeles publicist Steve Hannagan named the resort Sun Valley to minimize notions of a cold, uncomfortable destination and drummed up interest among Hollywood celebrities, including Claudette Colbert, Clark Gable, Gary Cooper, Errol Flynn and producer David O. Selznick.
And what went around, came around: California skier and surfer Warren Miller, now 93, spent winters in the mid-1940s living with friend Ward Baker in a small trailer in Sun Valley's parking lot, captured the nascent sport and mountain lifestyle with a hand-held 8mm movie camera, and launched the ski film industry.
Decades later, Sun Valley still attracts Hollywood's A-listers. Arnold Schwarzenegger, Clint Eastwood, Tom Hanks, Bruce Willis, Demi Moore, Oprah Winfrey and Jamie Lee Curtis are among its many celebrity visitors or homeowners.
If you go
THE BEST WAY TO SUN VALLEY, IDAHO
From LAX, Alaska offers nonstop service to Friedman Memorial Airport in Hailey, Idaho, and Alaska, Delta and United offer connecting service (change of planes). Restricted round-trip fares from $254, including taxes and fees. Hailey is about 11 miles from Sun Valley.
WHERE TO STAY
Sun Valley Lodge, 1 Sun Valley Road; (800) 786-8259, lat.ms/sunvalleylodge. Doubles from $460.
Sun Valley Inn, lat.ms/sunvalleyinn. Doubles from $280.
Limelight Hotel, 145-155 Main St., S. Ketchum, Idaho; (855) 441-2250, www.limelighthotels.com/ketchum, ketchumreservations@limelighthotels.com. Doubles from $220.
WHERE TO EAT
Pioneer Saloon, 320 N. Main St., Ketchum, Idaho; (208) 726-3139, www.pioneersaloon.com. Mains $13-35.
TO LEARN MORE
Sun Valley Resort, www.sunvalley.com
---