Just in time for Mother's Day: zoo babies in the West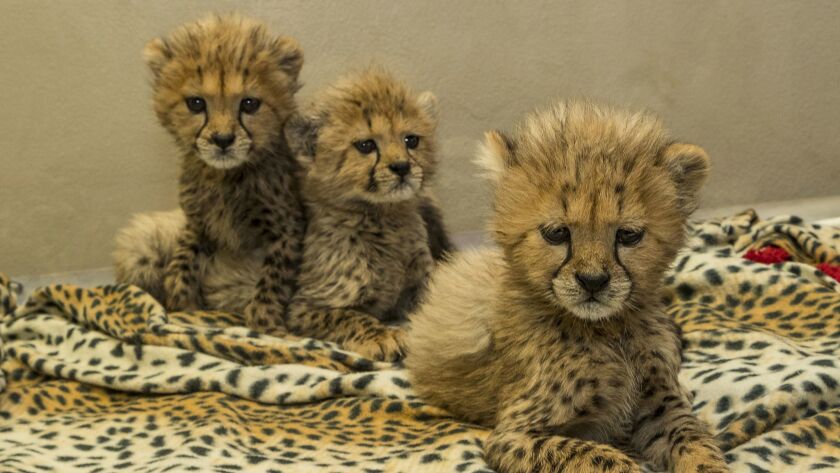 It's hard not to smile at the site of a baby, especially a furry one. Moms make it hard to spot their offspring in the wild, but you can get a look at adorable zoo babies in San Diego, Anchorage and Denver.
Each zoo is actively engaged in education, conservation and helping save species from extinction.
San Diego: San Diego Zoo Safari Park
Southern white rhino (near threatened status)
On Feb. 7, a southern white rhino named Kacy gave birth to her third calf, a 125-pound male named Justin.
He is the 97th southern white rhino calf born at the San Diego Zoo Safari Park since 1972. Over the next year, he will gain about 100 pounds a month. As an adult, Justin will weigh between 4,000 and 5,000 pounds.
Because of poaching, southern white rhinos are classified as near-threatened on the International Union for Conservation of Nature's Red List of Threatened Species. The species is native to Africa, with approximately 18,000 remaining in the wild.
The southern white rhino is the closest relative of the critically endangered northern white rhino. The last northern white rhino male died in March, leaving behind only two females, both located at Ol Pejeta Conservancy in Kenya.
Cheetah cubs (vulnerable status)
On Jan. 6, the Safari Park also welcomed three cheetah cubs who were born to Malana, an inexperienced mother. After two were accidentally injured, all three were transferred to the Ione and Paul Harter Animal Care Center Nursery when they were 7 weeks old.
Cheetahs are primarily found in Africa and are classified as vulnerable on the Red List of Threatened Species because of due to habitat loss, poaching, the illegal pet trade and other issues. In 1900, the world's cheetah population was about 100,000. Today, it is about 7,100, and 10% live in wildlife centers and zoos.
San Diego Zoo Global helped form the Breeding Center Coalition to create a sustainable cheetah population over the next decade.
Red-necked wallabies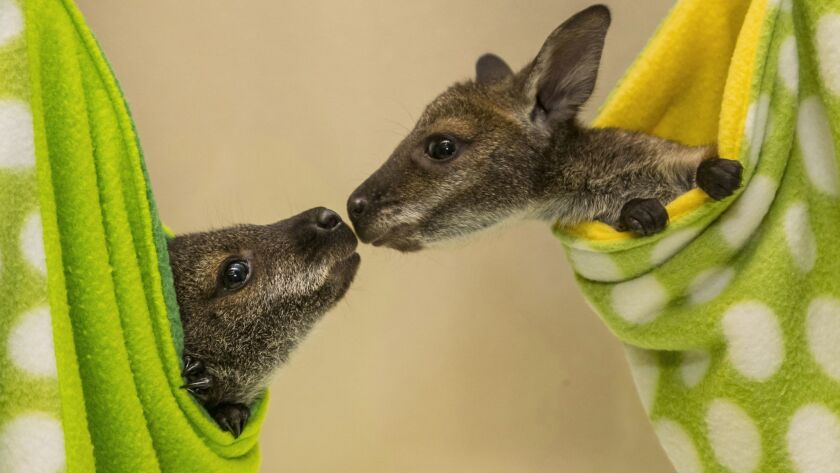 Three red-necked wallaby females arrived at the Safari Park's Harter Animal Care Center Nursery in April from another zoo. They range in age from 5 to 6 months, and are being bottle fed a special marsupial milk substitute and some solid food.
Each is about a foot tall and weighs two to three pounds. As adults, they will weigh between 26 pounds and 35 pounds and measure about 3 feet long from head to tail.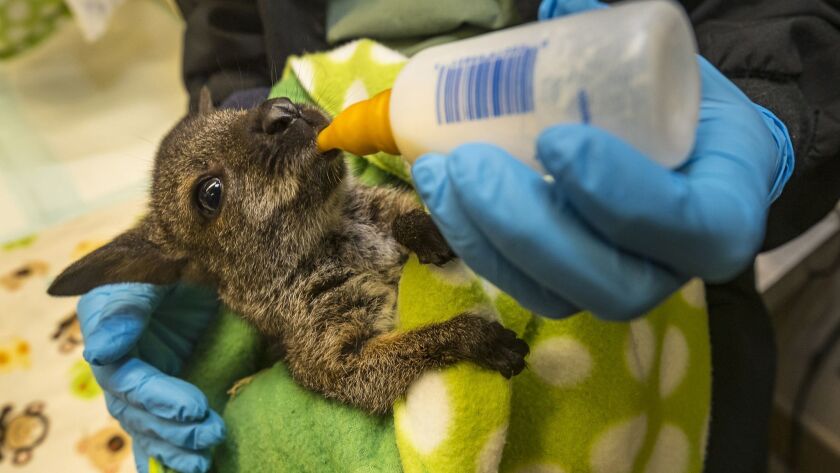 Wallabies are part of the kangaroo family and are native to Australia.
Info: San Diego Zoo Safari Park
Anchorage: Alaska Zoo
Brown bear cubs
Four orphaned male brown bear cubs now at Alaska Zoo in Anchorage will go to the Oakland Zoo once their new habitat is ready this summer.
Two were rescued from Deadhorse, Alaska, and two came from South Anchorage. Alaska Zoo has been rescuing injured and abandoned wildlife since 1969.
Info: Alaska Zoo and Oakland Zoo
Denver: Denver Zoo
Linne's two-toed sloth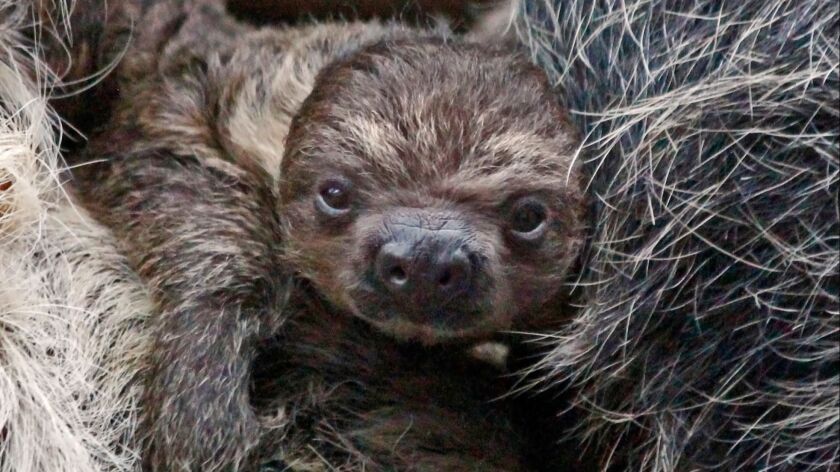 Baby Ruth, a female Linne's two-toed sloth, was born Jan. 28 to a sloth named Charlotte Greenie, who's 21 years old. Baby Ruth began clinging to her mother immediately and will cling almost exclusively to Charlotte until she's about 6 months old.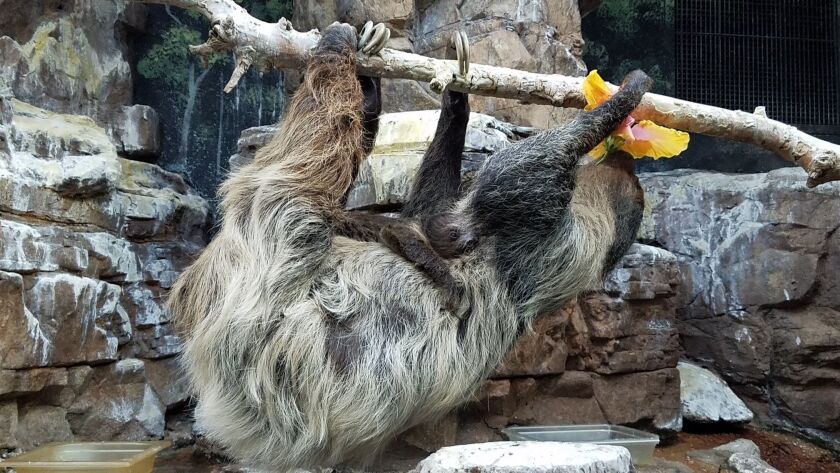 Although this species is not threatened, two of the six species of sloth are endangered: the pygmy three-toed sloth (critically endangered) and the maned sloth (vulnerable).
African wild dog (Lycaon pictus)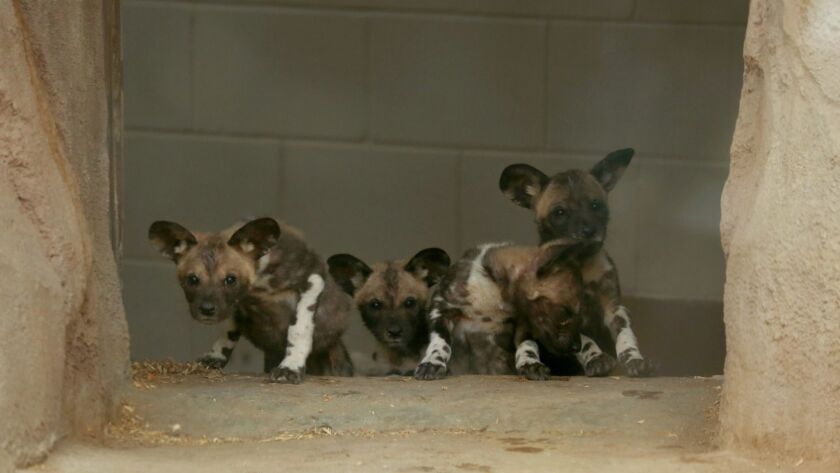 Tilly, an African wild dog at the Denver Zoo, had a litter of three males (Nigel, Theodore Roosevelt and Livingstone) and one female (Cholula) on Nov. 20. Nicknamed African painted dogs for their colorful markings, only about 6,600 African wild dogs are left in the wild, because of habit loss, infectious disease and conflicts with humans.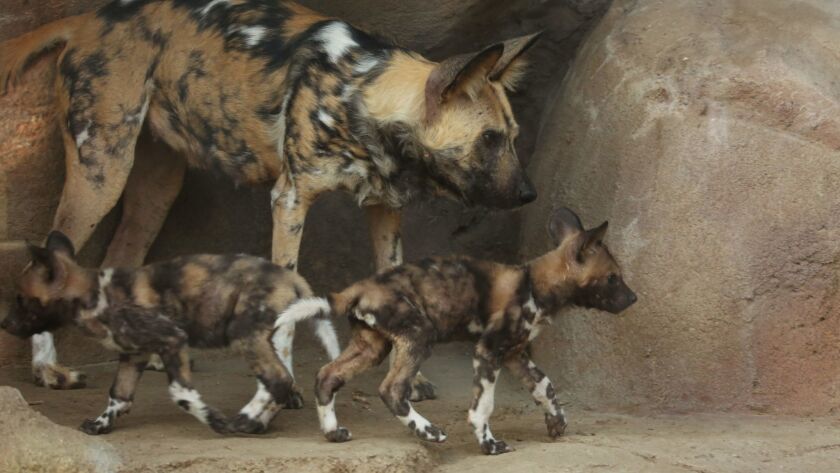 Thirty-two puppies have been born at the Denver Zoo since 2001. In Botswana, the zoo is tracking wild dogs with radio and GPS collars to help reduce conflicts with humans.
Info: Denver Zoo
ALSO
Cuteness alert! Where to find some of the newest zoo babies, from Santa Barbara to Scotland
Princess Cruises and cast of 'Love Boat' TV show to receive Hollywood Walk of Fame honor
Buy an Amtrak ticket to Santa Barbara or San Luis Obispo, and three friends ride for half price
---
Get inspired to get away.
Explore California, the West and beyond with the weekly Escapes newsletter.
You may occasionally receive promotional content from the Los Angeles Times.