Meet the receptionist. He and a cast of robots will serve you at this new Japanese hotel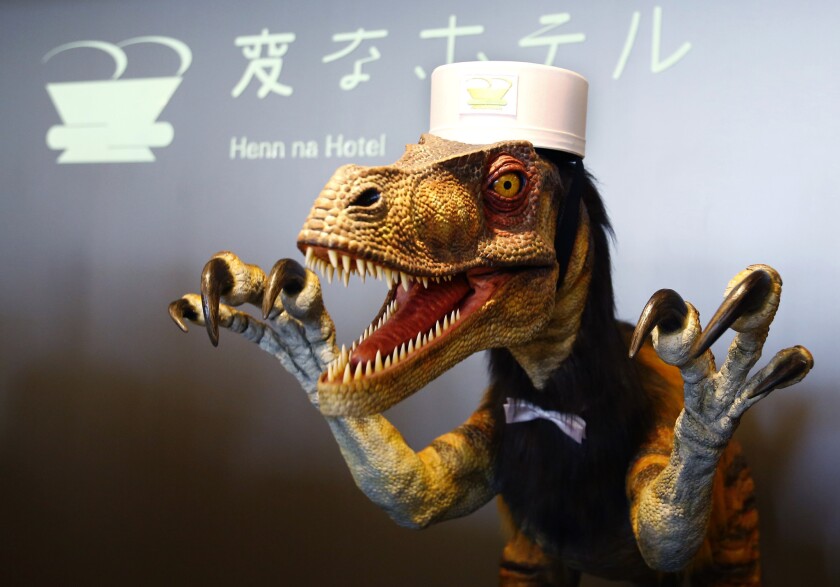 If you think robots can do better than humans in running a hotel, check out the newly opened Henn na Hotel (Weird Hotel, in English) in Sasebo, a city in southwestern Japan. It's staffed by robots to keep hotel costs down.
Hideo Sawada, president of Huis Ten Bosch Co., which operates the Henn na Hotel near an existing amusement park, told reporters at the Wednesday opening that it also provides an opportunity to showcase robotic technology. Here's a peek at the new hotel, where rooms cost about $80 a night.

The front desk staff
To check in, you may choose from an English-speaking robot in the form of a well-heeled Japanese woman in uniform, a superhero or a roaring T-Rex-type dinosaur. While they "speak," visitors are instructed to access a touch-screen panel to type in their information, the Associated Press reports.
The bellman
Once you make it past the front desk, a kind of automated trolley takes your luggage up to the room. Do you have to tip the robot? Likely not. Rooms are keyless and rely on facial recognition for entry.
The in-room concierge
A little bot called Tuly in the shape of a pink tulip with a dress looks like a distant cousin of Hello Kitty. She/it answers simple questions guests may have. Maybe you want to know the weather or turn on the lights? Ask Tuly because there aren't any light switches in the room.
The big arm
If you want to put something in a locker, no need to fiddle with coins. A big robotic arm behind glass in the lobby lifts a box, shoots it out to you and you place your items inside. It's called the "robot cloak room."
"I wanted to highlight innovation," Sawada said in the AP story. "I also wanted to do something about hotel prices going up.
The room
Hotel company president Hideo Sawada shows off one of the rooms in the Henn Na Hotel. He's committed to bringing things such as "drone performances" to the hotel in the future. He met with the media Wednesday to show off the hotel's technology at the opening.
Whether the robots can pull this off remains to be seen. The AP story says an overnight stay for members of the media was canceled at the last minute because "the robots simply weren't ready."
MORE:
What the new J.D. Power study says about hotels -- and their cranky, crafty guests
---
Get inspired to get away.
Explore California, the West and beyond with the weekly Escapes newsletter.
You may occasionally receive promotional content from the Los Angeles Times.