It's National Yoga Month! Eight of the coolest places you'll ever perfect your pose
Yoga nation, September is your time to celebrate.
It's the perfect workout for travelers to take on the road, whether they like being outdoors, indoors, on mountain tops or on stand-up paddle boards.
During National Yoga Month, stretch yourself a little and try something different at these eight destinations with their own take on yoga.
1. Chihuly-style
What's more inspirational than going through your yoga paces inside the amazing Glasshouse at the base of Seattle's Space Needle? Meditate on one of Dale Chihuly's whimsical sculptures overhead while in the 40-foot-tall, light-filled space.
Core Power Yoga runs the 60-minute classes at 9 a.m. on Oct. 3, Nov. 7 and Dec. 5. The class is included with a general admission ticket ($22 for adults) to the Chihuly Garden and Glass museum. Info: Chihuly Garden and Glass
2. Manhattan-style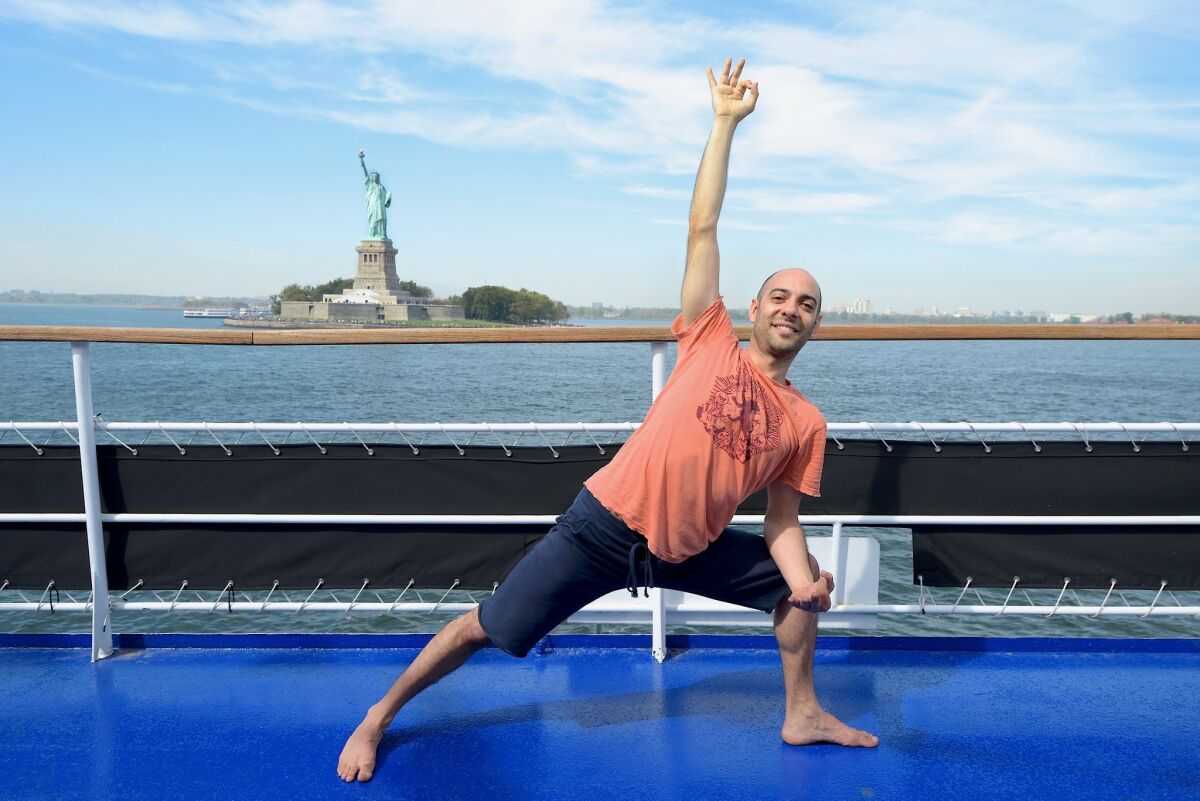 Maybe you need to perfect your torch-holding pose? This yoga class takes place aboard the Spirit of New York tour boat as it passes the Statue of Liberty and sails around Manhattan. You get a 45-minute class, led by Strala Yoga, and lunch; cost is $51.90 per person. Next sailing is Sept. 26.
Info: Spirit Cruises, (866) 483-3866
3. Napa-style
Guests at Solage Calistoga in Napa, Calif., receive a free Aqua Yoga class in the hotel spa's mineral pool. You can stretch and breathe, all within the comfort of warm mineral water that will keep your joints loose and flexible.
Info: Solage Calistoga, (844) 670-9748
4. SUP-style
If you've mastered stand-up paddle boarding, you're ready for SUP yoga. Red Sail Sports offers free daily SUP clinics to guests at the Westin Grand Cayman Seven Mile Beach Resort & Spa in the Cayman Islands. After that, you can take an SUP Yoga class to up the ante and get your stretches.
For landlubbers, there's also a free beach yoga class. Info: Red Sail Sports at the Westin Grand Cayman Seven Mile Beach Resort & Spa, (345) 945-3800
5. Parisian-style
OK, forget all the names of yoga poses you've learned. At the Sofitel Paris Arc de Triomphe in the heart of the French capital, guests receive a deck of cards with yoga poses based on Parisian landmarks.
The downward dog becomes the pyramids of the Louvre; the cobra pose, the gargoyles of Notre Dame. And of course the Eiffel Tower is the tree pose. You can do the self-guided workout anywhere in the city or in your room.
Info: Sofitel Arc de Triomphe
6. Bel-Air-style
You'll get to do yoga in the 12-acre gardens of the iconic Hotel Bel-Air Hotel in L.A. That's right, a free yoga class for guests and the public is held on the hotel's front lawn at 9:30 every Saturday morning. Then you can tour the Swan Lake and gardens too.
Each class focuses on something different, such as balance, heart opening, core strengthening, detoxifying, etc. The hotel provides mats, towels and green juices too. A $10 donation to local charities is suggested. Info: Hotel Bel-Air, (310) 472-1211
7. Laguna Beach-style
The Montage Laguna Beach adds a spiritual and healing component to its 2015 Mind and Body offerings. On Sept. 19-20, participants may take a two-hour yoga class and then receive 60-minute spa treatment and lunch at the Spa Montage.
As part of the series, Diana Christinson leads what's called the Manomaya kosha (one of five koshas of yoga). The session costs $329 per person (not including hotel room). Info: Montage Laguna Beach
8. Farm-style
FarmScape Yoga happens just four times a year at the Finger Lake Cider House on Good Life Farm in Interlaken, N.Y. Sara Worden leads sessions that incorporate sounds and scents of farm life into a yoga experience.
Asana yoga sessions focus on breath, movement and contemplation. The upcoming sessions are from 9 a.m. to 11 a.m. Oct. 4 and Jan. 17. A session costs $35 per person. Info: Finger Lakes Cider House
ALSO
Five things you can do in London to celebrate Queen Elizabeth's historic reign
Straight outta Dodge City: Where you can go for a 'Gunsmoke' reunion
Get our L.A. Goes Out newsletter, with the week's best events, to help you explore and experience our city.
You may occasionally receive promotional content from the Los Angeles Times.