Sochi Olympics 2014: The Scottish isle where curling stones are born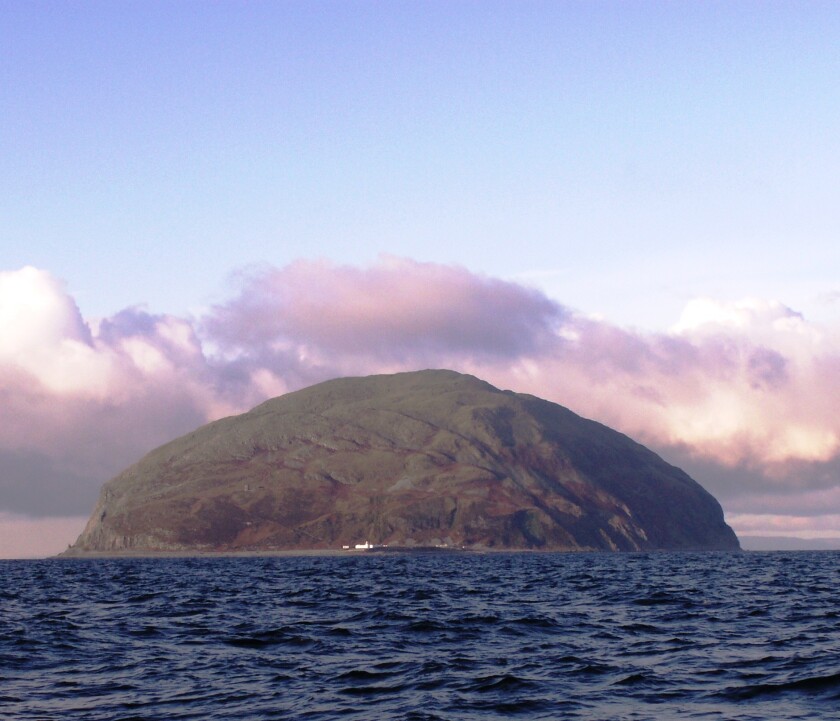 A view of Ailsa Craig, the uninhabited isle 10 miles off the coast of Scotland that holds the granite from which official curling stones are made.
(Mark McCrindle)
Curling stones used in a round-robin match Monday between Germany and Canada during the curling tournament at the Olympic Games in Sochi, Russia.
(Christian Charisius / EPA)
Visitors get a lift to the island courtesy of
guide Mike McCrindle's ferry service
. Kays of Scotland is the company that makes Olympic curling stones from the island's tough granite.
(Mark McCrindle)
The island also draws bird-watchers who come to see one of Europe's largest colonies of gannets (shown) and also to see puffins.
(Mark McCrindle)
Mark McCrindle takes visitors to the island on his boat. "My busiest months are between June to September, when the weather is at its best," McCrindle says.
(Mark McCrindle)
A lighthouse was built on the island in 1886. It now runs on solar power.
(Mark McCrindle)
A view of the volcanic island in the Firth of Clyde. It's about 10 miles from the town of Girvan.
(Mark McCrindle)
The rocky shore of Ailsa Craig. Kays of Scotland mines common green, blue hone and red hone granite to make curling stones, according to the company's website.
(Mark McCrindle)
Daily Deal and Travel Blogger
Ailsa Craig is a wee North Atlantic isle off Scotland that looks like a big curling stone. If you don't know what those are, you probably haven't been watching the sport of curling at the Winter Olympics in Sochi, Russia.
It's played with brooms and a shiny stone that's made exclusively from rare granite mined on Ailsa Craig. (For the uninitiated, here's how L.A. Times columnist Bill Plaschke describes the game: "It's the Olympics' most relatable and honest of endeavors, an odd mixture of shuffleboard and chess featuring unassuming athletes seemingly lifted from your next-door neighbor's porch.")
Guide Mark McCrindle of Girvan, Scotland, takes visitors to Ailsa Craig on his small boat. He says some come to climb to the top of the volcanic isle while others want to see where curling stones come from.
"It's the toughest granite in the world, and ideal for curling," McCrindle says via email. Others come to see vast numbers of seabirds like gannets and puffins.
A company on the mainland called Kays of Scotland manufactures the Olympic stones. It has rights to mine three types of granite — common green, blue hone and red hone — that are used in high-quality curling stones, according to the company's website.
Recently, the island has been up for sale too. London's Guardian newspaper calls it the "granite jewel of the Firth of Clyde." The paper reported in December that it may be taken over by a conservation trust and that the asking price had been reduced to $2.4 million.
Olympic curling preliminary competition continues this week. Women's finals will be held Feb. 20 and men's finals Feb. 21.
Mary.Forgione@latimes.com
Follow us on Twitter @latimestravel, like us on Facebook @Los Angeles Times Travel.
---
Get inspired to get away.
Explore California, the West and beyond with the weekly Escapes newsletter.
You may occasionally receive promotional content from the Los Angeles Times.