8 Images
Atlanta's humanitarian history
Front side: Georgia Tech students add a personal greeting for the Dalai Lama, who spoke to thousands in Atlanta's Centennial Olympic Park last month. The Georgia city has emerged as a world center of humanitarian thought and work, a place where multiple institutions are engaged in furthering world peace and compassion, in part because of visits by the Dalai Lama.
(Erik S. Lesser / EPA)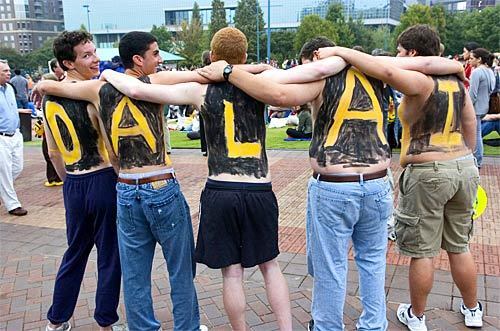 Back side: The Georgia Tech students carried their Southern hospitality to their backs too. The same day that the Dalai Lama spoke in Centennial Park, Emory University installed the Buddhist leader as a presidential distinguished professor. And he joins former President Carter and the Rev. Martin Luther King Jr., both of whom have impressive museums and visitor centers here, as the third Nobel peace laureate associated with Atlanta.
(Erik S. Lesser / EPA)
The Dalai Lama speaks at a conference at Emory. As a presidential distinguished professor, the religious leader will make periodic visits to the Atlanta university to lecture and participate in the exchange of spiritual and scientific information.
(John Bazemore / Associated Press)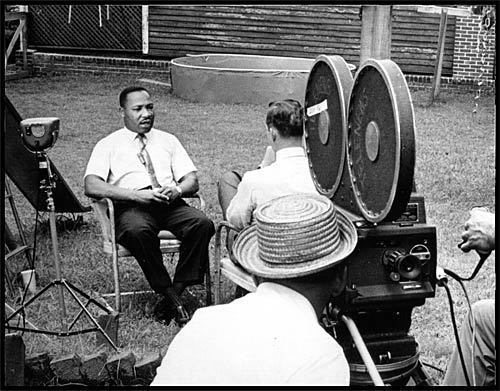 The Rev. Martin Luther King Jr. is interviewed by ABC News outside his Atlanta home in a 1963 photo. King's dream lives on at two Atlanta centers devoted to the civil rights leader's life -- the Martin Luther King Jr. National Historic Site and the family-run King Center and Tomb.
(ABC Photo Archives)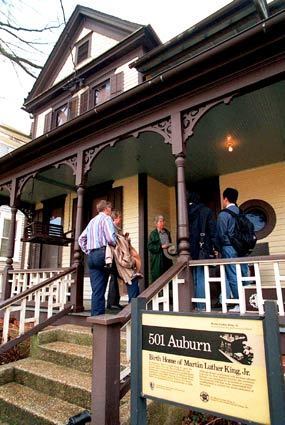 Visitors gather on the front porch for a ranger-led tour of King's birthplace in the Sweet Auburn area of Atlanta. King took many of his teachings from the writings and speeches of Mahatma Gandhi. A statue of the Indian leader stands outside the visitors center, with its permanent exhibits -- "Courage to Lead," which describes and shows the journey of the pioneer civil-rights marchers; and "Children of Courage," an interactive exhibit that shows children's contributions to the movement and invites young visitors to respond to what they see.
(Ric Feld / Associated Press)
A visitor has her photo taken besides the graves of King and his wife, Coretta Scott King, at the King Center. The site has a room dedicated to Gandhi, filled with artifacts of his life, including a piece of cloth spun by the Indian leader. Other rooms celebrate the lives of King and his wife. The center marks Gandhi's birthday each year, as well as King's.
(Erik S. Lesser / EPA)
A cheerful Jimmy Carter watches an Atlanta Braves game. The 1 1/2 -mile Carter-King Peace Walk connects the historic King site with the Jimmy Carter Library & Museum and serves as a link between the two Georgia Nobel peace laureates.
(Streeter Lecka / Getty Images)
The Carter center is devoted to America's 39th president. Inside, there's a full-size re-creation of the Carter-era Oval Office and exhibits on the major events of his term in office (1977-81).
(Jimmy Carter Presidential Library)