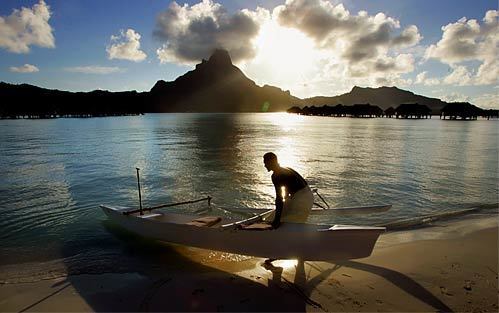 9 Images
Bora-Bora Beaches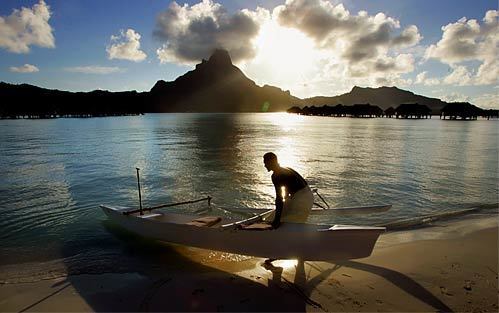 A paddler maneuvers his outrigger canoe into the water near the InterContinental as the sun sets behind Mt. Otemanu. Author James Michener dubbed Bora-Bora's lagoon "the most beautiful in the world." Michener, stationed here during World War II, is said to have used the island as one of the models for the mythical Bali Hai in his book "Tales of the South Pacific."
(Bob Chamberlin / LAT)
Over-water villas bask in the warm morning sun at the InterContinental, one of the island's ritzy hotels. The thatched-roof bungalows, which sit on stilts over the water, are an island trademark.
(Bob Chamberlin / LAT)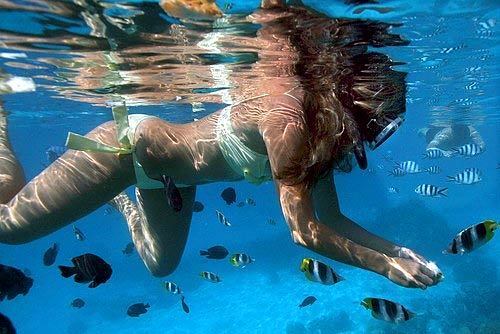 Newlywed Angelic Durante feeds the tropical fish during a snorkeling adventure. The color of the water, from pale turquoise to cobalt blue, is electrifying. The coral reefs and fish are just as gorgeous, glowing in a rainbow of colors.
(Bob Chamberlin / LAT)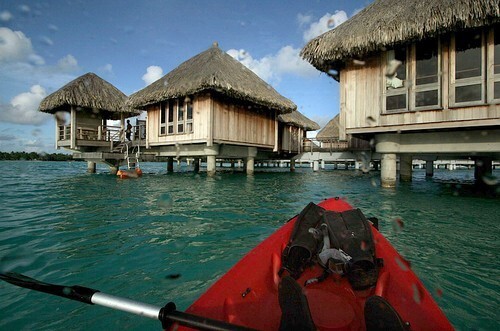 A kayaker approaches an over-water pavilion dock at the St. Regis. A trip on these aquamarine waters is a gift from the sea gods. "This place is ideally situated on the planet," one U.S. expat says of life in French Polynesia. "It's the place everyone wants to be."
(Bob Chamberlin / LAT)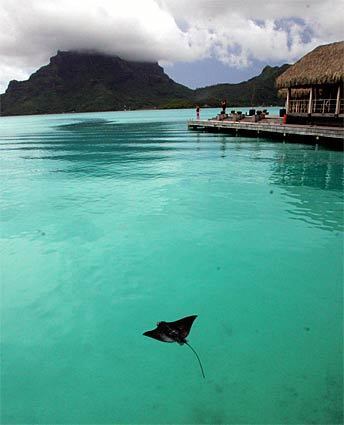 A bat ray seemingly has the lagoon to itself near the thatched-roof restaurant at the St. Regis. In the background, clouds shroud the tip of Mt. Otemanu. Two towering peaks of black rock soar nearly half a mile above the six-mile-long island of Bora-Bora; the lagoon, a barrier reef and myriad islets, called
motu
, surround it.
(Bob Chamberlin / LAT)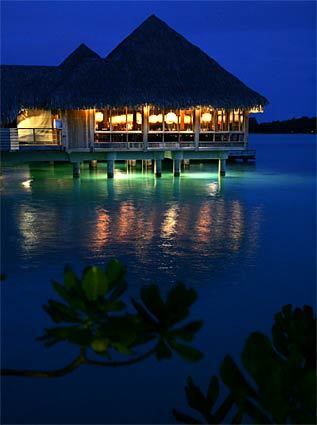 Lights from the over-water restaurant at the St. Regis are reflected in the lagoon. The St. Regis prides itself on service — and in accommodating guests' every whim. "Our goal is to build an absolutely unique experience," says its general manager, Milton Sgarbi.
(Bob Chamberlin / LAT)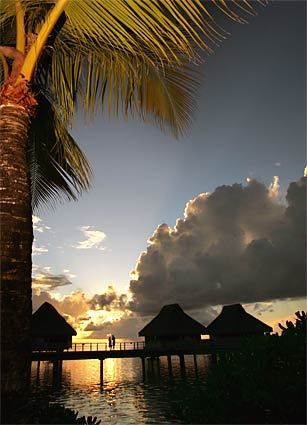 The setting sun creates a gorgeous tableau at the Bora Bora Nui Resort and Spa in Vaitape. The hotel's suites and bungalows are in a lovely location, surrounded by lush vegetation and overlooking a private cove.
(Bob Chamberlin / LAT)
Brightly colored butterfly fish look for lunch in the mature coral heads beneath the over-water bungalows at the Hotel Bora Bora. The hotel was Bora's first, and it has one of the best locations on the island.
(Bob Chamberlin / LAT)
A snorkeler checks out the occupants of the clear lagoon just off the dock at the Novotel Bora Bora Beach Resort. The resort, near beautiful Matira Beach, is for the budget-minded visitor — rooms are about $200 a night.
(Bob Chamberlin / LAT)