7 Images
Photos: San Joaquin Valley bullfighting
Riding horseback, bullfighter Vitor Mendes sticks a bull with a nonlethal weapon: a
bandarilha
tipped with a Velcro strip that adheres to the animal. The so-called "bloodless" bullfight in Gustine, Calif., is one of many held from March to October in tiny towns across California's Central Valley. The no-kill bullfights highlight festivals in bullrings that have been built in the region over the decades. California banned gory bullfights in 1957 but allowed the mostly Portuguese immigrants from the Azores -- where the popular sport is bloodless -- to continue the tradition. The Velcro adaptation was added in 1980.
(Andy Isaacson)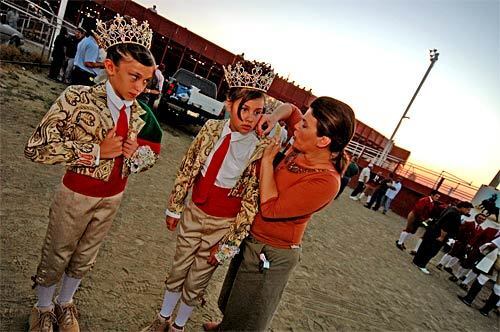 Girls dress up like little bullfighters to hand out honors to the matadors at Gustine's Praça de Touros.
(Andy Isaacson)
Matador Vitor Mendes receives flowers from fans after his performance. Outside the ring are folk dances and communal feasts to enjoy.
(Andy Isaacson)
Vitor Mendes performs a dance called a "pasodoble," while the bull runs toward the red cape.
(Andy Isaacson)
A truck decorated for the occasion is parked outside the bullring in Gustine, one of about nine rings in the region dedicated to no-kill bullfights.
(Andy Isaacson)
Vitor Mendes faces the bull, which by now is sporting several lances and has been well-provoked.
(Andy Isaacson)
The crowd responds to Mendes' moves as the bull charges his cape. It's a ritual dance so smooth that it looks rehearsed. Once defeated, the bull exits in the company of a herd of cows, humiliated but alive.
(Andy Isaacson)