7 Images
Dresden, Germany
The Frauenkirche ("Church of Our Lady") has been returned to its Baroque glory, rebuilt in its original location in the heart of Renaissance Dresden, Germany. The photo is from 2005 when the church was rededicated. The citizens of Coventry, England, whose own cathedral was destroyed by German bombers in the early days of World War II, helped raise the money to rebuild the Frauenkirche.
(EPA)
Christmastime in Dresden is celebrated with a
glögg
(mulled wine) booth that stands in front of the Frauenkirche in Dresden. The booth is modeled on Germany's traditional Christmas pyramid. Candles are lighted, which causes the fans to rotate.
(Ralf Hirschberger / EPA)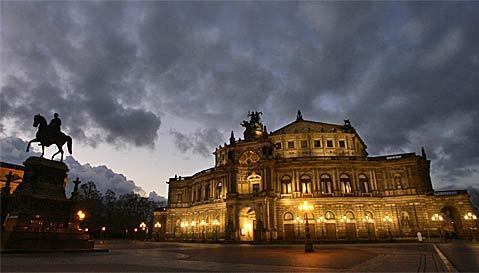 The Semper Opera House and the King Johann monument look even more dramatic under threatening clouds that loom over Theater Square in Dresden.
(Matthias Rietschel / Associated Press)
The historic Taschenberg Palace is now a Kempinski hotel in the heart of Dresden. In its courtyard is an ice-skating rink. It will be open until March.
(Norbert Millauer / AFP / Getty Images)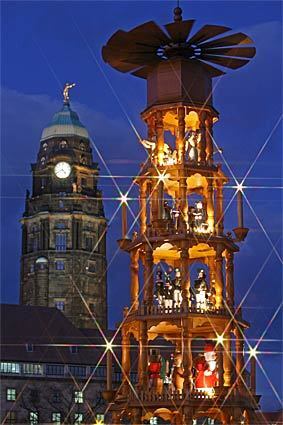 Dresden's traditional Christmas market, called "Striezelmarkt," began at the end of November with the lighting of the Christmas pyramid. In the background is the Frauenkirche.
(Ralf Hirschberger / EPA)
One of Germany's oldest Christmas markets is open in Dresden, where visitors drink a traditional mulled wine called Glühwein. The festival includes kiddie rides, hot-sausage stands, hand-carved wooden Christmas tree ornaments for sale and plenty of sweets.
(Norbert Millauer / AFP / Getty Images)
Said to be the world's largest porcelain mosaic fresco, "The Procession of Dukes" is a visual history of Saxon royalty that was carved on Dresden Castle in the 1870s.
(Susan Spano / Los Angeles Times)