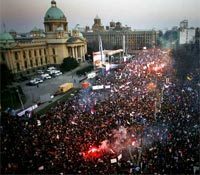 5 Images
Embassy Row in Washington, D.C.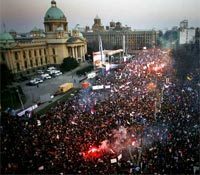 A strip of stately, tree-lined Massachusetts Avenue is home to about a third of the foreign embassies in Washington, D.C. Many of the Beaux-Arts mansions of Embassy Row, as it's known, have histories of their own. The Colombian ambassador's residence, here, was designed in the style of a 16th- or 17th-century French chateau.
(Rosemary McClure / LAT)
The Indonesian Embassy started out as a 60-room mansion built by an Irish immigrant, Thomas Walsh, who struck gold in the Black Hills. His daughter, Evalyn Walsh McLean, lived it up as an heiress, snapping up the 45-carat Hope Diamond (she was its last private owner) as well as the 94-carat Star of the East. She was good friends with Alice Roosevelt Longworth, Theodore Roosevelt's daughter, who lived across the street.
(Rosemary McClure / LAT)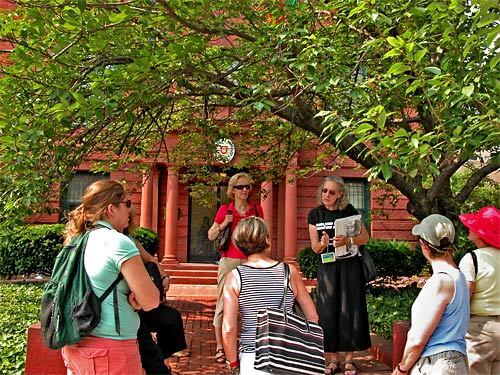 Mary O'Day, in black, stops by the Portuguese mission as she leads a tour of Embassy Row for Washington Walks.
(Rosemary McClure / LAT)
A marble fountain in the center of Dupont Circle is dedicated to Civil War hero Rear Adm. Samuel Francis Du Pont. The circle anchors a lively neighborhood of cafes, shops and galleries in addition to the exclusive residences.
(Rosemary McClure / LAT)
A memorial at Sheridan Circle, at the other end of Embassy Row, is a sobering counterpoint. It marks the spot where former Chilean ambassador Orlando Letelier was killed by a car bomb along with his American assistant, Ronni Moffitt. Letelier, who served under President Salvador Allende, stridently opposed the regime of Augusto Pinochet, who overthrew Allende. A member of Chile's secret police was convicted in the assassination.
(Rosemary McClure / LAT)