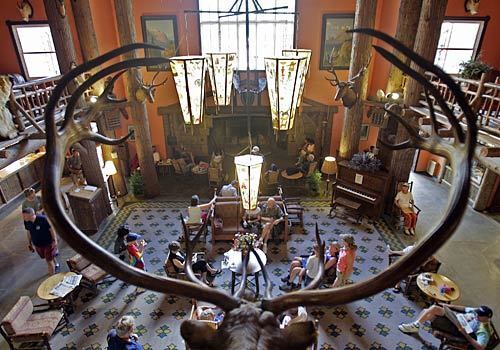 11 Images
Lodges in Glacier & Waterton Lakes National Parks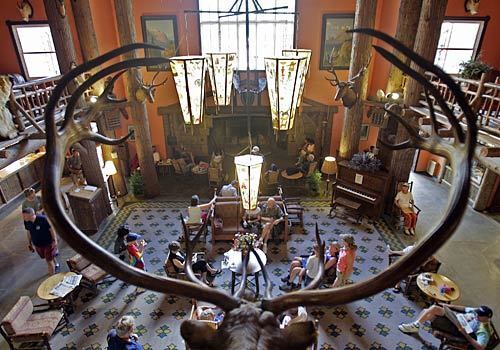 Far from Lummis Home, the vibe of that Los Angeles landmark exists at Lake McDonald Lodge in Montana's Glacier National Park. That atmosphere may stem from the aphorisms carved into floors and on lintels -- for example, "Fires of Uncertain Light Are Fires Burning at Night." The lodge also has mounted heads of moose, elk and deer, and some of the vacationers pictured here are gathered around a large fireplace.
(Allen J. Schaben / LAT)
Horses headed for Swiftcurrent Lake stride along a ridge above Many Glacier Hotel, which opened July 4, 1915. It's one of the lodges and chateaux built at the behest of Great Northern Railway President Louis Hill, a champion of the park's tourist potential.
(Allen J. Schaben / LAT)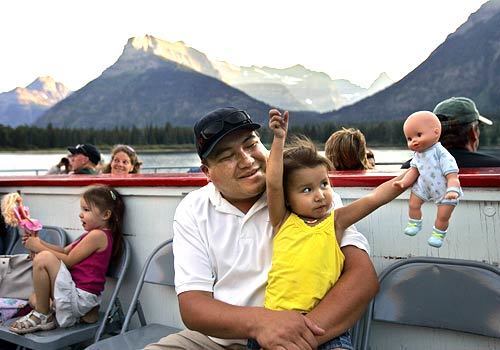 Local residents join tourists on a boat ride on Waterton Lake, a jewel of Waterton Lakes National Park in Canada. Waterton Lakes park shares a border with Glacier park.
(Allen J. Schaben / LAT)
The 155-room Glacier Park Lodge is an easy stroll from the Amtrak depot in East Glacier. Referred to as the world's largest log cabin, the lodge boasts a lobby with 24 rough-barked Douglas firs and cross timbers of equal girth.
(Allen J. Schaben / LAT)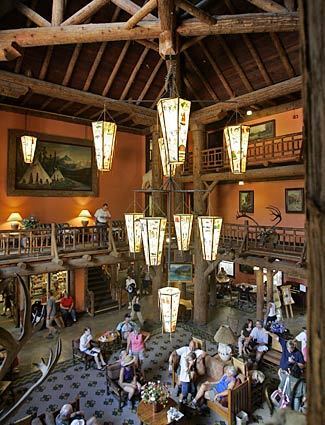 For these guests, the pleasures afforded by three-story Lake McDonald Lodge are in the here and now. Nevertheless, the 1914 lodge, one of the best preserved in Glacier, boasts a timeless distinction as a national historic landmark. Reservations at Lake McDonald Lodge, Many Glacier Hotel, Glacier Park Lodge and Waterton Lakes' Prince of Wales Hotel, among others, can be made through Glacier Park Inc., the park concessionaire.
(Allen J. Schaben / LAT)
A Times reporter found the lobby of Glacier Park Lodge reminiscent, in its way, of the Acropolis. But the 1913 lodge's attractions aren't only indoors. A golf course and swimming pool also are available to guests.
(Allen J. Schaben / LAT)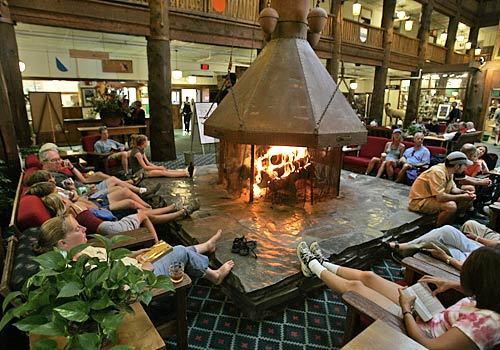 Driven indoors by a July storm, guests get cozy around a fire that filled the Many Glacier Hotel's lobby with the scent of pine. The communal experience provided a welcome, if temporary, respite from the call of the wild.
(Allen J. Schaben / LAT)
With no risk to life and limb, tourists on a Many Glacier Hotel balcony can watch grizzly bears on a nearby mountainside.
(Allen J. Schaben / LAT)
It's high tea with a twist at the Prince of Wales Hotel in Waterton Lakes park. Amid luxurious surroundings, there's no dress code for patrons who, after all, may have just come in from the mountains. Regardless, the tea service more than bears up to scrutiny: A Times reporter received a range of delicious sandwiches plus scones, muffins, tarts, fudge and more.
(Allen J. Schaben / LAT)
Even amid Waterton Lakes park's beauty, the Prince of Wales is conspicuous. Built in 1927, it has broad decks and rows of windows; 10 lodgepole pines rise four stories in the lobby, which is dominated by an iron chandelier with three concentric rings of light.
(Allen J. Schaben / LAT)
A portrait of refinement amid challenging terrain, the Prince of Wales overlooks not only Waterton Lake but also the township of Waterton.
(Allen J. Schaben / LAT)