4 Images
Palihouse Holloway hotel, West Hollywood
A Frenchman might feel at home relaxing in the Lobby Cafe at Palihouse Holloway in West Hollywood. The boutique urban lodge, as developer Avi Brosh describes it, opened in January as a way station for those in need of temporary housing.
(Grey Crawford)
A guest room at the Holloway feels like a whimsical loft: raw-brick wall, giant windows and plenty of seating. The queen-size bed is in a nook set off from the living room by a built-in dresser and TV console.
(Grey Crawford)
The extended-stay hotel features a top-rate French brasserie called the Hall. The Holloway's lobby and courtyard also offer plenty of segregated spaces to entertain privately and enough open areas to encourage friendly interactions.
(Grey Crawford)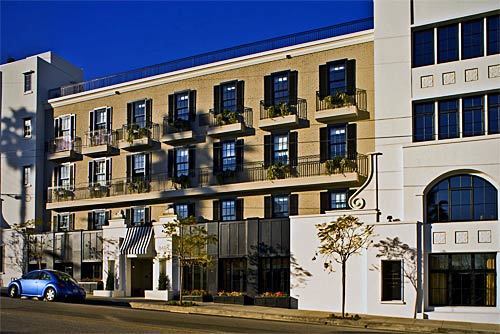 With the Palihouse Holloway, developer Avi Brosh was going after a new concept in hospitality -- a hybrid of boutique hotel and condominium complex.
(Grey Crawford)