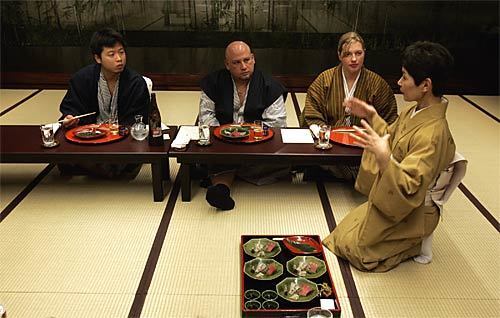 7 Images
Lee Hefter's Japan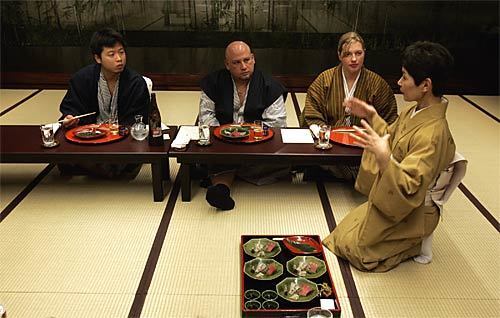 It's called kaiseki, and it's the haute cuisine of Japan - served in a hushed tatami room, each course (there are 14) with its own visual language. Spago Beverly Hills executive chef Lee Hefter, center, who for years has been traveling to Japan for culinary inspiration, dines at the Kyoto inn Hiiragiya Ryokan with his wife, Sharon, and friend Tetsu Yahagi. "It stimulates the creative process," Hefter says of his Japanese jaunts. "I let it digest for a month and then go back to my notes and get inspired again." The kaiseki framework, meanwhile, is formal: Those 14 courses always include two artfully composed appetizers, a sashimi course, a simmered dish, a grilled dish, a steamed course, a middle course that always comes in a beautiful lidded dish.
(Beatrice de Gea / LAT)
Hefter, left, pops in at a small eatery in Tokyo. In a country with a devotion to food - whether for eating on the run, such as at ramen stands, or for a near-spiritual experience, as in kaiseki - Hefter plots out his trips with extreme precision. He gets tips from other chefs stateside, talks with chefs in Japan and with hotel concierges, checks Zagat and Japanese food website
www.bento.com
and cross-references it all.
(Beatrice de Gea / LAT)
In Tokyo's Ginza district, Lee and Sharon Hefter check out yakiniku, the Japanese version of Korean barbecue. The restaurant, Shotai-en, specializes in Japanese beef. Among Hefter's selections for himself, his wife and companions: beef sashimi, beef tartare, two kinds of salad, vegetables for grilling, shrimp on skewers, three kinds of Wagyu beef, Korean-style marinated beef and two orders of tripe. The tab comes to about $30 a person.
(Beatrice de Gea / LAT)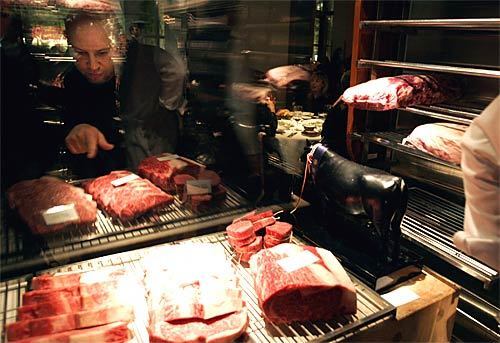 Hefter admires the meat offered at the Oak Door steakhouse at the Grand Hyatt Tokyo, a Roppongi Hills-district hostelry whose estimable restaurants also include Shunbou, a kaiseki and kappou restaurant. Beef clearly matters to Hefter, whose Beverly Hills steakhouse Cut is white-hot.
(Beatrice de Gea / LAT)
If it swims, it's here in Tokyo's Tsukiji Market - tuna, turtles, eels, clams, spiny lobsters, shrimp, skinny silvery needlefish, crabs, abalone, squid, octopus and stalls filled with dozens of kinds of uni, the bright sea urchin roe. It's more than enough to engage the interest of chef Hefter, left.
(Beatrice de Gea / LAT)
Hefter tucks in to noodles at the Takashimaya department store, whose basement houses an awesome display - bread and pastry boutiques from France, salumi from Italy, acres of Japanese specialty foods and more. The produce gets the most reverence, displayed like fine jewelry.
(Beatrice de Gea / LAT)
Tuna is a star attraction at Tsukiji Market, where the city's sushi chefs shop. The turnover in the fish is constant - as one row of enormous tunas is sold, another is moved in. Motorized flatbeds, bringing ever more seafood, threaten to collide with the swarms of tourists and buyers.
(Beatrice de Gea / LAT)