8 Images
Japan: Tokyo & Kyoto Hotels
A chic staging ground for forays into Tokyo's storehouse of restaurants and nightclubs, the Grand Hyatt Tokyo first proclaims its style in its sleek lobby. The Hyatt is a 389-room, 21-floor citizen of the fashionable Roppongi Hills district, which has cinemas, shopping, the Mori Art Museum and more. The hotel, by the way, has its own collection of destination-worthy restaurants and bars.
(Beatrice de Gea / LAT)
A Grand Hyatt Tokyo guest room flashes a cool, minimalist look. Standard rooms are well-designed, with plush linens, flat-screen TVs and, in bathrooms, a soaking tub that overflows into a limestone shower. Doubles from $481. Times reporters found the service throughout the hotel to be excellent.
(Beatrice de Gea / LAT)
The Hyatt also distinguishes itself with a well-appointed spa and fitness club that includes a beautiful granite indoor pool. Not a bad place to offset a trip to the breakfast buffet at the hotel's French Kitchen Brasserie & Bar (pricey but impressive) or recover from a visit to Maduro, a Hyatt bar that features live music every night.
(Beatrice de Gea / LAT)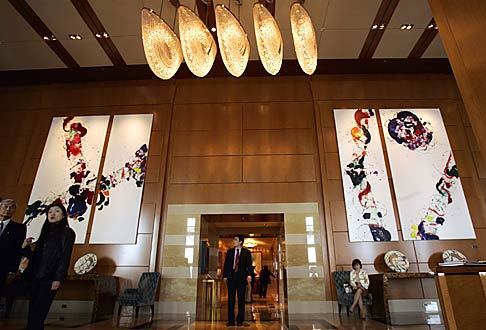 The high-ceilinged lobby of the Ritz-Carlton Tokyo, the city's newest hotel, stands tall — on the 45th floor, in fact. It's also impressive, with such touches as a waterfall, huge Sam Francis paintings and a lobby bar. The 248-room hotel is in a midtown area of Tokyo.
(Beatrice de Gea / LAT)
Downtown Tokyo glitters below a room at the Ritz-Carlton Tokyo. Standard rooms there are 560 square feet and offer Ritz-level luxury. On a clear day, you can see Mt. Fuji. Clear day or not, you might find a $420 bottle of Rémy Martin Louis XIII Cognac in the mini-bar. Doubles from $569.
(Beatrice de Gea / LAT)
The room is small, the value is a good deal bigger at B roppongi, a new boutique hotel in Tokyo's Roppongi nightclub district. Doubles range from 161 to 323 square feet. The "B" stands for "good breakfast, comfortable bed, balance in your life." Doubles from $100.
(Beatrice de Gea / LAT)
On to Kyoto, and the Three Sisters Inn — a modest, comfortable place
in a quiet residential neighborhood near the Heian shrine. Owned by the Yamada family for 14 generations, it has rooms with
tatami
mats and futons. Its proprietors — yes, three sisters — love foreigners and speak excellent English. Doubles from $108 including breakfast.
(Beatrice de Gea / LAT)
Kyoto's Hiiragiya Ryokan comes by its traditional look honestly: The inn was founded in 1818, though seven of its 28 rooms are in a new wing opened last year. Visitors are likely to find in-room shiatsu massage, $38 for about an hour, to be a bargain and the 11-course Japanese breakfast in the room to be a highlight. Rates from $177 per person (based on double occupancy) including breakfast; from $250 per person, including breakfast and
kaiseki
dinner. (Beer and sake are extra.)
(Beatrice de Gea / LAT)