7 Images
Mammoth Mountain Summer Activities
Mammoth Mountain's bike trails range from tame to totally wild, including those at the Bike Park, which use the same trails as skiers use in winter. The resort, in Mammoth Lakes, Calif., has opened a new interpretive center, located at the summit of the mountain.
(Dan Blackburn)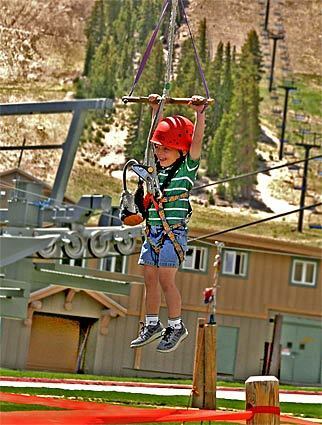 At the Mammoth Mountain Adventure Center, a zip line for children may take parents' breath away as their little ones fly by. The center is the headquarters for tickets and information about all activities on the mountain. Visit
www.mammothmountain.com
.
(Dan Blackburn)
Almost like the real thing, a rock climbing wall is open to children at the Adventure Center.
(Dan Blackburn)
Bicycle riders get the added treat of a spectacular Sierra view while riding the trails at Mammoth, which is about 300 miles north of the L.A. area along U.S. 395 and California 203. Mammoth has more than 90 miles of trails.
(Dan Blackburn)
Horseback riding on Mammoth Mountain trails is a popular summertime activity. Trail tours vary from one hour to all-day rides.
(Dan Blackburn)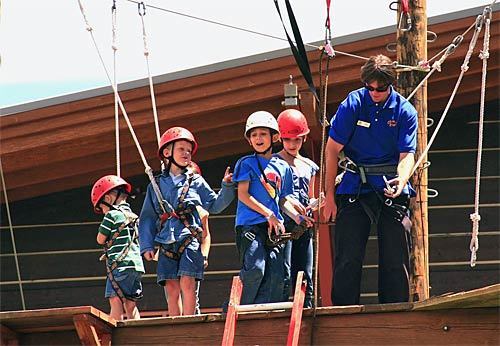 Children gear up with helmets and straps for the 100-foot zip line at Mammoth's Adventure Center.
(Dan Blackburn)
Mountain-bike riders keep an eye on the road, but they'll want to look up too while cruising Mammoth Mountain trails. They might get a glimpse of snowcapped peaks.
(Dan Blackburn)