9 Images
Groups of Manchester, U.K.
"Love Will Tear Us Apart" by Joy Division. The single was released just weeks before frontman Ian Curtis, second from left, committed suicide in 1980. The post-punk band's biggest hit, it's available on the compilation "Substance."
Note: To listen to audio, please turn off your popup blocker.
(Qwest)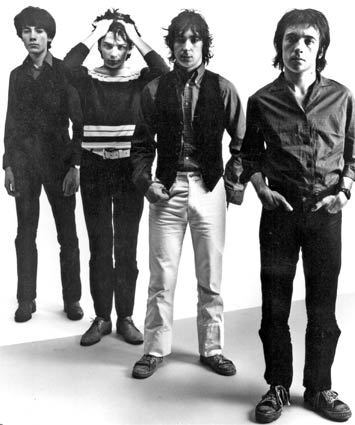 "What Do I Get?" by Buzzcocks. Romantic teen angst as only Pete Shelley, right, and company could do. The 1978 single appears on the pop punk band's compilation "Singles Going Steady."
(UA Records)
"Leave Me Alone" by New Order. After Curtis' suicide, his bandmates formed New Order, which melded post-punk and electronic dance. "Leave Me Alone" appears on the album "Power, Corruption & Lies."
(Monica Almeida)
"There Is a Light That Never Goes Out" by the Smiths. The definitive British indie rock band of the '80s featured Morrissey on vocals, second from left. This song appears on the 1986 album "The Queen Is Dead."
(Paul Cox)
"Cruiser's Creek" by the Fall. The post-punk band has been through many permutations since its founding, with frontman Mark E. Smith, right, the one constant. This song appears on the compilation "50,000 Fall Fans Can't Be Wrong."
(AP)
"She Bangs the Drum" by the Stone Roses. Dance meets '60s pop with this swaggering, indie rock band. The single appears on the group's eponymous debut album.
(Iris Schneider / LAT)
"Don't Look Back in Anger" by Oasis. Led by the brothers Gallagher — Liam, left, and Noel — Oasis became one of the leading bands of the Britpop movement. The single also appears on the album "(What's the Story) Morning Glory?"
(Paul Morse / LAT)
"This Song" by Badly Drawn Boy. The lo-fi slacker dude (real name: Damon Gough) included this '60s sounder on his debut album, "The Hour of Bewilderbeast."
(Lori Shepler / LAT)
"Words" by Doves. Mix shoegazer, Radiohead and occasionally dance and you have this dreamy Britpop combo. The song appears on the band's 2002 album "Lost Broadcast."
(Mary Scanlon)