8 Images
Movie destinations
Movie destinations
"The Secret of Roan Inish" (1994)
With the Academy Awards approaching, here are some films that can take you away, while you remain cozy in your living room. The first of several films that can transport you to faraway lands is "The Secret of Roan Inish": It's magical realism, Irish style. Enter a rocky, mist-shrouded coastal world where boats are tarred, the sea is as important as any character, peat from a bog is used for heat, birds soar, seals swim, houses are thatched, and a young girl uncovers the secret of the Island of Seals.
A refreshment you might enjoy with this film: a nice, warm, savory Irish stew.
Susan Lynch and Gerard Rooney, at left.
(David Appleby)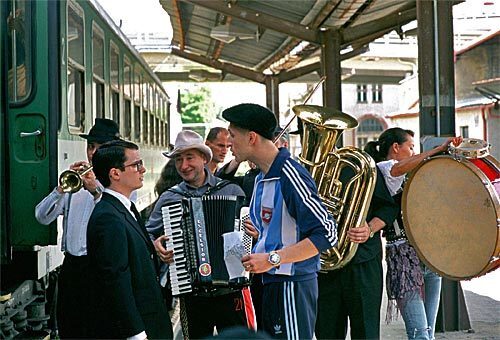 Movie destinations
"Everything Is Illuminated" (2005)
In the days of the czars, many Jews came to America from Ukraine, which they described as a living hell because of the pogroms and discrimination. But when a young man goes back to the old country, he encounters endless fields of sunflowers, farmland, goats, greenery, Soviet-era buildings and the tragic truth of what happened to his grandpa's village.
Refreshments: gefilte fish with horseradish, blintzes and chopped liver.
Elijah Wood, left, and Eugene Hutz.
(Neil Davidson)
Movie destinations
"Buena Vista Social Club" (1999)
Musician Ry Cooder seeks the living legends of Cuban music through the run-down, pulsing streets of Havana. Enter a world of music, motorcycles with sidecars, kids on skates, fabulous faces, dilapidated buildings and a woman with a cigar the size of a baseball bat.
Refreshments: a nice, plump, cholesterol-laden Cuban sandwich.
Omara Portuondo, a singer known for her work with the Buena Vista Social Club.
(Javier Galeano / Associated Press)
Movie destinations
"Lawrence of Arabia" (1962)
Some of the actors playing Arabs aren't Arabs at all, and it wasn't shot in Arabia (actually Morocco, Jordan and Spain, plus California), but the endless expanse of sand dunes, handsome young Peter O'Toole, exotic people and the blazing sun of the desert will make you long to become a nomad.
Refreshments: pita filled with falafel or tabbouleh drizzled with yogurt. To drink: hibiscus tea.
Peter O'Toole as adventurer T.E. Lawrence.
(LA Times Files)
Movie destinations
"The Syrian Bride" (2004)
In the Golan Heights of Israel, at the Syrian border, the Druze community (a religious sect mostly in Syria and Lebanon) is caught between the two countries, and the drama is played out on a wedding day. The mountains, dusty streets, vistas over ancient towns, boxy architecture, Middle Eastern living rooms where the guests are propped up against cushions on seats that line the walls, blend of old and new (sheep and a video camera, cellphones and communal cooking) and brief looks inside the Druze world make this film an exotic voyage.
Refreshments: It's a wedding, so treat yourself to some honey-soaked Middle Eastern pastry.
Clara Khoury, left, in "The Syrian Bride."
(Koch Lorber Films)
Movie destinations
"Whale Rider" (2002)
A brilliant young female lead, a crusty grandfather, a legend, an engaging story and the inside world of the Maori in New Zealand. The ocean and the graceful whales are key characters. Today, if you go to the Gisborne area, you can drive to the film's location, visit a Maori meeting hall with carved sculptures of the ancestors, walk to the beach and even see the fiberglass whales that repose on the turf.
Refreshments: New Zealand wines and cheeses.
Keisha Castle-Hughes in "Whale Rider."
()
"March of the Penguins"
"March of the Penguins" (2005)
As temperatures drop and days get shorter, the Emperor penguins march to their Antarctic birthplace to breed. Fabulous scenes of black-and-white penguins against blue-and-white vistas, plus vast expanses of ice and solitude. The film transports you through 100 mph winds, on underwater fishing expeditions with the penguins, through magical swirls of southern lights and blizzards.
Refreshments: Slushees and sushi.
(Jerome Maison)
Memoirs of a Geisha
"Memoirs of a Geisha" (2005)
Japan before, during and after World War II. A gorgeously shot exploration of bridges, streets, cherry trees in bloom, countryside, city life and a geisha school. Fabulous art design, overblown score and impenetrable accents dim but do not diminish the delicate beauty of Japan and the geishas.
Refreshments: tea.
Ziyi Zhang in the movie "Memoirs of a Geisha."
(David James)