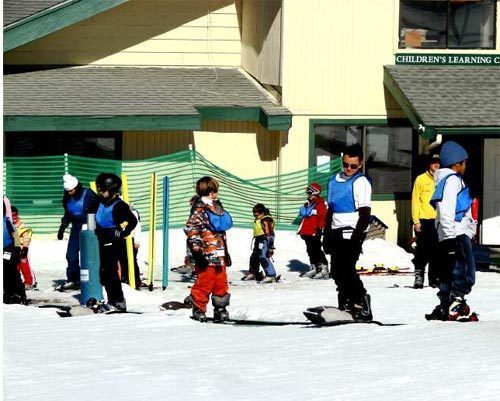 8 Images
Hitting the bunny slopes at 5 Southern California ski resorts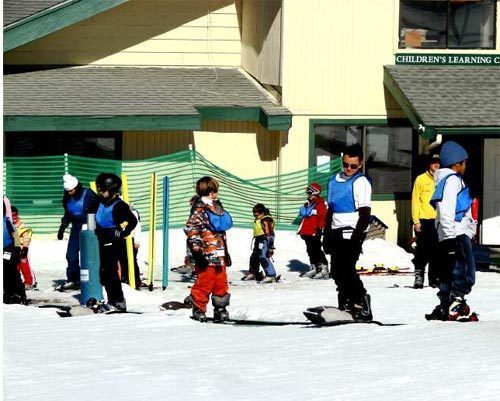 Snow Valley
Generations of Southern Californians have learned to ski at this little resort half an hour west of Big Bear. With its terrain as well as its website (
www.snow-valley.com
), it continues to be a welcoming and satisfying destination for first-timers.
Chair 6 is one of the tamest you'll find anywhere, top to bottom maybe 300 yards of wide and gentle slopes. Two hours here and you should be good for Chair 13.
Snow Valley offers one of the best setups for the youngest beginners, with a gentle little hill and movable sidewalk at the children's learning center. It is reserved for students and instructors. For 4- and 5-year-olds, it's probably the most welcoming of all the beginner slopes. Snow Valley, like many resorts, suggests children 6 and younger take ski lessons first before learning to snowboard.
Best beginner chair:
6
Best deal:
$59 buys you a lift ticket, equipment rental and a 90-minute group lesson Mondays through Fridays.
(Roger Vieau)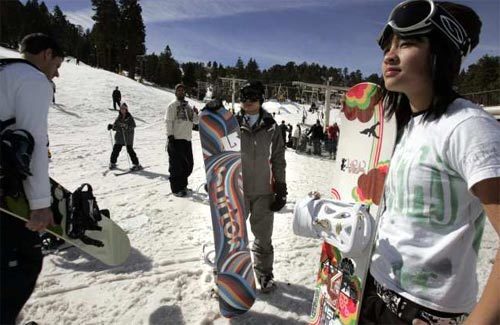 Mountain High
This hugely popular resort offers all sorts of beginner terrain -- moving carpets and short, easy lifts. But it's often a madhouse, even during the week. The congestion here can be a real turnoff for beginners.
Still, it is always expanding its features, and a new family-oriented section makes this resort worth considering. The pricing on its beginner ski package is among the best around.
Snowboarder Mary Tran, right, of Garden Grove, and Jessica Pham, 16, of Costa Mesa, take a break from snowboarding amidst a crowded day at Mountain High in Wrightwood last year.
(Allen J. Schaben, Los Angeles Times)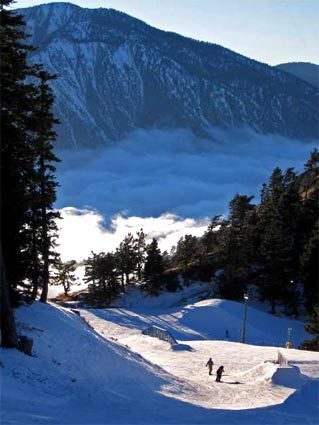 Mountain High features three distinct ski areas. The West Resort is where the main ski school is. It is also the busiest part of the resort.
The East Resort, which also offers lessons, is your chance to beat the crowd. There is one beginners' hill at the bottom, Chair 10. Here's a tip on East: Once you're comfortable getting on and off the lift, try the beginner trails near the top, which offer sweeping views and a break from the crowds.
Most interesting for young children is the new North Resort, formerly Ski Sunrise, which is catering to families. This part of Mountain High depends on natural snow, so call first to be sure it's open.
Snowboarders head down a scenic slope last year at Mountain High.
(Allen J. Schaben, Los Angeles Times)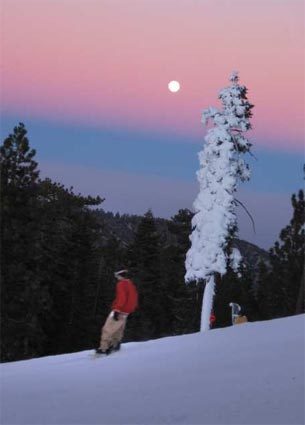 Best beginner chairs at Mountain High:
3 (Snowflake) and 10 (Easy Rider).
Best deal:
"3-Peat for Success," a three-day program offering lessons, lift tickets and ski rentals for ages 13 and older (dates need not be consecutive; beginners only), for $129.
A lone boarder finished off the day at Mountain High.
(Allen J. Schaben, Los Angeles Times)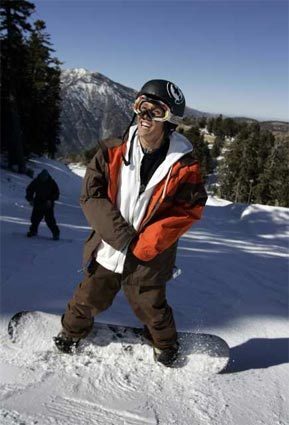 Snowboarder Mike Del Rosario, 25, of La Mirada, takes the lens out of his goggles as he wears a helmet while snowboarding at Mountain High last year.
(Allen J. Schaben, Los Angeles Times)
Snow Summit
Summit is similar to Bear Mountain, and your lift ticket is good for either hill. If you grow bored at one, a shuttle bus runs every 30 minutes to the other.
This is also a good resort for beginners, with lessons for all skill levels and convenient beginner slopes near the lodge. The two beginner runs -- Chairs 4 and 8 -- offer quick, confidence-building runs. But the runs are narrower and shorter than at Bear Mountain and are over too quickly.
A snowboarder glides through fresh powder at Snow Summit ski area in Big Bear in December.
(Robert Gauthier, Los Angeles Times)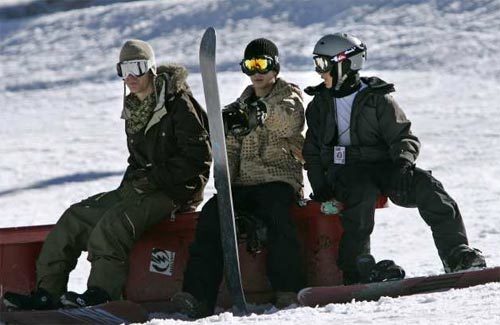 Bear Mountain
Big Bear Lake is L.A.'s igloo on the hill, a slice of the Sierra just two hours from downtown Los Angeles. It features two resorts a mile or two apart: Bear Mountain and Snow Summit. They are owned by the same company and offer virtually the same kind of terrain and number of lifts. But Bear Mountain is the better hill for newbies (or "newbs," as boarders say).
Bear Mountain's bunny hill offers "moving carpets," motorized sidewalks to get students to the top of two small hills on either side, and a bigger, more private teaching area than other resorts. After getting comfortable on the bunny hills, first-timers move on to Chair 7, a true beginner lift.
After a couple of hours and without professional help, my 5-year-old progressed to Chair 6, a run that took us halfway up the mountain. It's a little like jumping from first to third grade. He was overwhelmed but never in danger. Back to Chair 7 we went, where we were rode out the rest of the day.
Best beginner chair:
7
Best deal:
A $64 GuaranSki Beginner Special, which includes a four-hour lesson, lift tickets and ski-rental discount and is guaranteed to get you riding a lift that day, or you get free lift tickets and lessons on your next visit.
(Myung J. Chun, Los Angeles Times)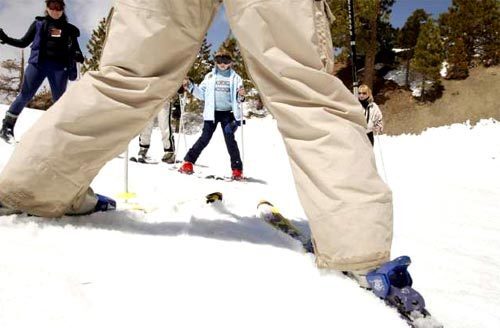 Mt. Baldy Ski
This magnificent little resort, an hour from L.A., has always been known as a serious skiers' hill.
Trick is, you have to go up a lift to reach it, which is bound to freak out a lot of first-timers. They would be better off not taking skis and renting them once they reach the top of the hill.
Up at the top, off Chair 1, you hit Beginners' Gulch, an easy grade for novices. It takes you down to Chair 2, which returns you to the beginners' hill.
Best beginner chair:
2
Best deal:
A learn-to-ski package for children starts at $34 weekdays and includes rental of skis, a 90-minute lesson and a lift ticket.
(Annie Wells, Los Angeles Times)