11 Images
Attainable Pebble Beach
Gordon McCall's Jet Party
Gordon McCall, the purveyor of the acclaimed Christie's auctions, holds this invitation-only private party of over 1,000 where the insiders meet to kick off their opulent weekend of car showing, ogling and buying.
(Photo by: Pete Bender)
Christie's Auction
Famed Christie's auctioneers have some very special properties to call this year including Steve McQueen's Ferrari Lusso and Peter Fonda's Harley Davidson 'Road King.'
(CHRISTIES)
The Quail (a Motorsports Gathering)
Sponsored by the Quail Lodge and Resort, this high-ticket event features all things opulent – fine wine, cuisine, auto auctions, personal test drives of historic cars.
(THE QUAIL)
Monterey Historic Races
This historic racing series runs for four full days from dawn till dusk. Featured this year are the Indy Roadsters – the original open-wheelers.
(ROLEX MONTEREY HISTORIC AUTOMOBILE RACES)
Concorso Italiano
In the nearby community Seaside, a gathering of more than 500 Italian classics such as Ferraris, Maseratis, Lamborghinis, Fiats and Alfa-Romeos are paired with festival-style food, drink and exhibits in a park-like setting.
(Photo by Tim Scott)
Concours d'Elegance
The pinnacle event of the Pebble Beach Week, the Concours brings out the who's who, the rich, the famous and the crème of the automotive press' proverbial crop. The event sets up early in the morning for viewing and culminates in the grand showing of the top motorcars.
(PEBBLE BEACH CONCOURS)
Carmel-by-the-Sea Concours on the Avenue
Kicking off the festivities early in the week, this Tuesday gathering closes down the famous Ocean Boulevard in Carmel as more than 100 classics from 1946 through 1971 are on display to view and admire.
()
Automobilia Monterey
More than 45 specialty vendors show off and sell their memorabilia, catering to the auto-everything collector. Exhibits include vintage posters, photos, signs, clothing and books.
(AUTOMOBILIA)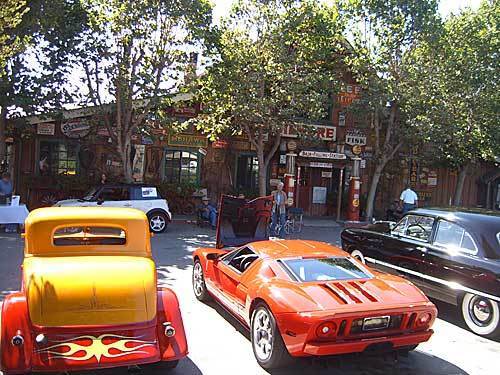 Baja Cantina 'Hot Chili Nights'
A casual Mexican restaurant located down the road a piece from Laguna Seca Raceway is the place to be for the average car collector looking to kick some tires and swap stories (or parts).
(BAJA CANTINA)
Pacific Grove Concours Auto Rally
On Friday, the more down-to-earth classic cars compete and tour throughout the Monterey Peninsula beginning in neighboring beach town Pacific Grove.
(PACIFIC GROVE AUTO RALLY)
Russo & Steele's Monterey Sports & Muscle
The most approachable of the auctions, Russo & Steele provides the public with a jumbo TV screen on the street outside the Marriott Hotel in Monterey.
(RUSSO AND STEELE)