6 Images
Portofino Hotel, Redondo Beach
The Portofino Hotel & Yacht Club in Redondo Beach, Calif., has undergone a yearlong, $11-million makeover to make the inn more competitive with other beach hotels. The spacious two-story lobby sets the tone.
(Gary Friedman / LAT)
The upscale redo of the Portofino brought large crystal chandeliers and wingback chairs to the lobby, which also showcases views with floor-to-ceiling windows. The renovation is Portofino's first since 1988, when waves damaged the lobby.
(Gary Friedman / LAT)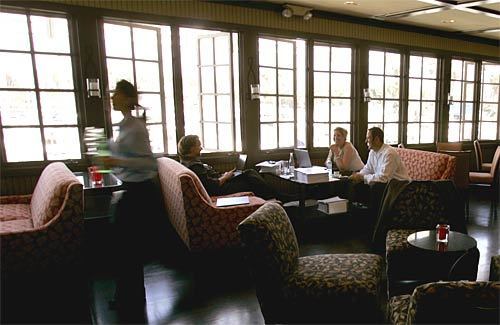 Visitors relax in the lounge area of Baleen, the renamed and updated restaurant at Portofino. The fare is seafood-focused, innovative and fairly priced, says Los Angeles Times staff writer Valli Herman.
(Gary Friedman / LAT)
Diners check out the new Baleen, formerly the Breakwater. The restaurant offer three meals a day, room service and fine dining as well as a lively bar. If you want a bit of quiet, request a corner table.
(Gary Friedman / LAT)
A standard room overlooks the ocean at the Redondo Beach hotel. The water view is worth an extra $40 or so, says writer Valli Herman. The Portofino design makes good use of space in guest rooms. The low- to mid-priced rooms are 350 square feet but manage not to feel cramped.
(Gary Friedman / LAT)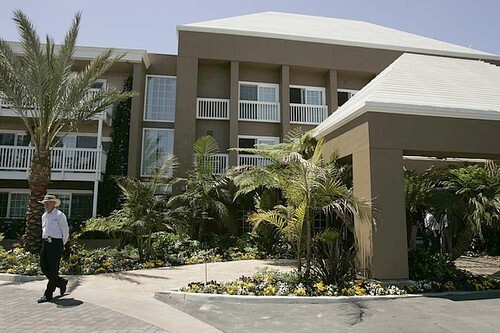 The Portofino inn was aiming for sophistication with its makeover but still has a casual air. Inside the hotel grounds, recreation is limited to a small fitness center, an ocean-view whirlpool and a swimming pool that's too tiny for lap swimmers and too deep for small children. But take a walk outside the property and head for the pier and you'll find glass-bottomed boat tours, paddle boat rides, several restaurants, souvenir shopping and fishing.
(Gary Friedman / LAT)