11 Images
Sandboarding in Oregon
Josh Tenge gives new meaning to the expression "riding the rails" as he glides on a sandboard in Florence, Ore. Tenge is exhibiting his skill at Sand Master Park, the nation's first sandboarding park, at the north end of the nation's largest expanse of coastal dunes. The area is a natural for sandboarding, a simple, relatively inexpensive pastime -- all you really need is a board and a dune; you can ride in shorts and T-shirt, no need for helmet or padding -- that offers an adrenaline jolt.
(Spencer Weiner / LAT)
Marissa Beale, 9, navigates a gentle grade. Home to the Oregon Dunes National Recreation Area, the state's central coast is a paradise for sand sports, with an estimated 2 million people each year lugging sandboards and transporting ATVs, motorcycles, quads and dune buggies to the region. Visiting the national recreation area and Jessie M. Honeyman Memorial State Park, a Times reporter in a buggy crested a 450-foot dune.
(Spencer Weiner / LAT)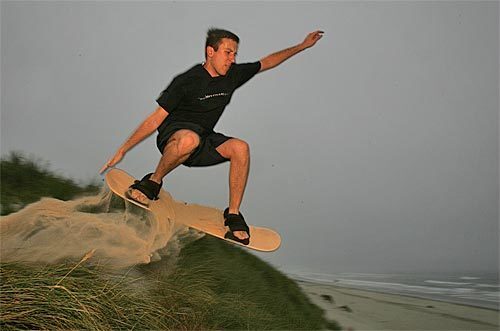 Sandboarder Matt Walton, 19, kicks up sand and catches air. How did all that sand form in this area of Oregon? Three rivers dump stream sediment into the ocean off a gently sloping sandstone terrace, stretching about 40 miles, from Coos Bay to Heceta Head lighthouse. Ocean currents and offshore winds toss the grains back onto the long, flat shelf, where it piles up in waves, bowls and flat plains.
(Spencer Weiner / LAT)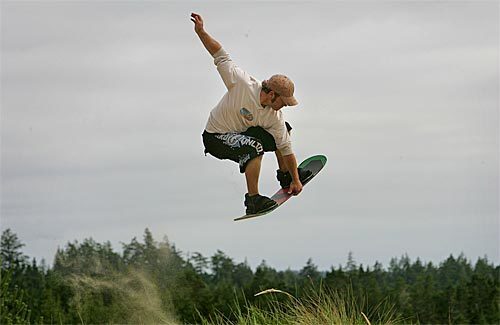 Josh Tenge, a 28-year-old snowboard and sandboard instructor, surely operates at a higher level: He holds a world record in distance for back flipping nearly 45 feet on a sandboard. Tenge is an employee of Sand Master Park proprietor Lon Beale, who came to Florence 10 years ago looking for the best sand on which to popularize sandboarding.
(Spencer Weiner / LAT)
Walton, left, and Tenge wander amid an expanse of soft, bright sand, which Sand Master's Beale says is of a special quality. Noting that he and employees have ridden sand hills throughout the world, Beale regards the sand around Florence as among the best.
(Spencer Weiner / LAT)
Potential enthusiasts check out sandboards at the Sand Master shop. A board needs to be waxed before each ride to reduce friction and increase speed. And as there is no chairlift, a sandboarder needs strong legs to trudge up dunes repeatedly.
(Spencer Weiner / LAT)
A child's kite catches a sea breeze and white-crested waves lap the beach at Oregon Dunes National Recreation Area. When not pursuing fun on foot or on sandboard, visitors can explore the area by dune buggy. Two shops in Florence rent buggies, ATVs and quads.
(Spencer Weiner / LAT)
A dog peeks from a vacation rental office in Florence, hub of the sand playground. It has been known as a top retirement town, though nowadays its streets rumble with trucks, RVs and trailers bearing dune-seeking vehicles. However, a nursing home manager in town says his retirees like having the dune buggy rides and other activities nearby because it means more visits by their fun-loving grandkids.
(Spencer Weiner / LAT)
Eat in the car or in the restaurant? A couple at Bliss' Hot Rod Grill in Florence have it both ways. There are entrees from $6 in the restaurant filled with '50s memorabilia.
(Spencer Weiner / LAT)
A family enjoys a snack at Florence, about a 60-mile drive from Eugene, Ore., where airline connections to Los Angeles are available.
(Spencer Weiner / LAT)
The Suislaw River cradles the former logging town of Florence, Ore.
(Spencer Weiner / LAT)