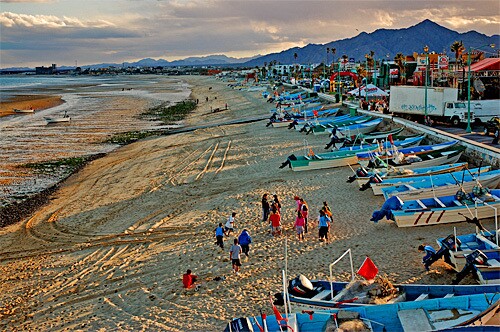 9 Images
San Felipe, Mexico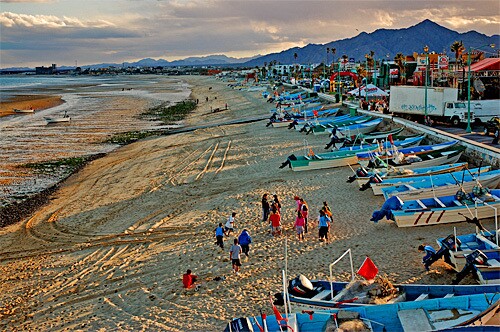 A line of boats stretching into the distance on the broad beach at San Felipe, Mexico, underscores the Baja California town's origin as a fishing port on the Sea of Cortes -- a.k.a. the Gulf of California. Anglers and adventurers from north of the border discovered its rustic appeal, and now this getaway 350 miles from Los Angeles draws as many as 250,000 American and Canadian visitors yearly -- this despite a lack of commercial flights.
(Christopher Reynolds / Los Angeles)
As daylight flees and listeners bundle up, a band generates some heat on San Felipe's
malecón,
a three-block street and promenade that fronts the beach. Hundreds of vacation homes and condos have risen to the north and south of town, but construction has slowed recently, and San Felipe remains poised between rapid growth and persistent rusticity.
(Christopher Reynolds / Los Angeles)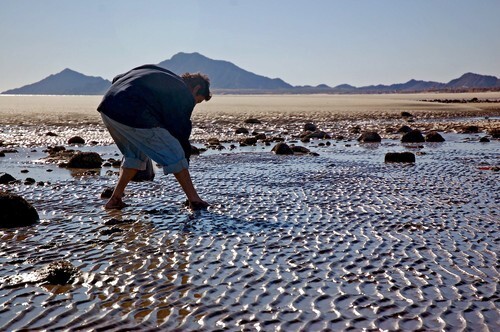 At low tide, a clam digger tramps over wet sand in search of shelled delights. Besides clamming, fishing and lounging, visitors take to the desert on off-road vehicles of all kinds. Some like to make the 55-mile paved drive to Puertecitos, a quirky American expat and retirement enclave with natural hot springs at the sea's edge.
(Christopher Reynolds / Los Angeles)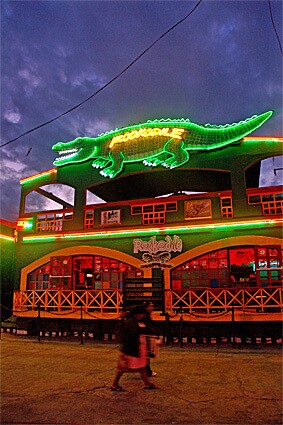 The sign at Rockodile wears a smile that, by rights, should grow much wider during spring-break season -- essentially, the month of March -- when college students arrive in numbers, eager to drink legally at age 18. Rockodile, on the
malecón
at San Felipe, is one of their favorite party bars.
(Christopher Reynolds / Los Angeles)
Scenery-wise, these beach walkers can't lose: They can look east to savor the view of the Gulf of California and west to the foothills of the Sierra San Pedro Mártir range. When the sea retreats, up to a quarter-mile of beach can be laid bare at San Felipe.
(Christopher Reynolds / Los Angeles)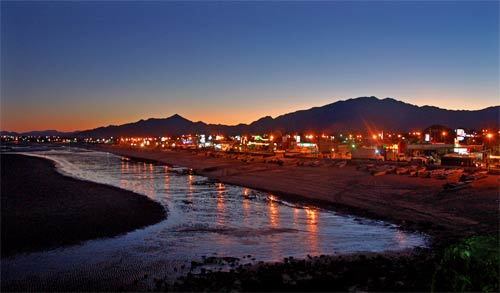 Lights layer the horizon at sundown. San Felipe faces east on the Gulf of California, so the sun sets behind the hills of the Sierra San Pedro Mártir rather than on the water.
(Christopher Reynolds / Los Angeles)
A snack stand offers nourishment near the sea in downtown San Felipe. It's an area where, at any hour, you're likely to catch fishermen fussing with their boats. On beaches at the edge of town, you see hundreds of four-posted huts -- parking ports waiting for RVs. That's the vehicle of choice for many snowbirds who park in dozens of campgrounds known as
campos
.
(Christopher Reynolds / Los Angeles)
A weathered boat lies well above the waterline at San Felipe. Dozens of fishing boats can be seen near the water, and often their owners are nearby, mending nets and pitching the angling trips to visitors.
(Christopher Reynolds / Los Angeles)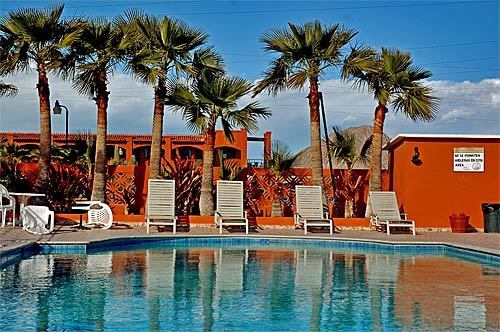 Just south of town, the beachfront Hotel el Cortez, which dates to 1959, includes bar, restaurant and an unheated pool. It has doubles from $80 (queen bed) to $170 (bungalow with kitchenette). Besides this and other hotels in San Felipe, home and condo rentals are available.
(Christopher Reynolds / Los Angeles)