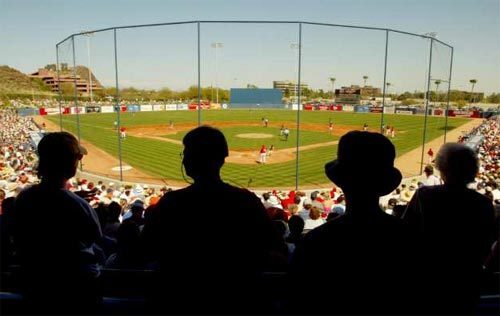 5 Images
13 baseball teams head to Arizona for spring training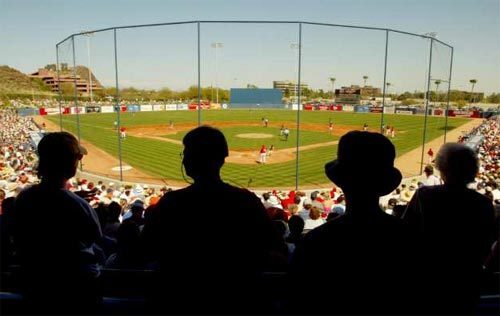 "Play ball!" Major League umpires won't shout those magical words in the Southland for nearly two more months.
Can't wait that long? Then plan a jaunt to Arizona, where the Angels and 11 other teams will play in the Cactus League. In late March, they'll be joined by the Dodgers, who are moving their spring training from Florida to Arizona. It's all just a short flight -- or an easy drive -- from L.A. Ticket prices are a real steal, starting around $5 for lawn seating to $25 for a seat behind home plate. Check out schedules at
cactusleague.com
and
springtrainingonline.com
.
Angels
Home Stadium
Tempe Diablo Stadium, 2200 W. Alameda Drive, Tempe
Schedule/Ticket info
Feb. 28 to March 29 $5 to $25 angels.mlb.com, (480) 784-4444 and at the stadium.
The Vibe
The Angels won the American League West division title last year but faltered in the playoffs. Fans hope they'll make it all the way to the World Series this season.
(Mark Boster, Los Angeles Times)
Temple Diablo Stadium in Tempe, Ariz., was adapted in 2006 to accommodate the Angels' spring training.
(Christine Cotter, Los Angeles Times)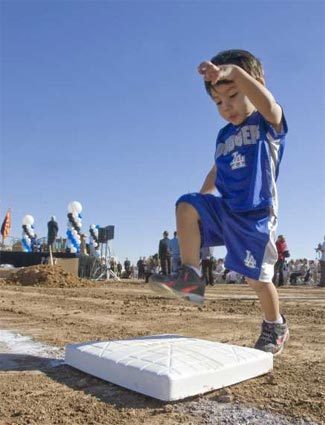 Dodgers
Home Stadium
Phoenix Municipal Stadium, 5999 E. Van Buren St., Phoenix (2 games only)
Schedule/Ticket info
March 20 versus White Sox March 22 versus Angels $6 to $21 dodgers.mlb.com, (877) 493-2255 and at the stadium
The Vibe
After 56 years of spring training in Vero Beach, the Dodgers will play their last game in Florida on March 18. Next year, the team will head west to Airzona to train in a new stadium in the Phoenix suburb of Glendale.
Jude Romero, 2, of Phoenix gets on base during a groundbreaking ceremony last November for the new spring training facility for the Doedgers and the Chicago White Sox..
(Michael Ging, Associated Press)
San Francisco Giants
Home Stadium
Scottsdale Stadium, 7408 E. Osborn Road, Scottsdale
Schedule/Ticket info
Feb. 28 to March 25 $8 to $28 giants.mlb.com, (877) 473-4849 and at the stadium.
The Vibe
The Giants hope to improve on their last-place finish in the NL West to mark the 50th anniversary of the team's move to San Francisco.
Angels' Strength and Conditioning Coach Brian Grapes stretches outfielder Garret Anderson before a Cactus League game against the San Francisco Giants in 2005 at Tempe Diablo Stadium in Tempe, Ariz
(Bryan Chan, Los Angeles Times)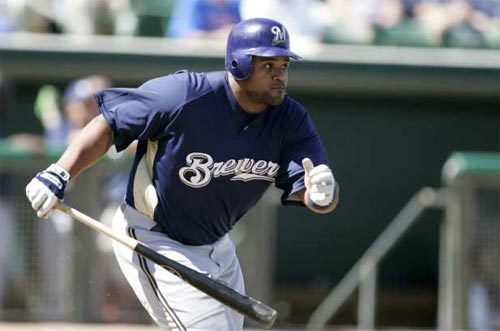 Milwaukee Brewers
Home Stadium
Maryvale Baseball Park, 3600 N. 51st Ave., Phoenix
Schedule/Ticket info
Feb. 28 to March 27 $8 to $19 brewers.mlb.com, (800) 933-7890 and the stadium.
The Vibe
It has been a hard winter in Wisconsin, so look for flocks of snowbirds in cheesehead hats at the smallest of the Valley of the Sun's ballparks.
Prince Fielder of the Milwaukee Brewers runs for first base last spring against the Chicago Cubs during a Spring Training game at Hohokam Park in Mesa, Ariz.
(Nick Doan, Getty Images)