5 Images
Las Vegas for chocolate lovers
Chocolate? It's not just a candy anymore. In Sin City, it's an experience that comes with the requisite cravings to be satisfied in Vegas style. At the Vintner Grill, to-die-for truffles are served in "tasting flights," with or without a sommelier-guided pairing of wines.
(Vinter Grill)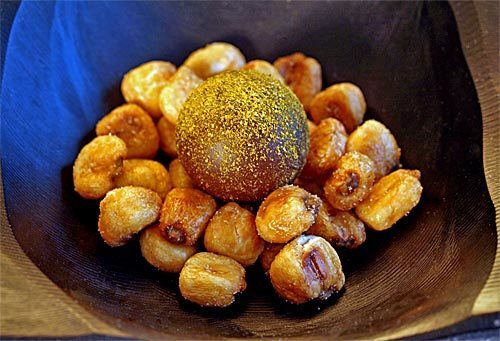 A dusted truffle is the center of attention during a "tasting flight" at the Vintner Grill. The delectable work of Vosges Haut-Chocolat owner Katrina Markoff is the flight's star attraction. The result of her sorcery, as she puts it, is a novel use of chocolate -- high-end Belgian and French chocolate dusted with curry or Hungarian paprika and accented by mangoes or ginger and wasabi.
(Vinter Grill)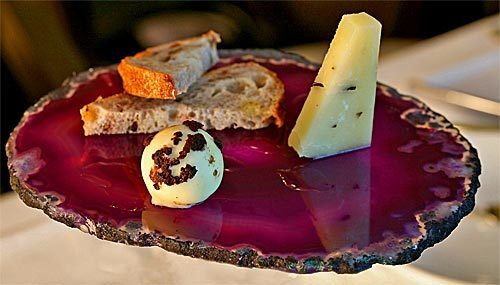 Delightful presentation is part of the experience at the Vintner Grill in Las Vegas. Chocolate has been elevated to an art form in this city, with several venues guaranteed to bring chocoholics to their knees.
(Vinter Grill)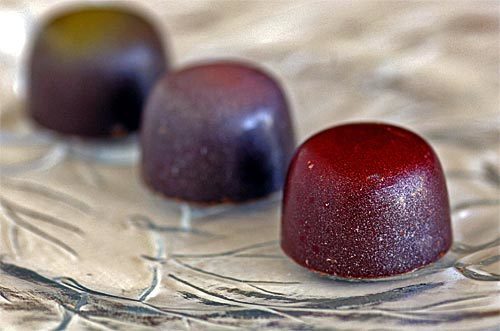 Go ahead, indulge in a chocolate or two from Jean-Philippe Patisserie at the Bellagio. Jean-Philippe Maury's namesake cafe is eye-popping. There, a 27-foot floor-to-ceiling fountain of chocolate pours three types of creamy elixir at 120 quarts per minute through 25 suspended glass vessels. Then there are the pastries. The counter can sell up to 450 on a particularly indulgent day.
(Richard Derk / Los Angeles Times)
Ethel M is the grande dame of Vegas chocolates. But even the divine Ms. Ethel has a brand new bag. Ethel's Chocolate Lounge is a cafe with attitude: fondue, coffee and chocolate combos, chocolate drinks and artisan chocolate.
(Ethel's Chocolate Lounge)