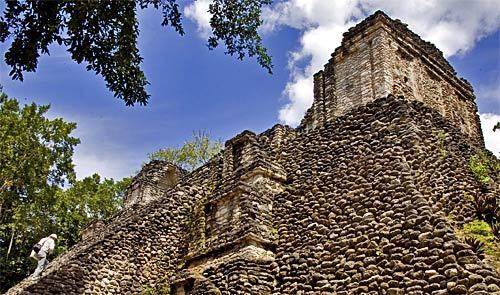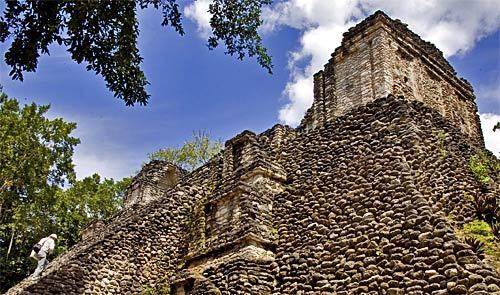 A single visitor ascends an impressive Maya archaeological site in Dzibanché, near the town of Bacalar on Mexico's Yucatán Peninsula, illustrating two notable facts. First, the area's Maya ruins are as exquisite as better-known counterparts elsewhere; second, Bacalar -- located in the southeastern part of the Yucatán, about four hours south of the Caribbean resort of Cancún -- and environs are largely off the tourist radar, offering a thrilling sense of seclusion and discovery.
(Paul Ross)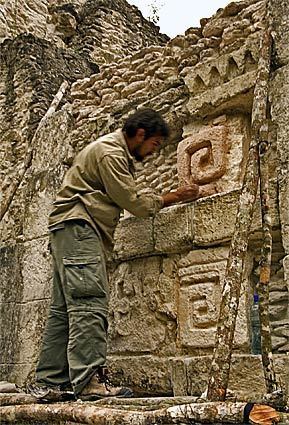 Excavations and restoration are taking place in the ruins of Rio Bec, situated in a remote jungle. Here, Maya glyphs are uncovered and preserved by a member of an archaeological team. So isolated is Rio Bec that one of its sites was lost to archaeologists for six decades after its discovery in 1912, according to MayaRuins.com.
(Paul Ross)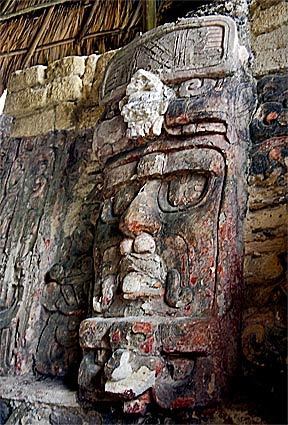 An ancient mask adorns ruins at Kohunlich, a Maya city in Mexico's Yucatán. The city was occupied from the 6th to the 12th or 13th century, then abandoned. For a modern-day adventurer, that can be a welcome state of affairs: A writer visiting the area some months ago with her husband encountered only four other tourists at Kohunlich, one of whose highlights is the Temple of the Masks.
(Paul Ross)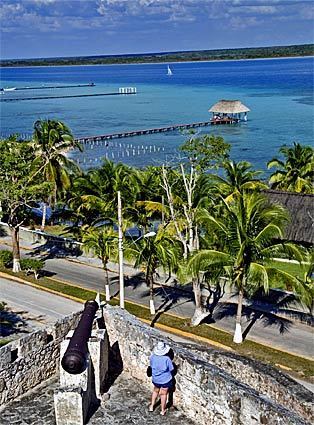 A peaceful lagoon of several colors lies beyond an old Spanish fort at Bacalar. The fort, San Felipe, defended the area from European pirates in the 18th century; now it's a museum. The lagoon, by the way, is eminently swimmable.
(Paul Ross)
A cruise of Bacalar Lagoon leads past aqua-hued cenotes, or sinkholes popular with swimmers. Elsewhere, there's a mangrove swamp, water lilies and a channel used by pirates of old.
(Paul Ross)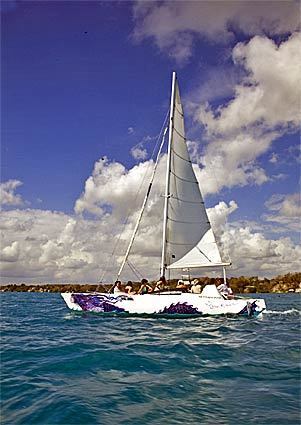 A sailboat plies the waters of Bacalar Lagoon, which, fed by nine underground springs, is one of the largest freshwater bodies in Mexico. A local skipper urged a visiting writer to test the lagoon floor. "Under your feet is silt," he said. "It's very fine calcium carbonate. You can rub it on your faces and bodies." For the writer, it was a self-administered spa treatment.
(Paul Ross)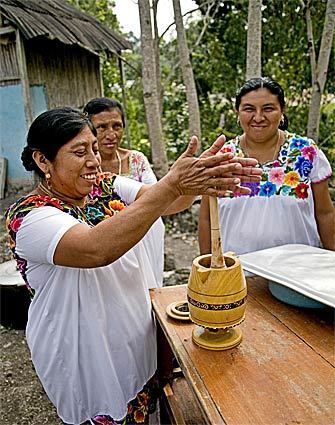 Women in traditional
huipeles
demonstrate the preparation of chocolate in 20 de Noviembre. The village, whose residents speak Mayan, is an
ejido
, a form of community land management promoted by the Mexican government for
campesinos
and indigenous people.
(Paul Ross)
20 de Noviembre women show off their embroidery skills. Village residents, whose principal activities include farming, beekeeping and extracting chicle from trees, only recently began to welcome visitors.
(Paul Ross)
Hammock-making is another pursuit of 20 de Noviembre residents, who may spend two weeks to make a hammock. It's a complex task that defeated a visitor within a few minutes. The completed hammock fetches $20 to $50.
(Paul Ross)