On the Spot: Frequent flier miles and the merger effect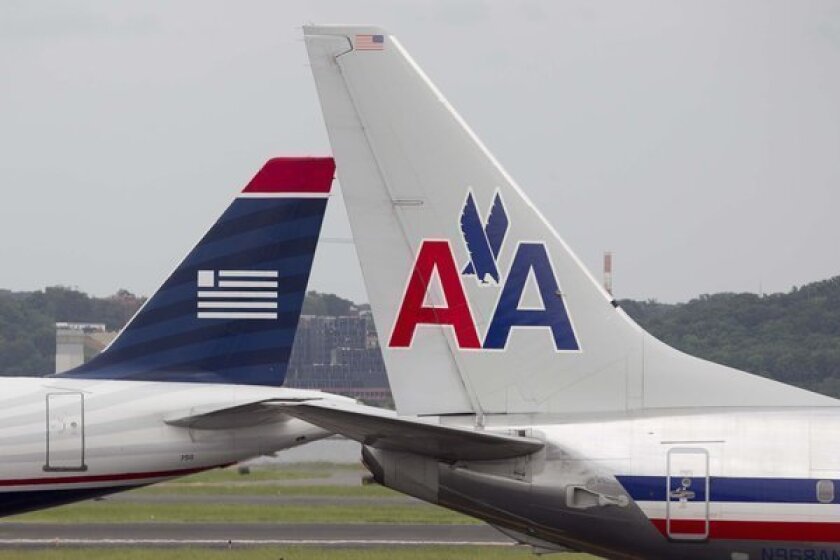 Question: I have frequent flier miles on both US Airways and American. Can you tell me how you think a merger of these two would affect these miles?
Joyce Horsefield
Fountain Valley
Answer: Your miles, in all likelihood, would be safe, airline experts told me.
It's your benefits you may need to worry about, if recent experiences are an indication.
But you may not need to worry about any of this.
To clarify: American Airlines, which did not file for Chapter 11 bankruptcy protection as most of the legacy carriers did after the Sept. 11 attacks, did file for bankruptcy protection in November. (Some analysts say American declared "virtual bankruptcy" in 2003, gaining concessions from workers that helped cut its costs.) That case is working its way through the courts.
When this happened, some industry observers said American needed to emerge from the process leaner and keener to do business more like Southwest. Although acknowledging that the ardor for mergers may have cooled with the Delta-Northwest marriage and the United-Continental union, others saw a merger with another airline as the key to American's survival. Names bandied about were Alaska or JetBlue and US Airways. In fact, US Airways' name has cropped up consistently in reports. It's a tad worrisome because US Airways merged with America West in 2005 — a merger that didn't go terribly smoothly. Nonetheless, last month American said it would study a US Airways merger.
Joe Brancatelli, a longtime airline industry reporter who also writes the JoeSentMe newsletter for frequent travelers, calls this merger idea a "fantasy."
When it comes to heads in the clouds, that may be where United had its head with its recent $3.2-billion merger with Continental. To say it didn't go terribly smoothly might be an understatement. The blending of computer systems in early March created snarls at airports — Brancatelli noted that just 46% of departures left on time that first day of combined computer systems — and angered customers with long waits for assistance after various kinds of transactions were botched .
Frequent fliers also discovered that some of their benefits had been reduced. Silver fliers, who are at the low end of elite fliers, found they could check one but not two bags for free and that they could not upgrade to premium economy until 24 hours before a flight. (The seats, by the way, often are gone, having been sold or scooped up by higher-level elite fliers.)
Airlines could probably get away with telling loyal customers that their loyalty isn't worth quite as much if they didn't insult them while doing it. John Rainey, United's chief financial officer, told investors that some flier levels were "overentitled." Or, said another way, United gave away too much of the candy store, but the loyal customers are pigs for taking what United gave them.
Other issues could plague passengers if an American-US Airways merger occurs.
Brian Kelly, founder of ThePointsGuy.com, which gives insight into spending flier miles, notes that "American is in the Oneworld Alliance," which has fewer partners than the Star Alliance, to which US Airways belongs. "There are trade-offs on both sides," Kelly told me in an email. "For example, American prices one-way awards at half the price of a round trip whereas US Airways prices a one-way the same amount as a round trip."
Any merger, says George Hobica, founder of Airfarewatchdog.com, is apt to be messy. And you may have trouble redeeming your miles simply because there would undoubtedly be fewer seats to choose from as the airlines eliminate redundant routes.
So if a vacation to a faraway destination — one served by American or US Airways — is possible, this might be the time to do so.
Have a travel dilemma? Write to travel@latimes.com. We regret we cannot answer every inquiry.
---
Get inspired to get away.
Explore California, the West and beyond with the weekly Escapes newsletter.
You may occasionally receive promotional content from the Los Angeles Times.