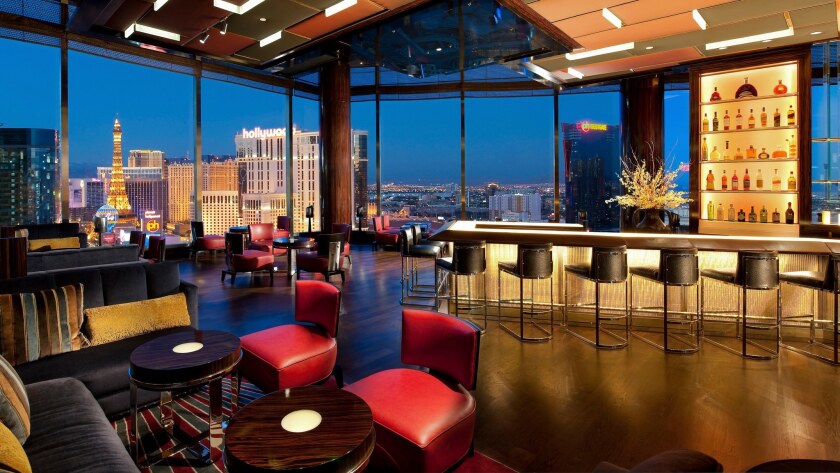 The Waldorf Astoria, the newest hotel on the Las Vegas Strip, officially launched Friday, but expect only subtle changes — at least for now — as the Mandarin Oriental fades away.
Heralding the change, which becomes official just after midnight Friday, are new signage and furnishings in public areas on the ground and the 23rd floors, where the lobby and many of the hotel's most popular features are.
"It will start to feel different," said Donald Bowman, general manager of Waldorf Astoria Las Vegas. He has worked on site since before the first concrete was poured 10 years ago. The Mandarin Oriental Las Vegas opened in December 2009.
Visitors to the 23rd floor won't see major changes. To the left of reception, Twist, Chef Pierre Gagnaire's upscale restaurant, will continue to serve dinner.
"It remains as a key attribute of the property and will do for the foreseeable future," Bowman said.
With some changes to the menu and the furniture, the Mandarin Bar, which offers commanding views of Las Vegas Boulevard, has been renamed Sky Bar.
The Tea Lounge is virtually unchanged.
"One of the most common questions we got was, 'Will afternoon tea remain?' And, yes, it certainly will," Bowman said. "We've built an incredible tradition for afternoon tea at the hotel."
On the third floor, Mozen Bistro, a less formal restaurant, has become Zen Kitchen. The hotel chain's famous Waldorf salad, with some contemporary modifications of a dish that began life as chopped apples, mayo and celery, has been added to the menu.
Nearly all of the employees remain, although the uniforms have been altered.
"The major changes are going to come over the next 18 months to two years as we finalize plans for the redesign of the guest rooms and the notion of what the food and beverage programming will be," Bowman said.
"Then we'll start to see more major changes."
Room rates vary wildly, as is often the case in Las Vegas. In a check Thursday, rooms were available for Sept. 3, a Monday, starting at $200. Rates increased to $562 a night for Sept. 14 and 15.
Waldorf Astoria is part of the Hilton chain, so guests can earn and redeem Hilton Honors points at the new property.
Info: (800) 925-3673
---