From the Archives: Humphrey Bogart returns to L.A. with young bride Lauren Bacall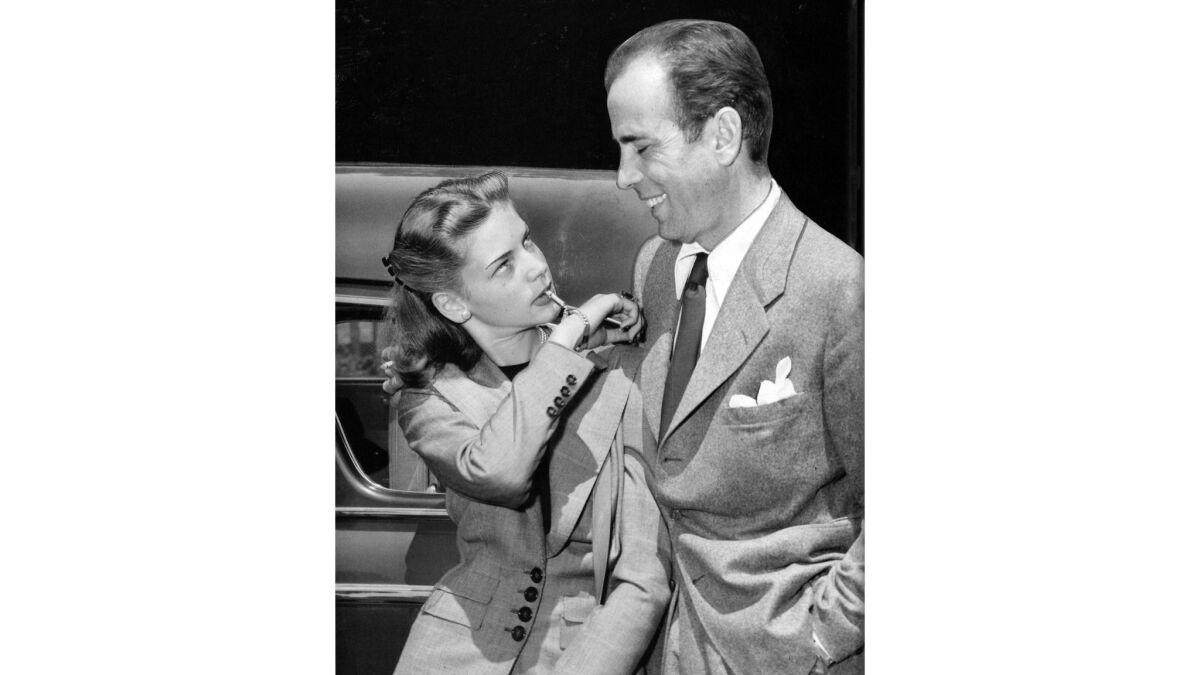 Humphrey Bogart and Lauren Bacall met during filming of 1944's "To Have and Have Not." They were married May 21, 1945, at the home of Bogart's close friend Louis Bromfield near Lucas, Ohio. Journalists greeted the couple upon their return by train to Pasadena.
This image by photographer L. Maxine Reams appeared on the front page of the Los Angeles Times' Metro section the next morning. The accompanying story reported:
With four cartons of cigarettes under one arm and Lauren Bacall, the gal who revived whistling, clinging to the other, Humphrey Bogart stepped off the Santa Fe Chief at Pasadena yesterday convinced that married life is just what the doctor ordered.
Bogey called her "darling" and Bacall called him "honey."
Each was wearing a gold link wedding band, which they exchanged at Louis Bromfield's Ohio farm last Monday not long after the actor's third wife, Mayo Methot, scuttled their stormy romance in a Las Vegas divorce court.
The tough guy abandoned his lissome 20-year-old bride to the mercy of photographers and reporters only long enough to make sure that the perspiring redcap didn't drop the package of imported Scotch cough syrup Bogey had brought along on the trip to treat snake bites, etc.
Their romance began when they were making a movie in which Bacall suggests to Bogart that in case he feels like a cold bottle of beer or a midnight snack, all he has to do is whistle.
Symbolic of this touching idyll was a tiny gold whistle attached to a gold slave bracelet that Bacall was wearing on her right wrist yesterday.
"Blow it," requested an inspired photographer.
"Shall I, honey?" said Bacall, turning to her husband.
"Oh, that's Van Johnson stuff," snapped Bogart, "but go ahead and blow it."
She blew it.
Bogart tugged her arm and said, "Come on, mamma, let's go home."
This post was originally published Dec. 11, 2011.
---