From the Archives: Boris Yaro covers the assassination of Robert F. Kennedy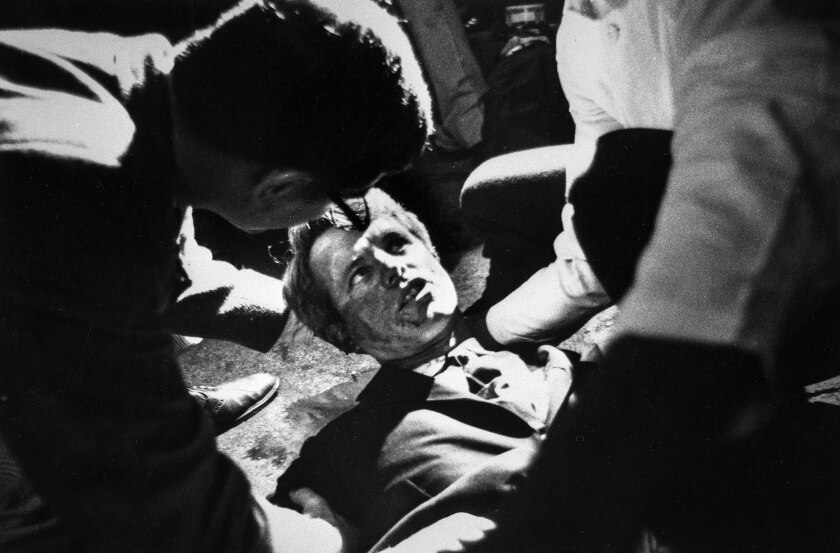 Sen. Robert Kennedy had just finished his victory speech after winning the California Democratic presidential primary.
Times photographer Boris Yaro was standing three feet from Kennedy when the shooting began. "The gunman started firing at point-blank range. Sen. Kennedy didn't have a chance," Yaro recounted in a June 6, 1968, story for The Times.
The Democratic senator, 42, survived for more than 24 hours after the shooting. He passed away on the morning of June 6, 1968. The shooter — Sirhan B. Sirhan — was convicted of murder on April 17, 1969. His motives remain a mystery and a source of controversy to this day.
In 2010, Boris Yaro, now retired, wrote the following story for the From the Archives blog.
I had gone to the Ambassador Hotel on my own with the idea of making a photo of Bobby Kennedy for my wall. The idea went further than I had expected.
When the shooting started I thought someone was tossing firecrackers because I was being hit in the face with debris. I grew up playing with fireworks, and this was not an unusual thing to happen.
Then the crowd parted, and I watched in horror as Sirhan emptied his revolver at Robert Kennedy. I had my camera at chest level, but I didn't make a photo during the shooting. It was dark, and I think I was afraid.
When the shooting stopped there was a pregnant pause, and then two men, one in a tuxedo, grabbed Sirhan and forced him face down on a metal countertop and shook his revolver loose.
Sirhan kept trying to reach the revolver, and I was afraid he might get it, so I stuck my hand in under the guys holding him and picked up the gun.
I turned away from the scuffle and was thinking, "It's warm. The gun is warm," and all of a sudden it was taken from me. I didn't see who grabbed it, but I saw the back end of a sport coat and figured it might be a cop.
When I turned back to the scene, RFK was slowly sinking to the floor, and I realized I had better make pictures. I used my Nikon FTn and a 28mm lens.
When I covered the RFK shooting, I owned the camera and two lenses, one of which was a 50mm 1.8 lens that I left in the car. I didn't bring a flash with me, since I wasn't on assignment and wanted to make only natural light photographs.
The pantry area was dimly lit, and I recall thinking that I should go get my flash unit, but I didn't.
I did use Kodak Tri-X film. It was the film of choice by most press photographers, and I felt comfortable with it in badly lit situations. When things quieted down a bit, I aimed my camera and at the same time a television photographer turned on his very bright light, which made it possible for me to make photographs.
The FTn meter was not working, so I had to make my exposures by guesstimate. I ended up making the photographs at 1/30 of a second and the lens set wide open at F 2.8 (this was the maximum aperture).
There still was some pandemonium, and at one point, when I tried to make pictures, a woman grabbed hold of my coat sleeve and began yelling, "Don't take pictures. Don't take pictures. I'm a photographer, and I'm not taking pictures."
My response was, "Dammit, lady, this is history." I pulled my coat sleeve loose from her grasp but lost some visual space because people began crowding around the fallen Kennedy.
I moved in to make a "sure" shot (one that I knew would show his face). I made a total of six shots in that mess, and then the alarm went off in my head.
Earlier I had talked with another Times photographer, Steve Fontanini, who had mentioned the paper was "holding" deadline waiting for art.
I knew I had to get out of the Ambassador Hotel and get down to the office. As I ran into the city room, I shouted at Bill Thomas, the city editor at the time, that "my fingerprints are all over that gun." Thomas yelled back, "Knock it off," and I continued into the photo lab.
William S. "Bill" Murphy was waiting, and I handed him the film. I told him the lighting was terrible and maybe to double the development time.
Murphy, a veteran photographer, processed the film "by safelight." (The film is checked during development by using a dim green safelight. This is also known as development by inspection.)
It did the job, and we had printable images, albeit somewhat contrasty.
I was told to talk with one of our rewrite men and unload whatever I could remember. I did so, but omitted the gun retrieval because I felt Thomas didn't want the paper directly involved.
When I had finished with the rewrite man I went back to the photo lab as Murphy was coming out. He said the pictures were fine. I took a quick look at the photos and the whole incident began to take over my feelings.
I went back into my darkroom.
---