From the Archives: escape artist Tim Eric performs at Venice Beach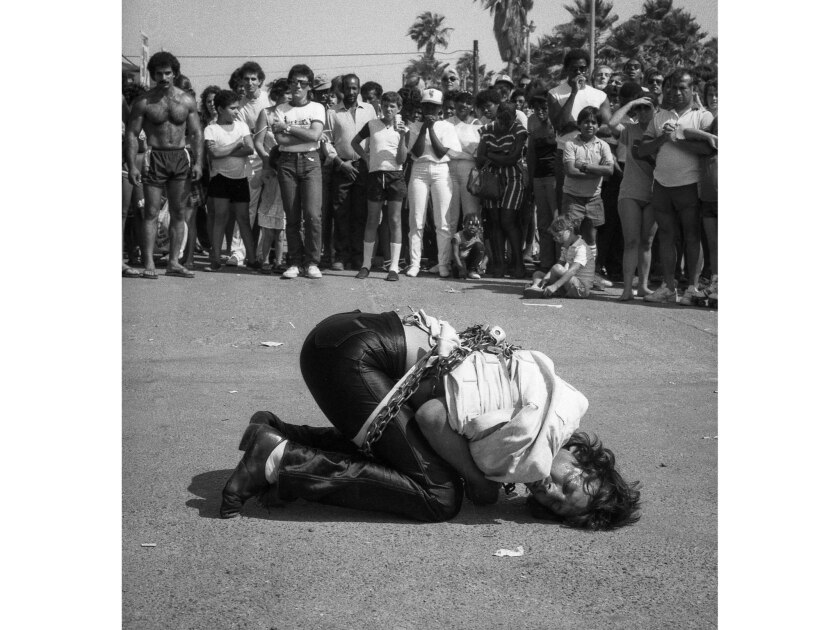 During the summer of 1984, staff writer Steve Harvey and staff photographer Ellen Jaskol found escape artist Tim Eric performing for tips at Venice Beach.
In a July 8, 1984, article, Steve Harvey reported:
Ah Venice, maker of stars.
After all wasn't the Amazing Chain-Saw Juggler picked right off the Boardwalk to appear on the Johnny Carson show? …
No wonder, then, that weekend after weekend, new acts pop up along the walkway, hoping they too will eventually hit the big time (translation: perform somewhere without a tip jar). …
So there was escape artist Tim Eric the other day, allowing two perfect strangers to swath him in chains, handcuffs and a straitjacket outside a beachfront cafe — and hoping they didn't get too conscientious about the swathing.
"Usually it takes me about two minutes to get free, but once, in Vegas, it took me 145 minutes," admitted Eric, who, for understandable reasons, never works while submerged in a tank of water.
The binding completed, Eric sweated and cavorted and thrashed about the asphalt mightily to break his bonds. …
What with the attention span of beach goers, the crowd of 50 or so spectators grew impatient with Eric after less than two minutes. "Hurry up," yelled one man. "It's hot out here!"
Eric freed himself at last — after about four minutes — and collected $18 in tips. …
---