From the Archives: Opening doors to the Pacific Ocean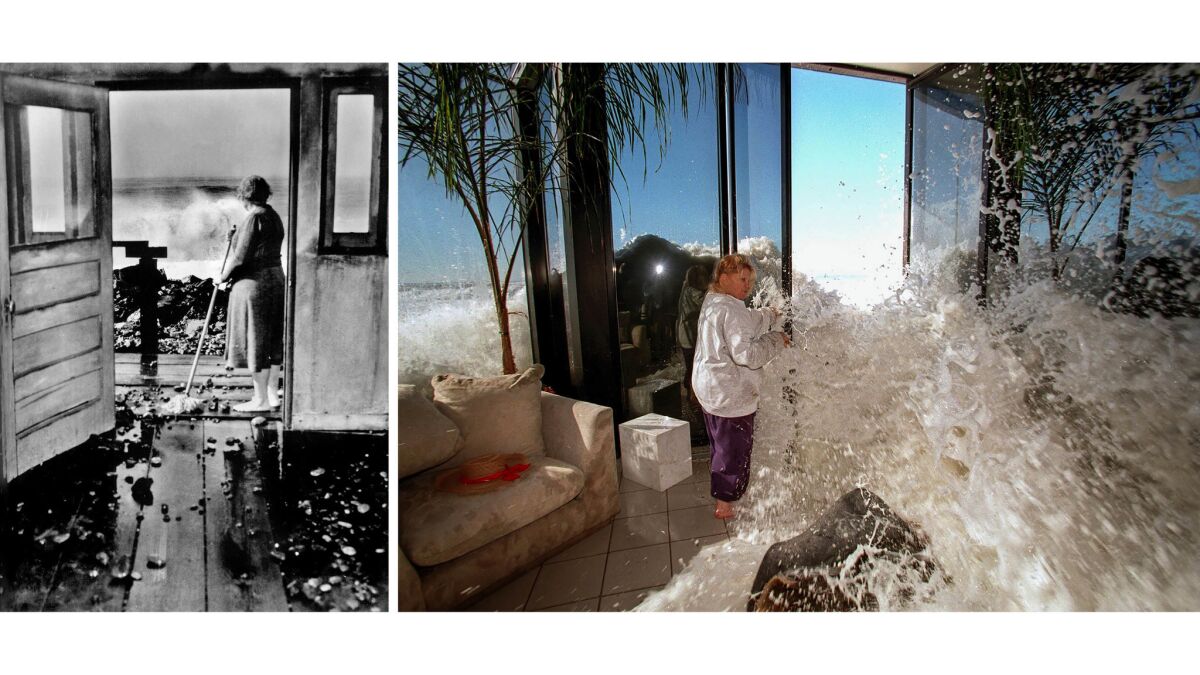 Two award-winning Los Angeles Times images illustrate one downside of beach-front property — storm surge during high tide.
At left, Dec. 5, 1945: Thirty-foot waves threatened the already damaged home of Emilia Curtet in Redondo Beach as excessively high winds, high tide and rain caused damage to beach fronts from Malibu to Long Beach.
This photo by former Los Angeles Times staff photographer Paul Calvert ran on Page One and won first place in the news category in the California Associated Press photo contest.
The Times reported on Nov. 27, 1946, that "Calvert's winning picture was a graphic illustration of last year's flood tides at Redondo Beach. It showed a distressed housewife framed in a doorway, pitting a mop against the ocean."
In 1998, a similar situation was captured in dramatic fashion by current Los Angeles Times Deputy Photo Editor Alan Hagman.
At right, Jan. 30, 1998: Marilyn Lane tries to shut the door as a sudden large wave rushes into her Solimar Beach home in Ventura County. Eleven Ventura County beach homes were damaged by the combination of 15-foot tidal swells and a rainstorm.
Hagman's photo appeared on the Los Angeles Times' front page the following morning. Later in 1998, the photo won the Associated Press Managing Editor Photo of the Year award.
In reporting on the award, Los Angeles Times staff writer Miguel Bustillo wrote:
Hagman, who has worked for The Times Ventura County Edition since 1990, was assigned to take pictures at storm-battered Faria Beach.
But his car was hit by a wave on Pacific Coast Highway and knocked into a pile of rocks, flattening a tire.
He hiked to a house at Solimar Beach, where he waited for a tow truck. Although he thought he had lost his assignment, he ended up in the right place at the right time, he said.
"My first thought was, 'I just trashed my company car and I'm in trouble,' " Hagman said. "But I called [Ventura photo editor Larry] Bessel and he said, 'Don't worry about the car. We need art.'
"I'd figured it was after high tide, I had missed most of the pictures, and I was worried," he said. "Then just out of nowhere a wave--a big wave--came over the break wall and into the house."
Hagman's photo was on the front page of The Times the next day and eventually ran in newspapers and magazines nationwide and as far away as Australia, France and Italy.It appeared in so many places, in fact, that the woman shown in the photo, Marilyn Lane, and her husband Ben have received calls from friends and relatives they had not heard from in years.
Hagman shot this image on color negative film using a Canon EOS1-d and a 17-35 mm lens. But it was the car that indirectly made this photo.
"If my car hadn't been hit by a wave," says Hagman," I wouldn't have been there."
This post originally was published on Dec. 6, 2010.
The stories shaping California
Get up to speed with our Essential California newsletter, sent six days a week.
You may occasionally receive promotional content from the Los Angeles Times.